Scorpius wrote:
This video confirms the UK ship had both air search radars on which confirms the weapons exercise breach of Innocent Passage, probably means breach of the no intelligence/spying clause also.
When Russian ships pass through UK territorial waters during English Channel transits they can be seen to scrupulously adhere to the Innocent Passage provisions:
Russia gives the required official warning (I think its 2 weeks?) and their ships can always be seen to be transiting with radar off. (other than surface navigation radar which really better be on in such busy waters).
Regarding the shipping lane I've been doing some research:
There is indeed a shipping lane there, apparently IMO adopted
This is the best pic I could find showing it (pink areas are 'traffic islands' the ships have to stay out of to ensure separation)
This heatmap from shiptraffic.net shows there is a decent amount of traffic which uses the Odessa <-> Poti route and therefore that legitimately innocent passage is not blocked by Russia.
I've overlaid the chart image in Google Earth & the route does pass within Russian territorial waters off cape Fiolent.
The radar image in Scorpius video I believe shows the RN ship in green with yellow & white being the trailing coast guard ships -> nearly bang on my range line above
Radar pic
Overlaid
If it is the green ship & it was going in a straight line it would appear to be following the shipping lane correctly.
There is an AIS track that appears to show the RN ship zig-zagging considerably & appearing to enter from well off to the West which would be hazardous maneuvring in the shipping lane (Innocent Passage breach)
That track could be the coast guard ships though.
Even if it was strictly following the shipping channel its not innocent passage.
Edit: The AIS track from https://twitter.com/KyleJGlen/status/1407664107394940934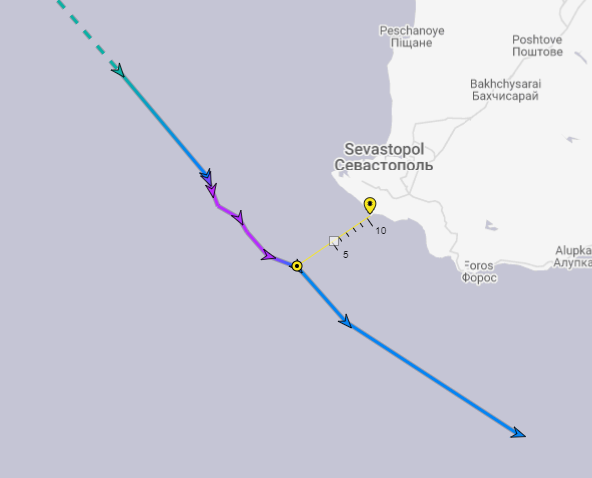 This actually shows it at nearly the exact location shown in the Radar image
Approach is on the shipping lane but then these zig-zags are not ok when passing through a territorial waters traffic separation scheme on 'Innocent Passage'.
Exit angle doesn't appear to be on the angle to Poti unless there is a missing data-point at the dogleg which would actually put it bang on the shipping lane again.
There is also a convenient satellite pic of apparently same location/time
https://twitter.com/Gerjon_/status/1407764847920660490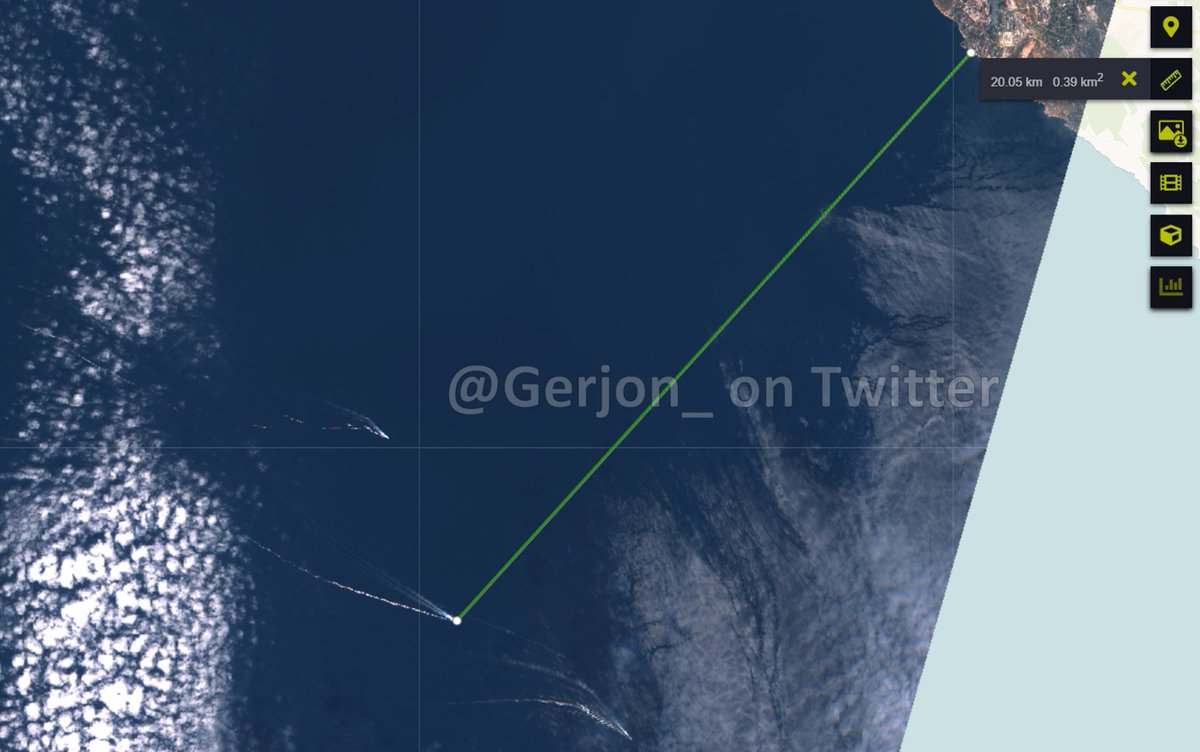 Measured boat here would be one of the 2 coast guard ships, UK ship on right.