+50
x_54_u43
Broski
franco
thegopnik
Begome
marcellogo
owais.usmani
AlfaT8
Big_Gazza
JohninMK
nero
william.boutros
Azi
Isos
PapaDragon
Hole
Arrow
Viktor
dino00
LMFS
miketheterrible
magnumcromagnon
GunshipDemocracy
Ivanov673
hoom
Mike E
navyfield
Deep Throat
Vann7
NickM
Mindstorm
mack8
Sujoy
Stealthflanker
flamming_python
gaurav
TheArmenian
Admin
KomissarBojanchev
George1
Morpheus Eberhardt
medo
Cyberspec
GarryB
Rpg type 7v
sepheronx
TR1
SOC
xeno
Austin
54 posters
S-350 "Vityaz" SAM System

Hole






Posts

: 9687


Points

: 9669


Join date

: 2018-03-24


Age

: 47


Location

: Scholzistan

Or S-350 the land version of Redut.
GunshipDemocracy likes this post

GarryB






Posts

: 37284


Points

: 37798


Join date

: 2010-03-30


Location

: New Zealand

The irony is that normally the ground version enters service first followed by the naval variant... with the exception of the SA-N-3 which is an odd missile that looks a bit like an SA-5 but with the solid rocket boosters removed from its sides...

This time the naval missile seems to have been developed first... probably because AESA radars are easier on ships where there is plenty of space for cooling systems and lots of power.

Isos






Posts

: 11006


Points

: 10986


Join date

: 2015-11-06

The missile was first developed for the s-400 I think. Then they used it for south korean SAM and naval redut.

medo






Posts

: 4337


Points

: 4417


Join date

: 2010-10-24


Location

: Slovenia

9M96 missile was first tested with S-300PMU2.
GarryB, JPJ, flamming_python, Isos and Arkanghelsk like this post

GarryB






Posts

: 37284


Points

: 37798


Join date

: 2010-03-30


Location

: New Zealand

Yes, but has it been operational within Russian units?

Seems to me they decided to go for the S-350 as a separate weapon to replace old S-300 batteries, but the S-350 is only entering service now, while Redut as been at sea for some time...

I rather suspect there was work together with the South Koreans but their missile seems to have rather limited performance figures compared with those released for the Russian Redut.
Arkanghelsk likes this post

Arkanghelsk






Posts

: 3131


Points

: 3133


Join date

: 2021-12-08

Wait but wasnt 9m100 on s400 quad packed into tubes since before s350 was announced?

Also 9m96 was being employed before, the 120km range missile

I think this is just way to use a system which maximizes those shorter range missiles and freeing space for s400 to use 40n6 long range missile
miketheterrible likes this post

Krepost






Posts

: 641


Points

: 643


Join date

: 2021-12-08

GarryB, JPJ, George1 and dino00 like this post

Kiko






Posts

: 2457


Points

: 2489


Join date

: 2020-11-11


Age

: 74


Location

: Brasilia

Why is Russia's S-350 Vityaz Air Defense System Better Than US-Made Patriot?, by Oleg Burunov for Sputnikglobe.com. 05.24.2023.

The Vityaz air defense systems are designed to tackle both ballistic and aerodynamic targets at an altitude of up to 30 kilometers.

Russia's S-350 Vityaz missile system has downed several Ukrainian warplanes and drones in the special operation zone in fully automatic mode, a well-informed source told Sputnik. The source added that "for the first time in the world, the Vityaz performed the automated detection, tracking and destruction of Ukrainian air targets in combat conditions."

What is the S-350 and does it get the better of the US-made Patriot air defense system in terms of performance characteristics? Sputnik explores.

What is the S-350 Vityaz?

The S-350 Vityaz is a mobile surface-to-air missile (SAM) system, which entered service with the Russian armed forces in 2019. The SAM is designed to destroy both ballistic and aerodynamic targets, which include combat aircraft, unmanned aerial vehicles (UAVs) and cruise missiles, such as the US' Tomahawks and the UK's Storm Shadows.

The Vityaz system comprises a self-propelled launcher, an all-aspect radar with electronic space scanning, and a command post. The SAM, which is mounted on the special wheeled chassis BAZ-69092-012, can be put on alert in less than five minutes. The system is capable of simultaneously engaging 16 aerodynamic targets and 12 ballistic ones.

What is the Range of Vityaz Missiles?

The S-350 missile system is equipped with the 9M96 and the 9M100 medium and short-range missiles, which are fired via a so-called "cold" vertical launch. When fired, a launch container throws a missile to an altitude of more than 30 meters, turning it towards a target with the help of a gas-dynamic system.

The Vityaz system is capable of destroying aerodynamic targets within the range of up to 120 km (74 miles) and at an altitude of up to 30 km (18 miles). As far as ballistic targets are concerned, the figures stand at 30 km and 25 km (15 miles), respectively.

Is Vityaz Better Than the Patriot?

Moscow-based military expert Alexander Mikhailov told Russian media that despite the fact that the Vityaz can be compared to the US-made Patriot air defense system in terms of performance characteristics, S-350 missiles move faster and are capable of hitting low-flying targets.

Namely, he explained, the Vityaz can engage the targets flying at an altitude of ten metres, while the Patriot is unable to shoot down objects moving lower than 100 metres.

Will the S-350 Be Upgraded?

Another Moscow-based military expert, Yury Knutov, was cited by Russian news outlets as praising the SAM's ammunition capacity. According to him, just one Vityaz battalion is enough to repel a massive enemy air raid.

On the whole, the S-350 Vityaz has great potential in terns of upgrading, given that it was created on the basis of "open architecture," according to him.

"In the future, the system can be improved by means of replacing certain components. This will significantly increase the SAM's technical capabilities and combat performance. The S-350 is a breakthrough and unique system that only Russia has," Knutov concluded.

https://sputnikglobe.com/20230524/why-is-russias-s-350-vityaz-air-defense-system-better-than-us-made-patriot-1110556816.html
GarryB, franco, Big_Gazza, zardof, thegopnik, lancelot, Broski and Belisarius like this post

GarryB






Posts

: 37284


Points

: 37798


Join date

: 2010-03-30


Location

: New Zealand

Wait but wasnt 9m100 on s400 quad packed into tubes since before s350 was announced?
No.
The smaller missiles shown with the S-400 both on the launcher and lying in and out of tubes beside them are the two 9M96 missiles of 150km and 60km flight ranges.
The smaller 9M100 is not so often showed and is supposed to fit four to a 9M96 missile tube, but looking at the image Krepost has posted I have my doubts.
As you can see the 9M100 is a smaller calibre than the smaller 9M96 (the two 9M96 missiles are the same diameter and are loaded into the same sized tubes which fits four to a launch position on an S-400 launcher).
And on the UKSK launcher drawing: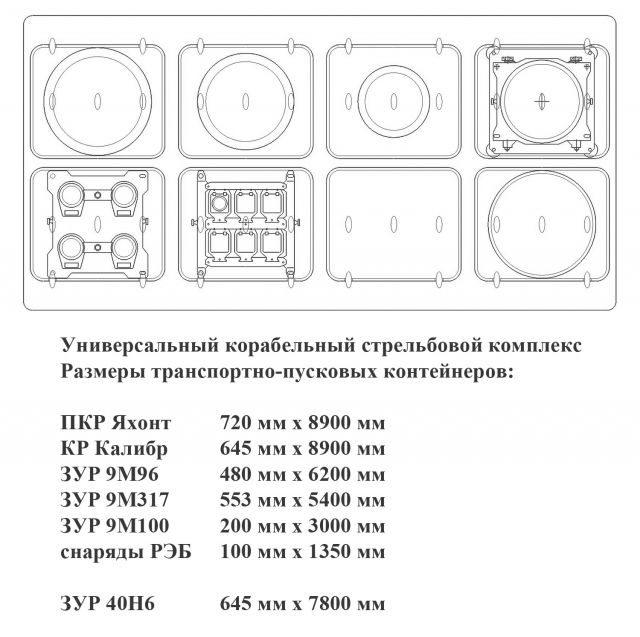 You can see the missile types and their dimensions listed...
Top to bottom on the list is Yakhont (Onyx) 0.72m wide and 8.9m long, Kalibr (cruise missile) 0.645m wide and 8.9m long, 9M96 .48m wide and 6.2m long, Naval BUK (Shtil-1) 9M317 0.553m wide and 5.4m long, and 9M100 0.2m wide and 3m long, then "electronic warfare shells" 0.1m wide by 1.35m long, and finally the large 40N6 400km range S-400 missiles are 0.645m wide and 7.8m long.
Note when I say long I mean deep.
The 9M96 missiles are about 50cm wide and the 9M100 are supposed to be 20cm wide so you should be able to fit about four 9M100 in the space you fit one 9M96, because you can fit four 48cm wide 9M96 in the space of one 65cm wide S-400 missile as shown here: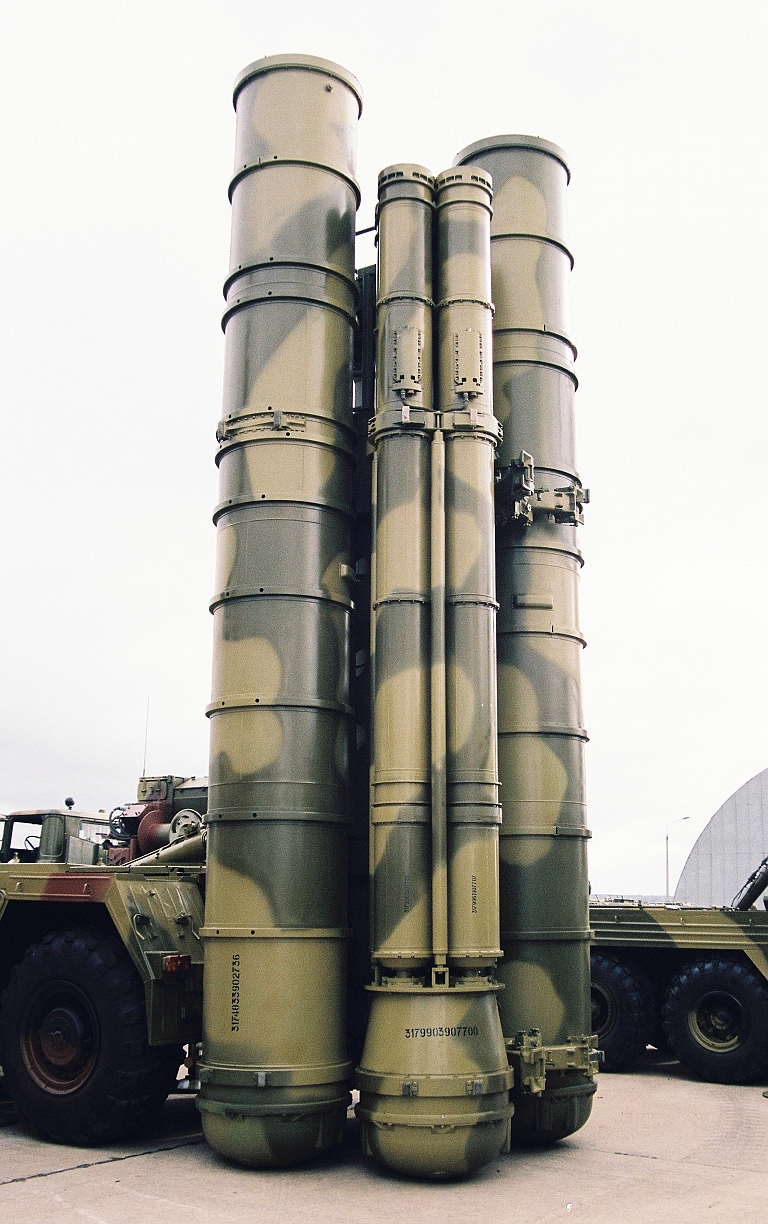 Here you can see the standard S-400 launch tubes in three positions on the launcher and the remaining space for a single launch tube there are four 9M96 launch tubes.
I suspect this was an effort to be able to sell S-400 to countries without them needing to buy lots of Pantsir or TOR to defend their systems because the smaller more manouverable S-350 missiles (9M96) would be better and more efficient at shooting down threats to the S-400 battery than the bigger longer ranged S-400 missiles.
For the Russian military however the S-350 missiles are ideal smaller cheaper lighter replacements for older S-300 systems so photos of the quad pack of missiles seem to actually be rare for Russian exercises.
Big_Gazza, thegopnik, Broski, Belisarius and Podlodka77 like this post