This is the Vityaz vehicle chassis I was referring to: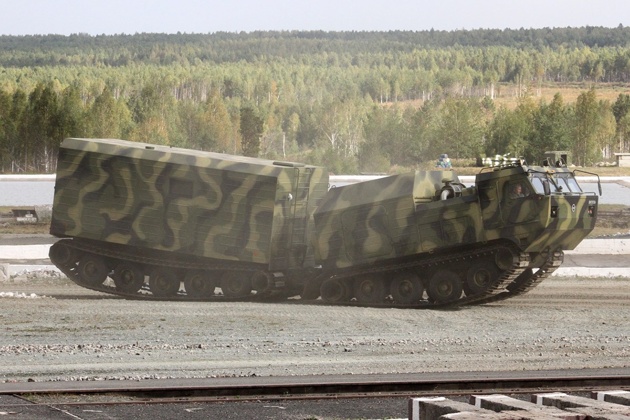 Both tractor and trailer unit have engines and the connection between then has hydraulics to allow the front section to actually raise the rear section or vice versa.
As both sections float it means that when in the water the connection can be used to lift the front up onto floating ice and once up the front can then assist the rears section up onto the ice as well so it can get out of water much better than most other amphibious vehicles.
As you can also see the rear trailer section is quite tall and would allow lots of vertical launch pallets for a relatively small missile like Morfei or TOR to be carried in the vertical position ready for launch.
In comparison the original TOR vehicle crammed 8 missiles in the turret ring of the vehicle, which was two four missile bins.
On the Vityaz you could probably get 10 or more 4 missile bins on the trailer which offers excellent capacity to defend against attempts to overwhelm the defence with numbers.
The missiles of TOR are command guided, while Morfei are lock on after launch IIR guided, so having all the missiles on the vehicle ready to launch is an advantage.
The front vehicle could carry a roof mounted four face AESA array for continuous 360 degree scanning with no moving antenna but with and EO ball on top to ID targets. Electronic scanning is much faster and more efficient than mechanical scanning of radar antenna.
Unifying the launcher with TOR and Morfei means that a mix of missiles could be used as TOR is still very effective and cheap, while Morfei will be even more capable and fully fire and forget, though more expensive. Morfei will have air force air launched equivelent (new AAM to replace the R-73/R-74) and a naval version so it will be an inter service missile.
TOR may continue to be used by the Navy and Army as a cheap but still effective system for air defence.
The four face AESA antenna will offer very rapid initial detection of targets capability, while the EO ball will enable the operator to positively ID a target especially in peacetime, and can also be used against targets with low RCS.
As I mentioned above a decent wireless datalink connection between launcher and front vehicle could allow one control vehicle to launch missiles from several trailers at once.
For instance if defending a really large area target like an airfield that could be 4-5km long and 2-3km wide 4-5 trailers could be positioned at each end of the runway with a mobile command vehicle scanning the skies for threats.
The command vehicle even at one end of the runway spotting a target coming from the opposite end of the runway could launch missiles from the trailer closest to the incoming threat, which might reduce intercept time by several seconds.