+59
ALAMO
The_Observer
lyle6
RTN
Sujoy
lancelot
Backman
slasher
walle83
Hole
dino00
AMCXXL
LMFS
owais.usmani
Rodion_Romanovic
x_54_u43
JohninMK
MiamiMachineShop
flamming_python
verkhoturye51
mnztr
Tingsay
OminousSpudd
miketheterrible
PapaDragon
Singular_Transform
bhramos
hoom
zg18
Ned86
Isos
Dima
SeigSoloyvov
Big_Gazza
TheArmenian
jhelb
kvs
chinggis
franco
artjomh
GunshipDemocracy
max steel
rambo54
2SPOOKY4U
navyfield
Mike E
Viktor
stud-one
coolieno99
Mindstorm
Stealthflanker
TR1
George1
Admin
GarryB
nightcrawler
Austin
Russian Patriot
Turk1
63 posters
Project 971: Akula class

Arrow






Posts

: 1071


Points

: 1069


Join date

: 2012-02-12

Project 955A and 855M submarines and probably Belgorod, Khabarovsk use completely new turbine reactors, gears.

Mir






Posts

: 1084


Points

: 1088


Join date

: 2021-06-10

RTN wrote:

Be that as it may, OK-650 family of reactors need to be replaced with more state of the art reactors. They have had a long run and probably served their purpose but new inventions should follow.

The use of the OK-650 family of reactors started with the introduction of the Sierra class subs, but with each subsequent class of submarines a more advanced version of the 650 reactor was developed. That means that the reactor used in the Yasen class is far more advanced than the one in the Sierra boats. It's called e-v-o-l-u-t-i-o-n.
Basically the same thing happened with the Los Angeles and Sea Wolf class subs - same family but the Sea Wolf's S6 reactors are more advanced than the Los Angeles.
Russia made a huge revolutionary jump in reactor technology by developing miniaturized reactors that can be used in cruise missiles, torpedoes and small sized submarines. No one else seems to have been able to duplicate this technology at the moment?
Mindstorm, Big_Gazza and Hole like this post

GarryB






Posts

: 31502


Points

: 32032


Join date

: 2010-03-30


Location

: New Zealand

Take SSKs for instance, just when AIPs were being touted as the holy grail of underwater warfare the Japs came up with lithium ion batteries for their SSKs.
No disrespect meant, but I think they are in a much better place to make decisions than people like us on the internet.
If you go a few dozen pages back on an SSK thread you will see that Russia is falling behind on AIPs and if they don't get a new AIP into the water and operating soon then they will be 20 years behind in SSK technology and no one will buy their subs.
Well obviously they know more about things that we do and it seems the Japanese who were I guess therefore world leaders in SSK design because they had subs with AIP units in them, have now gone in a different direction and dropped the AIPs and just gone with more li ion batteries instead... now imagine if we did control the Russian Navy... they would be working super hard to get AIPs into their next lot of Lada class subs, whose export name is Amur... so wasting lots of time and effort only to likely get the damn thing into the water at enormous expense only to find that it would have made more sense to go with more lithium ion batteries instead, or maybe they have another new battery technology in the wings that is even better.
If the French make very small SSNs it would normally because their nuclear power unit is not very powerful and they don't want to use more of them because it would make their subs too big... not a huge problem... a small SSN is not the worst thing in the world... the Alpha SSNs were rather good for what they were.

Mir






Posts

: 1084


Points

: 1088


Join date

: 2021-06-10

The French reactors are smaller but less powerful - they also require refueling much sooner at around 5-7 years. However given their operational requirements it's not a big issue as they mostly operate in the Mediterranean and North-Eastern Atlantic. They don't need big nuclear subs that can run at 30+knots across vast oceans.
GarryB and Big_Gazza like this post

Arrow






Posts

: 1071


Points

: 1069


Join date

: 2012-02-12

As for the new silent drives for submarines. An interesting solution was used on the new units of the 955A project. It is an additional / emergency drive. I think it can be used as a very quiet drive. This is the rim driver thruster. The propeller is also the engine. The rotor is a screw and the stator is a rim. As a result, the drive does not need a gearbox, etc. It is enough to provide only the power supply and of course the appropriate control. Borey A has four such propellers. I don't know what speed he can reach on this. I think that in the future such propulsion will be found on other submarines.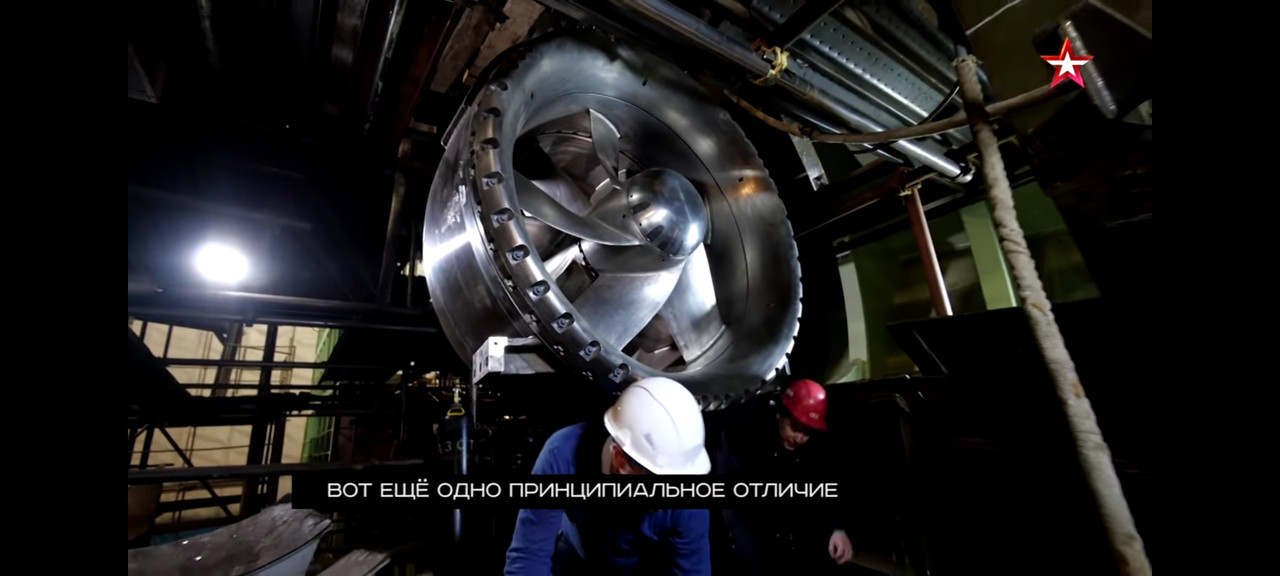 GarryB, Big_Gazza and Mir like this post

ALAMO






Posts

: 881


Points

: 883


Join date

: 2014-11-25

971 used the very same system, with two retractable OK-300 electric propulsors.
Those systems have a dual purpose, one being quiet march at up to 5kt speed, while the other is easing off the harbor maneuvering.
GarryB, Arrow and Big_Gazza like this post