+34
starman
Backman
Kiko
sepheronx
Werewolf
Broski
thegopnik
lancelot
Isos
nomadski
crod
Mir
JohninMK
GarryB
miketheterrible
Odin of Ossetia
magnumcromagnon
Krepost
par far
franco
George1
Hole
flamming_python
d_taddei2
LMFS
Mindstorm
kvs
Mig-31BM2 Super Irbis-E
higurashihougi
PhSt
lyle6
nero
RTN
ALAMO
38 posters
Syrian War: News #23

JohninMK






Posts

: 13721


Points

: 13854


Join date

: 2015-06-16


Location

: England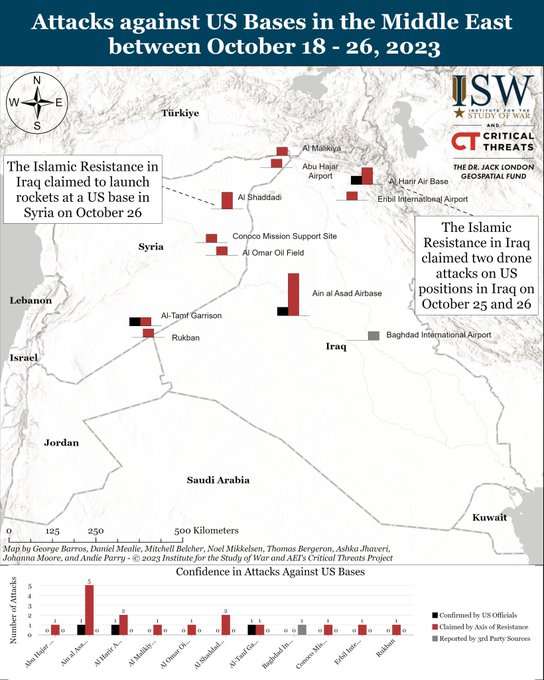 GarryB, kvs and Hole like this post

par far






Posts

: 3444


Points

: 3689


Join date

: 2014-06-26


JohninMK






Posts

: 13721


Points

: 13854


Join date

: 2015-06-16


Location

: England

The Syrian oil stolen by the US exits the country by tanker then enters the pipeline system in Kurdistan on its way to its final destination in Israel.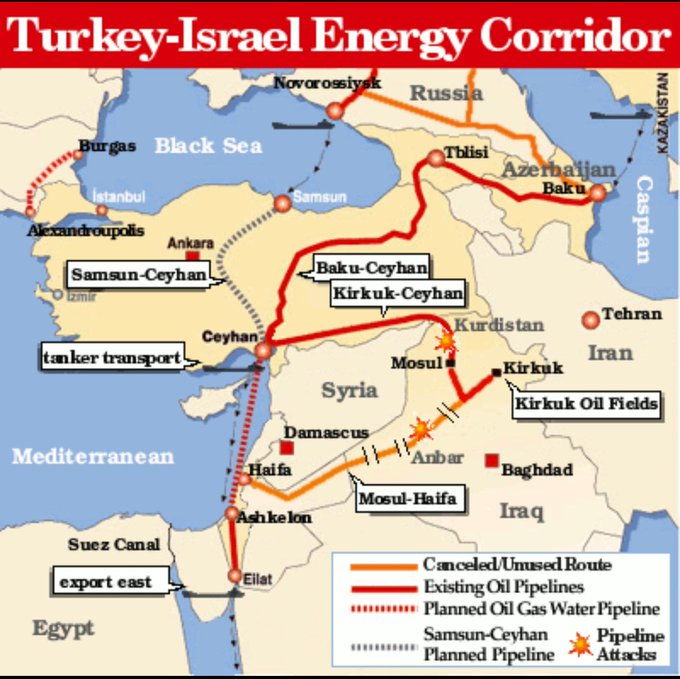 GarryB, ahmedfire and kvs like this post

GarryB






Posts

: 37841


Points

: 38345


Join date

: 2010-03-30


Location

: New Zealand

Destroy the tankers in Syria and target the pipes in Iraq and Turkey. When they complain tell them to stop shipping stolen Syrian oil and the attacks will stop.

Destroy the oil fields in Syria... Syria can buy all new drilling and storage and transport equipment from Russia when they get their land back... as long as the US keeps getting free oil they wont give up the land.
ahmedfire, par far, starman, The-thing-next-door and Hole like this post

JohninMK






Posts

: 13721


Points

: 13854


Join date

: 2015-06-16


Location

: England

Steele M
@SteeleSyAA
Syrian Domestic News Report October 29th
Daraa: An Israeli warplane targeted two Syrian - Iranian locations in the western Daraa countryside with 6+ air strikes, after midnight on Monday morning. Israeli strikes targeted the headquarters of the Syrian 112 Mika Brigade located east of Nawi in the western countryside of Daraa with two airstrikes.
DZ: Arab forces shoot down a Kurdish assault drone in the town of Abu Hardoub in eastern DZ province and have occupied a Kurdish command point from this morning in the town after heavy clashes and the capture of Kurdish command elements.
DZ: 11 people were killed and number including children, were injured after Kurdish forces targeting the city of al Mayadeen in eastern DZ with mortars strikes this morning. The shelling likely came from the Kurdish held town of Dhiban that opposes al Mayadeen across the Euphrates river.
Raqqah: An IED targeted a Kurdish military vehicle in the vicinity of al Noor Mosque in the city of Raqqah. The vehicle was heavily damaged without details about Kurdish casualties. ISIS has claimed responsibility for the attack.
DZ: 3 people were injured as a result of a rocket-propelled grenade explosion on the outskirts of the al Alwa neighborhood in the city of DZ in eastern DZ province. It's not clear what happened or why the RPG detonated.
Idlib - Aleppo - Hama: There were Syrian artillery strikes in areas of Aleppo, Idlib, and Aleppo provinces with multiple strikes reported in all areas.
Quneitra: The Israeli army targeted an Iranian - Syrian military point in the southern the countryside of Qunitra after a missile was launched from the area near the position towards the Syrian Golan Heights. The Iranian rocket landed in an uninhabited area with no damage recorded.
Hasakah - DZ: Iranian rockets attacks against both the U.S. Army bases in southern Hasakah and eastern DZ today with a half dozen rocket strikes in total. No casualties have been reported yet with only material damage.
#Syria #SyAA #Syrianarmy