+30
KoTeMoRe
Hole
Scorpius
PhSt
Isos
kvs
marcellogo
magnumcromagnon
PapaDragon
xeno
sepheronx
Project Canada
George1
GunshipDemocracy
Flanky
Cyberspec
Werewolf
flamming_python
Zivo
Vann7
r111
medo
TR1
KomissarBojanchev
Mindstorm
TheArmenian
Austin
GarryB
Viktor
Admin
34 posters
"Hermes" multi-purpose guided missile:

GarryB






Posts

: 35726


Points

: 36252


Join date

: 2010-03-30


Location

: New Zealand

dino00, magnumcromagnon and Broski like this post

eridan






Posts

: 179


Points

: 185


Join date

: 2012-12-13

So, since Hermes is a non line of sight weapon - what sort of guidance does it use?
It doesn't seem to have a visible seeker...
would that mean that the missile is coupled with a target designator system (either third party one for NLOS use or on a launcher for LOS use)
and if so, does the missile follow a laser pointer or is it command guided?

GarryB






Posts

: 35726


Points

: 36252


Join date

: 2010-03-30


Location

: New Zealand

The current website for KBP is down for maintenance but AFAIK the HERMES is supposed to be a command guided missile much like the SA-19 missile it is based on except because targets on the ground are not line of sight like aerial targets the Hermes is supposed to use a terminal guidance system depending on the version ranging from IIR and radar (MMW) to EO with laser spot detection.

It is intended to hit point targets including moving targets so laser spot homing and IIR seeker as well as MMW radar could be used or combinations... the MMW would be all weather day and night capable, while the IIR would be day night capable too, as would the semi active laser homing.

Their newer missiles seem to combine an optical with laser spot detection capability so the missile can track a target or be directed to a target using a laser target marker.

They don't seem to be in any hurry to reveal what specific guidance it will be using, though interestingly MMW and IIR could also be used against air targets too so it is rather multi functional.

If it does use laser target marker seeking then a drone could be launched to find and mark targets for it.... there is the E90 drone already developed for the Tunguska and Pantsir systems that should have launch compatibility...

GarryB






Posts

: 35726


Points

: 36252


Join date

: 2010-03-30


Location

: New Zealand

If you search for the website as kbptula.ru without the www at the start it shows a login screen and says the site is down for maintenance... so that will be interesting... I wonder what upgrades they are going to make...

PhSt






Posts

: 915


Points

: 921


Join date

: 2019-04-02

Is Hermes and Izdeliye 305 the same?

ALAMO






Posts

: 4439


Points

: 4441


Join date

: 2014-11-25


GarryB






Posts

: 35726


Points

: 36252


Join date

: 2010-03-30


Location

: New Zealand

No.
Hermes is developed from the Pantsir and SA-19 SAMs and is a two stage missile with a large solid rocket booster.
Hermes is tube launched.
This is an archived copy of the site that is currently down for maintenance:
https://web.archive.org/web/20211110211226/http://www.kbptula.ru/en/productions/multi-service-weapon-systems/germes-a
If you click on it on the right hand side below the little photos in the main centre article area the title System Composition there are two links... if you click on them small popup windows will open, the top link being an image of the missile and its launch tube showing it is a two stage missile... the second link shows the system including the launch tubes which are arranged the same way as Vikhr missile launch tubes on a Hokums weapon pylon where 6 missiles are loaded on one pylon with four missiles underneath and two missiles are on top for 6 per pylon.
In comparison the LMURs or object 305 looks like this: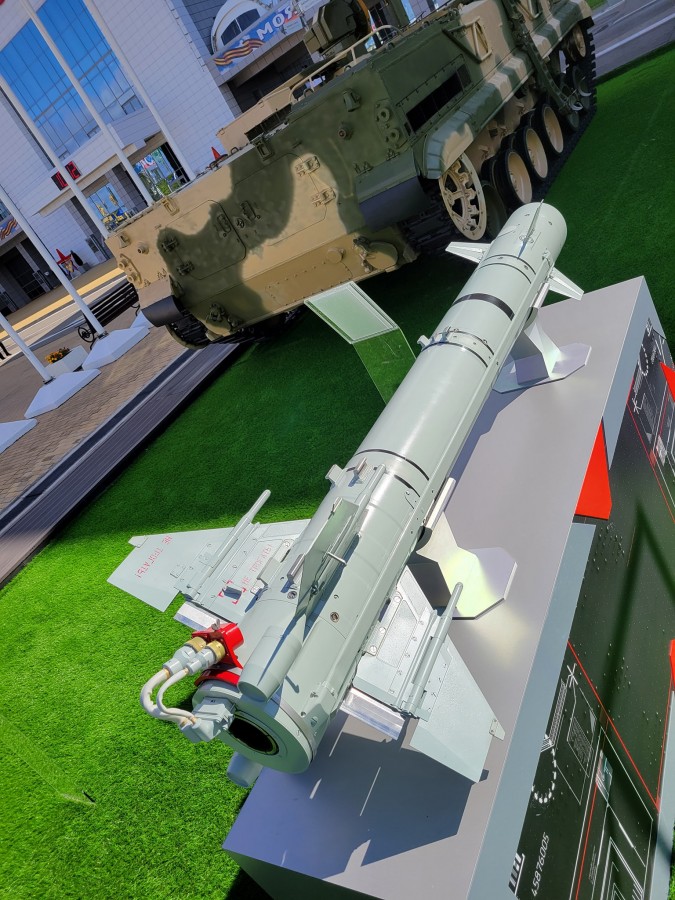 And its single launcher looks like this: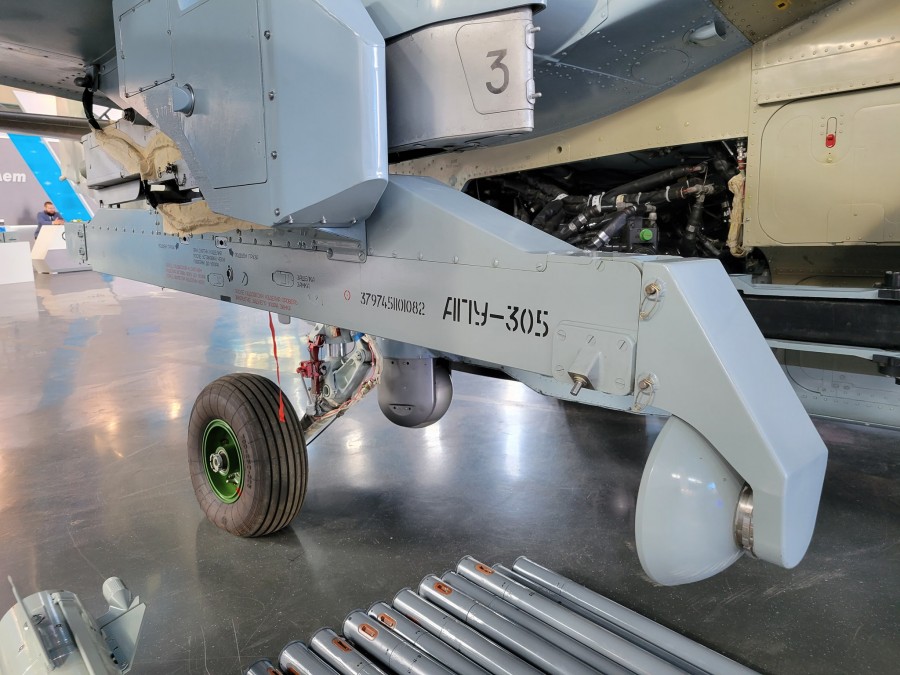 There is a twin launcher for two missiles on a weapon pylon and there is also a surface launched missile carried by an armoured vehicle...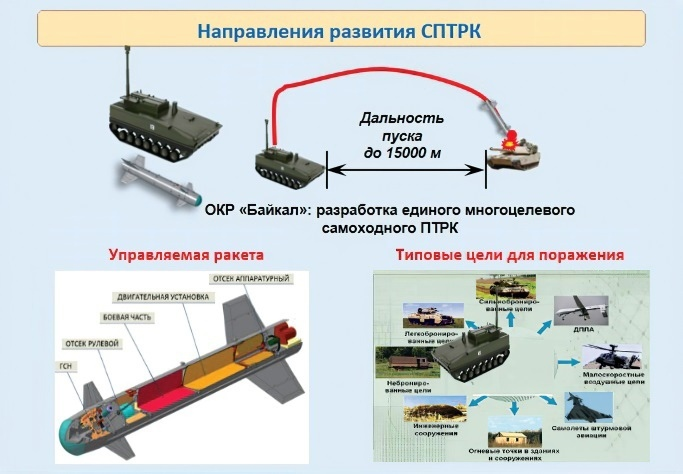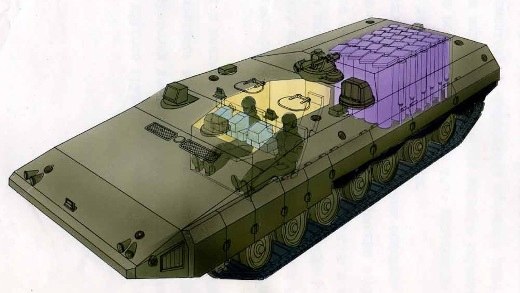 Missile in front of a twin launcher:
Missile mounted on a single launcher:
Werewolf, Big_Gazza and LMFS like this post

GarryB






Posts

: 35726


Points

: 36252


Join date

: 2010-03-30


Location

: New Zealand

Just noticed...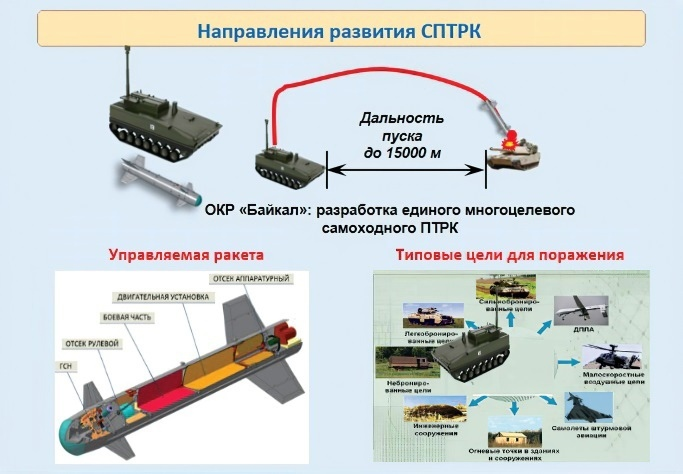 In the image lower right seems to show the LMUR missile is a fully multipurpose missile for use against Tanks, BMPs, soft vehicles like trucks, bunkers and fortified positions, buildings, fixed wing aircraft, helicopters, and drones...
So it must have some sort of smart fusing to allow it to penetrate heavy armour while still being lethal against a range of target types of varying degrees of hardness or softness...