The information have seen says Arena-E engage target at with a max speed of 700m/s ,thats Mach 2.0. which is
not bad at all.. can engage almost all anti tank weapons but not Hermes k that travels at mach 4.0. APFSDS rounds also travel at very fast super sonic speeds.
The new ARENA-E can engage targets from 70m/s to 1,000 m/s as shown in the current brochure: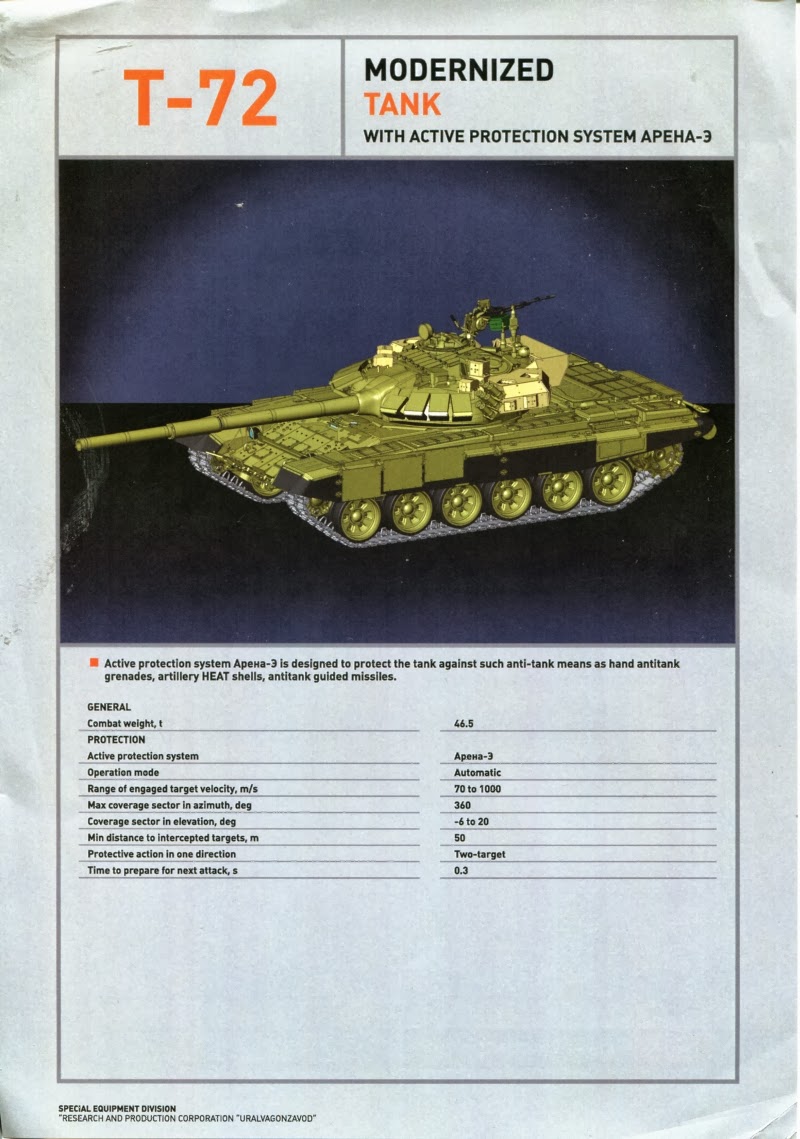 Which is Mach 3.
As I said above Standard and Afghanistan will be able to engage APFSDS rounds... which means they can engage very small targets at 1,500m/s or so, which means Hermes is not fast enough to evade them.
Also Hermes uses a solid rocket booster after which it coasts to the target area so while it might be moving at 1.3km/s at about 2km range by about 15km range it will likely be going at about 600-700m/s.
In Urban warfare tanks takes a lot of gun fire , lots of rpgs and IED too. So tank any hardware outside the tank
and sensors will be destroyed if too big and weak.
Audio sensors can hear around corners so can sit behind steel plate armour with multiple sensors used to locate sound sources. All sources of gunfire could be located and engaged in real time so I suspect the number of enemy forces shooting at your tank will rapidly diminish as the targets are eliminated. Needless to say firing an M16 at a T-90AM would do very little, but the act of firing locates you for the crew of that tank. After 10 of your buddies are killed because they fired upon enemy tanks how often are you going to try it on the off chance you might hit something important... remember in the near future in an armata brigade every vehicle will have tank level armour and sensors to detect your location when you open fire...
on top active protection detonation mechanism is a problem not only for troops near but equipment in the tank.
Looking at the ad above it still just protects from the sides rather than diving top attack threats... friendly troops can't operate close to their tanks anyway... that 125mm gun swinging around and firing a shot above your head would ruin your day pretty damn fast.
Equally the gunners sight is above the line of the coaxial MG so he could open fire into the back of a friendly soldiers head not realising he is in the line of sight of the gun but not the optical sight.
ARENA is designed to launch its intercept munitions up into the air and direct the fragments down at the incoming threat to minimise the threat to nearby soldiers. Conversely munitions can be fired manually to engage enemy troops that are nearby...
So i don't see in the near future ,how could you have outside a tank very big expensive radars and expensive sensor to counter super fast missiles coming to a tank.
What makes you think they need to be big? They just need to detect the incoming threat to 50m or so and be fast acting.
Here are the radar elements of the ARENA-E system: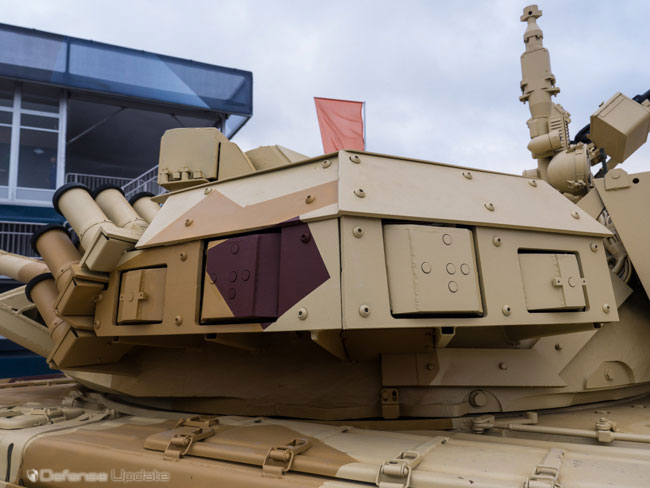 Those boxes in the sides.
Here you can see the open tops with the munitions visible...
One hermes with 1300 mm penetration should be more than enough to disable a tank ,or at least wound its operators inside even in a frontal attack.
They need a breakthrough... 152mm guns are just too big and heavy and cumbersome... I suspect much higher velocity EM guns will start being used... most likely in long range artillery on land and at sea and then EM MBT guns of smaller lighter calibres but much higher velocities so they are still effective.