Abkhazia - S.Ossetia vs Georgia Situation

Tsavo Lion




Posts

: 4703


Points

: 4699


Join date

: 2016-08-15


Location

: AZ, USA

West began preparing Georgia to abandon Abkhazia and South Ossetia
https://regnum.ru/news/polit/2715747.html

Odin of Ossetia




Posts

: 432


Points

: 525


Join date

: 2015-07-03

Odin of Ossetia wrote:




Ukrainians tried to stage anti-Russian provocations during the Georgian invasion of South Ossetia in 2008:


http://asaland.proboards.com/thread/302/ukraine-participated-invasion-south-ossetia




But Putin supposedly claims that "Russians and Ukrainians are same people."


Will Russia survive Putin?





Georgian Losses Reports from the 2008 War:
http://asaland.proboards.com/thread/264/georgian-losses-reports
Sakashvili apparently recently said that "leaving Georgia was the worst thing I did."
I think him leaving Georgia was a good thing.

Odin of Ossetia




Posts

: 432


Points

: 525


Join date

: 2015-07-03

Nice caricature: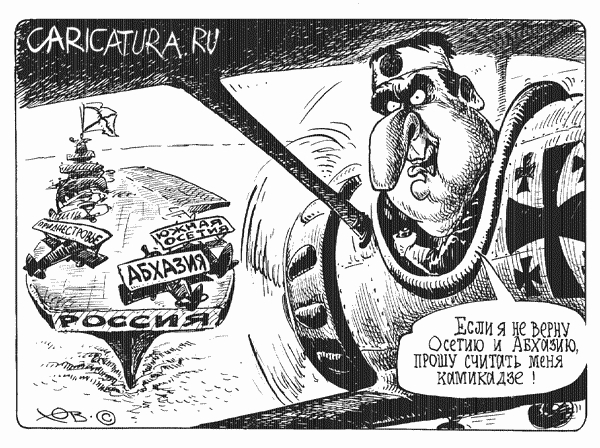 Translation into English:
The aircraft carrier is called "Russia." On it are three planes which are named "Abhazia", "Pridniestrovie", and "South Ossetia."
The flying biplane with the big nosed guy as a pilot is Georgia, as it has the Georgian flag painted on it.
The pilot says: "If I do not get back Abhazia and South Ossetia, I will become a kamikadze."

kvs




Posts

: 7076


Points

: 7225


Join date

: 2014-09-11


Location

: Canuckistan

Tsavo Lion wrote:West began preparing Georgia to abandon Abkhazia and South Ossetia
https://regnum.ru/news/polit/2715747.html
Georgia never had any rights to either. It's time to stop with the BS of imperial borders being legal. They cannot
override historical borders. Imperial borders have been the source of millions of deaths over the last two centuries.
For example, Rwanda and Burundi. Two states concocted by France ignoring the local ethnic distribution. Similarly,
Stalin's carving up of Central Asia, again hacking through real ethnic boundaries. Lenin's Bolsheviks are
what gifted Abkhazia and South Ossetia to Georgia. This is illegal and no amount of time on the maps makes it
legal.