so it seems that the Serbs like their AT-3 sagger's, not only do they mount them on just about any armoured vehicle and helicopter, and have upgraded to the Malyutka-2T, but they have done another upgrade (which was news to me Sorry if its old news) the 2T5 which extends the range of the the current version 2T, the range iw now 5 kilometers, which is a guided missile via radio control. The current stats of the 2T are as follows SACLOS 4.4 kg tandem HEAT warhead 1,000 mm penetration versus RHA, improved capability against ERA. Weight 13.7 kg. Speed 120 m/s.
So some may ask is it worth upgrading these or would it be better to purchase more Bumbar or another ATGW?
But actually think this new system (2T5) is a pretty good system especially compared the original system. But i actually think that a mix of the two Bumbar and 2T5 is the way to go for Serbia, as the 2T5 has the advantage of range and cost on its side while the Bumbar has a range of only 1000m, but has the advantages of being more accurate, can be launched in confined spaces, and has a much lower minimum range than the 2T5. I remember reading that the AT-3 was the cheapest ATGW available, obviously the 2T5 would be more expensive than the normal version however i wouldn't expect it to much more expensive than the original. And if we take into account of the most recent types of warfare being experienced in the recent conflict zones around the world, neither of them has called for Sophisticated ATGW systems, just look at Syria for example AT-3 sagger, AT-4 Spigot, and AT-5 spandrel, have all been very useful, and not just destroying armour but buildings and enemy positions where the use of Sophisticated ATGW would be a waste of money in these situations.
Serbia also has the AT-4 Spigot and although i am surprised that they didn't choose this instead of the AT-3 Sagger for upgrading, I think that it came down to cost, like i said the AT-3 seems to be cheap to produce and giving it some simple but effective upgrades would still keep it cheap, where to upgrade the AT-4 might have cost more, and with Bumbar now in production i think it won't be long before they have an upgraded missile on this extending the range to the same as the AT-4 (2.5km) so therefore they will eventually have a two systems in their inventory, one with a high degree of accuracy being able to operate in any weather situations, and the other a cheap effective system with a decent range ideal for destroying buildings, bunkers, positions, and static armoured vehicles.
whats peoples views on the Serbian Malyutka-2 and 2T5???
below a pictures of both missiles
2T and 2F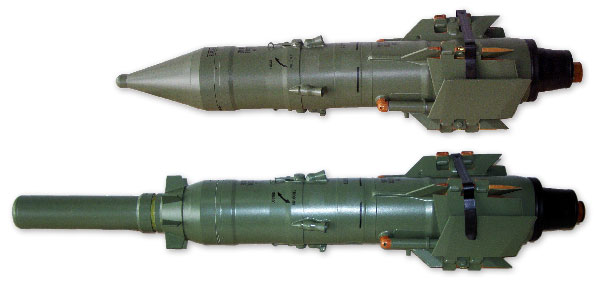 2T5.