Development Projects of Russia: Industry, Energy and Infastructure

franco




Posts

: 4026


Points

: 4056


Join date

: 2010-08-18

https://www.stalkerzone.org/224-new-plants-are-being-built-in-russia-right-now/
GarryB, kvs and Tingsay like this post

magnumcromagnon




Posts

: 7217


Points

: 7366


Join date

: 2013-12-05


Location

: Pindos ave., Pindosville, Pindosylvania, Pindostan

224 NEW PLANTS ARE BEING BUILT IN RUSSIA RIGHT NOW
GarryB and PapaDragon like this post

kvs




Posts

: 9253


Points

: 9396


Join date

: 2014-09-11


Location

: Canuckistan



Russia will build a floating mineral processing combine for the mining operations on Novaya Zemlya.

The capacity is about 300,000 tons of extracted metal per year.

The USSR had a smaller combine for a pilot seabed mining project which was determined to be non-viable
but due to poor characterization of the deposit.





George1




Posts

: 15925


Points

: 16422


Join date

: 2011-12-22


Location

: Greece

The next new generation nuclear reactor is nearly ready for delivery: Atomenergomash at Volgodonsk done a full assembly of the first VVER-TOI reactor pressure vessel and reactor pressure vessel head for Kursk NPP-2 unit-1. VVER-TOI (VVER-1300) is the most up to date russian nuclear project which is implemented for the first time at Kursk NPP-2.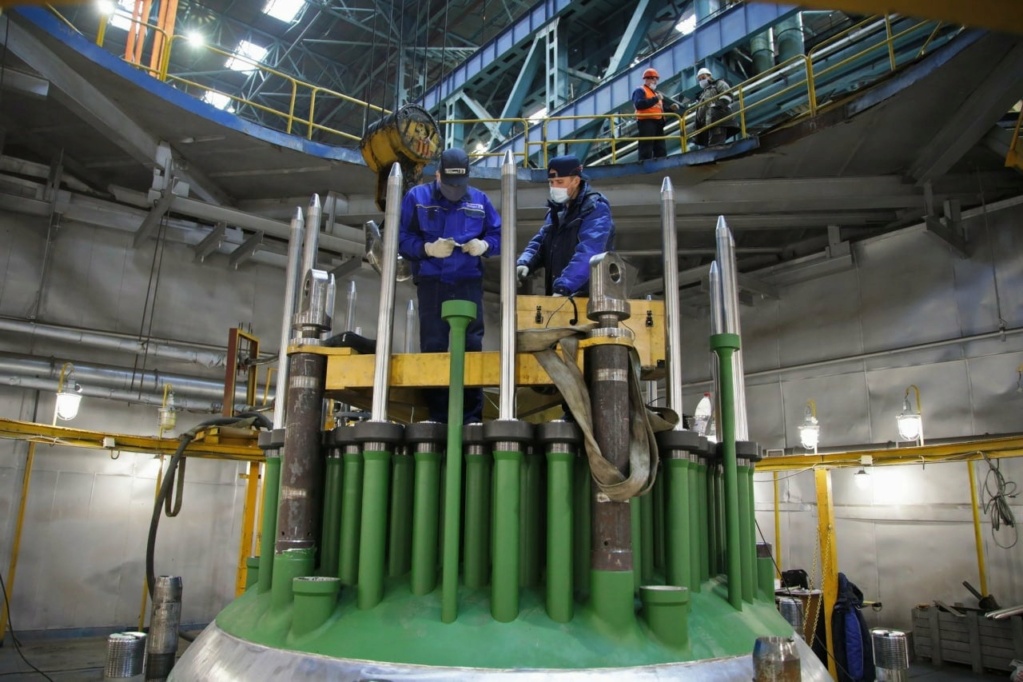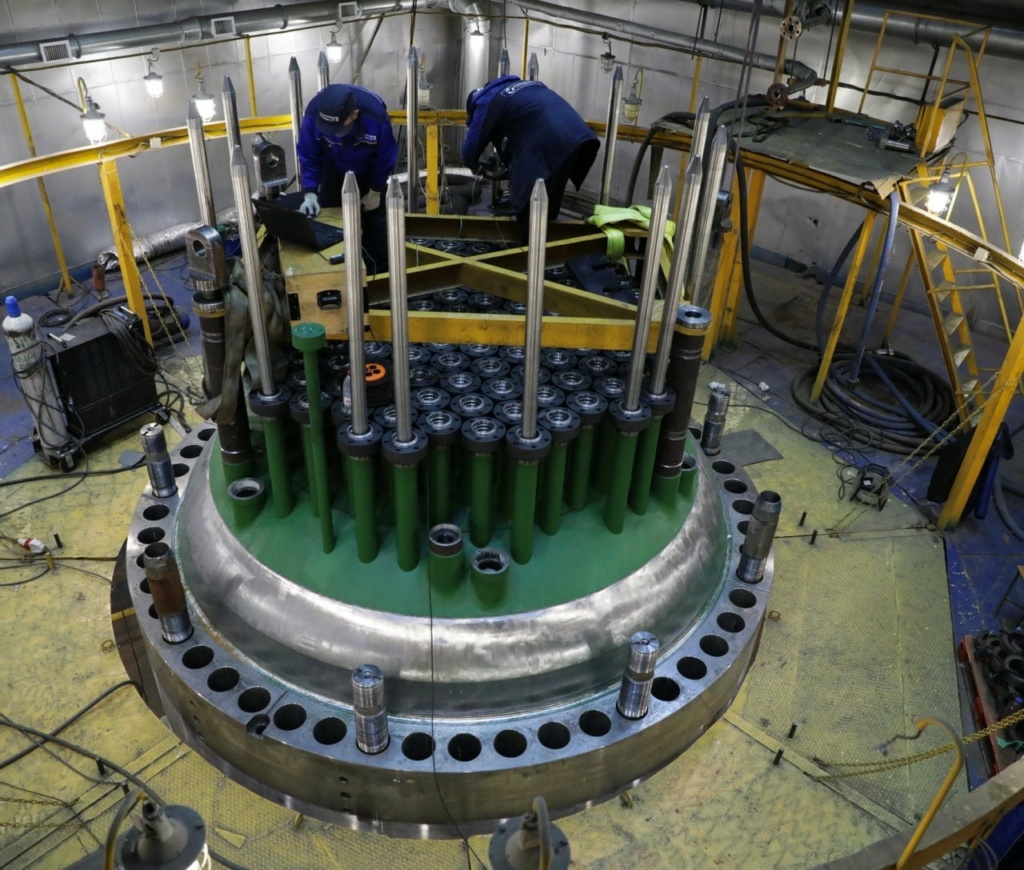 Full load: On January 3rd, at 2:10 pm, Russia's newest nuclear reactor, Leningrad II-2, reached it's design electrical power output of 1165 MW with hitting 100% design output from it's VVER-1200 nuclear reactor, producing a thermal power of 3200 MW. With a combined power of 4400 MW, Leningrad NPP is currently the most powerful nuclear power plant in Russia.
Big_Gazza, lyle6 and lancelot like this post

Kiko




Posts

: 400


Points

: 404


Join date

: 2020-11-11

Russian machine tool industry: Europe "tasted" equipment from the Russian Federation

On the very eve of the New Year, the Stankomashstroy plant completed the assembly of its thousandth machine tool. This is a universal screw-cutting lathe equipment belonging to the ST series, brand 16k20. This unit will soon be shipped to a customer in Denmark. The press service of the enterprise reports.

Europe "tasted" high technologies of the Russian Federation

The machine of the ST 16k20 series is equipped with digital readouts, quick-change tool holders of the MultiFix type, and was also retrofitted with special attachments in accordance with the wishes of the European customer, which adapted the machine to the foreign market.

The plant from Penza has been supplying equipment abroad, to Europe for a long time, restoring within its capabilities not only the domestic machine tool industry using high-tech equipment, CNC, but also reviving the image of the industry of the Russian Federation, the successor of the USSR.

At the end of August last year, three metal-working machines were sent to Germany, famous for its technologies and techniques, now the anniversary complex device is sent to one of the dealers in Denmark. We can safely say that the EU has "tasted" the quality and characteristics of domestic machine tools produced by "Stankomashstroy", which are in no way inferior to their counterparts from Europe, except for a huge price difference.

Seven years of progress

After the restoration of international business ties, interrupted for a time by the global pandemic, the company resumed exporting its own equipment to Germany, Hungary, Mongolia and now to Denmark.

For eleven months of last year, Stankomashstroy manufactured 203 machines of its own design and development. Of these, 200 have been sold, leaving a few pieces of equipment awaiting shipment to customers. Not a bad efficiency for the plant, which began its revival only seven years ago, when the company decided to revive the production of its own production and development.

In seven years, a path has passed from trial and error to a confident competitor to expensive models of Western machine tool ideas. The plant supports the Fund for the Development of Enterprises in the Scientific and Technical Environment, whose investments were directed to the purchase of new equipment, which provided the enterprise with the opportunity to start producing its own machines and develop new equipment of a domestic model.

This suggests that the Russian machine tool industry has broad prospects. Modern machine tools are needed by the Russian Federation itself for the development of various industrial sectors. As practice has already shown, the products of the Russian machine-tool industry are also of interest abroad.

https://finobzor.ru/101813-rossiyskoe-stankostroenie-evropa-rasprobovala-oborudovanie-iz-rf.html?utm_referrer=https%3A%2F%2Fzen.yandex.com
GarryB, x_54_u43, LMFS, Hole and lancelot like this post

kvs




Posts

: 9253


Points

: 9396


Join date

: 2014-09-11


Location

: Canuckistan



Chubais did leave a steaming pile of excrement while he was in the position to steer Russia's energy policy. Chubais
introduced the worst form of "green energy" as a subsidy racket where the cost of wind and solar was 15-20 times
more than nuclear per unit of electrical energy delivered. The whole electrical grid was burdened with intermittent
and expensive to maintain alternative energy. In other words, privatizing the profits and socializing the costs. Like
expected from a true 1990s shock therapy witch-doctor "reformer".

Now the Russian government plans to dial down the insanity without just killing the deployment overnight. We will see
how that goes and it will be a test for the Russian government. An important detail is that Russian nuclear power
is not the grotesque nest of corruption that it is in the west. Russia does not spend $14 billion to build same GW
scale power plants like in the west. So the actual cost of nuclear power in Russia is 15-20 times cheaper than
the "green" options. After getting rid of nuclear power, in aggregate Germans pay 7 times more for electricity than
Russians.







George1




Posts

: 15925


Points

: 16422


Join date

: 2011-12-22


Location

: Greece

Completion of the construction of a water intake to provide water to residents of Sevastopol in Crimea


GarryB, AlfaT8, Big_Gazza, kvs, PapaDragon and Hole like this post

kvs




Posts

: 9253


Points

: 9396


Join date

: 2014-09-11


Location

: Canuckistan



The video covers the expansion of the trans-siberian and BAM railways in order to remove bottlenecks for exports. Coal in particular
is a sustained export which is not going to be abandoned any time soon.

But the video shows why Russian infrastructure mega projects are being implemented with minimal corruption losses. Putin is acting
as the project manager. Not micro-manager, but the final boss who makes sure that the underlings follow project timelines. The
western model (for example California) to let the holy private sector do such work at their leisure is a fail. They always find excuses
why they can't do the job on time and on budget. While the government, which is compromised with two-faced industry shills, endlessly
negotiates project completion with the same or different contracts, taxpayer money flows down the toilet.

Putin is the right sort of "dictator", the final, buck stops here, project manager. No shell games between different levels of government
and bureaucrats passing the buck around.

miketheterrible




Posts

: 5651


Points

: 5625


Join date

: 2016-11-06

Dunno what things are like in the land of Ontario KVS, but here in Alberta, construction companies seem to overcharge and underperforme in vast amounts

Just come and see the highways and the building of overpasses. Takes a near decade to do and way over budget.
GarryB and kvs like this post

kvs




Posts

: 9253


Points

: 9396


Join date

: 2014-09-11


Location

: Canuckistan

miketheterrible wrote:Dunno what things are like in the land of Ontario KVS, but here in Alberta, construction companies seem to overcharge and underperforme in vast amounts

Just come and see the highways and the building of overpasses.  Takes a near decade to do and way over budget.
That sounds like Quebec with its mafia construction companies resulting in falling chunks of concrete killing people on the highway.
Ontario is definitely better than Quebec. I have not noticed super long construction delays for highway work. But the Toronto
subway expansion project, which was tiny compared to Moscow's project, took about three years longer than planned and was
absurdly expensive. This is the reason it takes forever to build any subway expansions, they cost way too much. I posted
on this in the urban development thread for those who may want to read on the details. Three years is a lot considering that
the relative duration of the Moscow subway expansion project and the Toronto one were similar.
Ultimately no politician, who is acting as the purchaser on behalf of the taxpayer, takes any responsibility for a project. The BS
bidding process (three bidders who can collude) is supposed to run autonomously. So the contractors can basically do what they
want and charge what they want. There is no Putin keeping things on track and making sure that the interests of the taxpayers
are respected.

GarryB




Posts

: 28576


Points

: 29106


Join date

: 2010-03-30


Location

: New Zealand

The US MIC has an added bonus in the sense that the Pentagon officials dishing out the contracts want to be nice to the big companies because when they retire from the military their inside knowledge of the Pentagon and the fact that the people beneath them that worked with them are likely now in charge, so those big companies give them cushy jobs as consultants being paid hundreds of thousands of dollars a year to wine and dine the people who replaced them... their access to military secrets and secret programmes means they can allow the company to apply for jobs that officially don't even exist and even if they can't get jobs directly by influence they know who to talk to and what buttons to push to get better terms on the contracts but who wont cooperate because the people replacing them see their future... paid hundreds of thousands of dollars by Boeing or Lockheed Martin to shmoose their eventual replacements having 4 hour power lunches paid by the company to get billion dollar contracts... what a way to make a living... and if you let me get these contracts then with all the bonuses I get I can retire when your retire and I can put in a good word so you get my job when you retire from the military...

Hundreds of thousands of dollars income... perks like cars and paid lunches and holidays... and that is together with your military pension and perks that you get as well.

The difference in the private sector is that politicians come and go... most don't care if they can't get it done on time or on budget because all the other shit they did they likely wont be in office when it all explodes in some ones face anyway.

Your inside knowledge of government is also useful to these companies too so you could get a "Consulting Job" with some of the bigger companies if you get them really good contracts too...

Edit: to be clear I don't like that this corruption happens in the US or Canada... I like that it is being exposed because that is the first step to dealing with it... and the US wont continue as a country if they ignore it because your weapons are simply not going to be good enough.

kvs




Posts

: 9253


Points

: 9396


Join date

: 2014-09-11


Location

: Canuckistan

This is pure corruption but the US pretends that it is not.   Nahalny, the paid maggot, goes after Putin who does the right job for the Russian
people while elevating the rotten USA and its 1990s quisling Yeltsin as paragons of virtue.

Russians have the patience of Buddha.   Somebody should have given Nahalny the American treatment for dissidents.

PapaDragon




Posts

: 10415


Points

: 10489


Join date

: 2015-04-26


Location

: Fort Evil, Serbia

Sixth new solar farm went online in Buryatiya (45MW power)
https://sdelanounas.ru/blogs/140467/
New wind farm built in Stavropol (60MW power) by Rosatom subsidiary NovaWind
https://sdelanounas.ru/blogs/140508/
That's right, Rosatom is into renewables, smart move plus government cares not where energy comes from as long as it keeps coming  
GarryB, flamming_python, dino00, LMFS and Hole like this post