Rob Lee
@RALee85
·
1h
Dmitry Peskov said Putin and Erdogan discussed the possibility of localized production of the S-400 in Turkey and other defense cooperation topics. 175/
https://tass.com/defense/1344289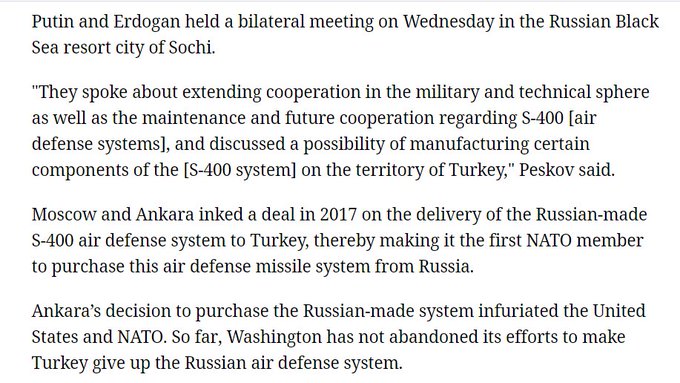 In New York, Erdogan announced his readiness to buy from Russia the second regiment of the S-400 air defense system, but there are no reports of a compromise so far. Interestingly, the director of the Federal Service for Military-Technical Cooperation of Russia Dmitry Shugaev said back in August 2020 that the contract for the second batch of S-400 had already been signed and the question was only in its "financial performance". Apparently, he was referring to the disputes over the localization of production in Turkey.
https://www.al-monitor.com/originals/2021/09/putin-erdogan-hold-closed-door-summit-sochi