GarryB wrote:

They better have more resilient plans, otherwise they will never manage to get a long term development accomplished. Sensibility analyses need to be performed and a solution that fits several scenarios chosen.

If they are designing their F-35 they need to ensure that the compromises to make it STOVL do not make the STOBAR and conventional land based models are not fucked up by awkward aerodynamics that really don't suit supersonic area rule shaping...
And heavier than a F-15E BTW...
STOVL is an interesting challenge. I am trying to think of some layout in which the HW to create vertical lift is used also for horizontal lift... but area ruling suffers badly from that compromise, a fighter is a extremely demanding application so no luxuries of extra space and weight are allowed. A CTOL is always going to have an advantage, this is IMHO difficult to avoid. And commonality between CTOL or STOBAR/CATOBAR and STOVL is not really going to work. I admit the F-35 is pretty much as good as it gets in terms of STOVL, but then, for what? A carrier the size of the QE could (easily) handle STOBAR operations if equipped for it, and at the end of the day STO performance is dismal and they are (news from today in fact) already performing rolling landings. I can agree this is good for the airframe in the long term but the cost to achieve it is extreme. Unless you have a plane really capable of taking-off and landing vertically almost everywhere I am not sure the advantages above STOBAR are really worth the effort.
They will be making billions of AESA radar elements... if they can unify the design and use them in all radars in all platforms the enormous mass production will effect price and mass production issues and could make them rather affordable...

If you avoid making them because they are "too expensive" then that is what they will stay...

One of those enormous radar arrays used by S-300 and later SAM systems would use tens of thousands of emitters each... if you are making so many they become quick and cheap to make then an aircraft radar becomes not just affordable, but attractive... in fact imagine an aircraft skin made entirely of radar transcevers...
Yes, but...
They are never going to be cheap, I take it for a fact. They are high-tech material that need careful testing besides hugely expensive manufacturing equipment. And the production and assembly itself is complex as well, these are hybrid devices. IMO it is always going to be a significant cost driver. See below antenna and elements of the S-300, does not look like the elements of the N036 for instance (do not now the radar model and frequency here but just as an example). This is very purpose oriented, specific and expensive technology as far as I understand.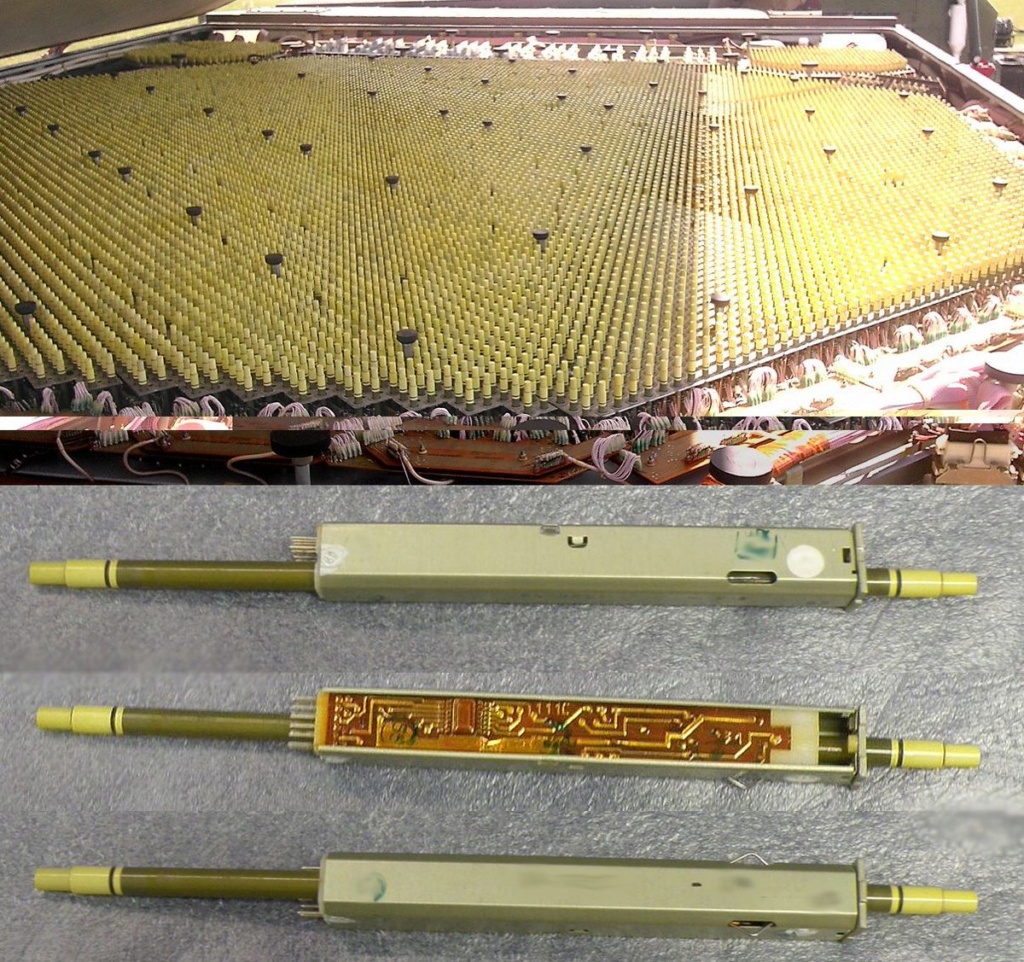 Hahahahahahaha.... love it... crude BVR performance...
Was just passing the words of those same German pilots. It shows you may not need the absolute best radar in every fighter. Nowadays they would tell you about LPI magic of the Western radars but this is another highly arguable issue, if you emit you are going to be detected, you can only hope to fool low tech adversaries.
During testing the computer usually fired 3-7 rounds but the targets were being destroyed... the designed later said if he had known it was going to be that effective he would have halved the number of ready to fire rounds of ammo.
Wow that is pretty impressive effectiveness, but then there is a reason for the 30 mm cannon. Apparently the MiG-29 gave the impression of being close to falling apart when shooting it due to vibration, but then the effects of high rate of fire and high calibre indicate the weapon is the correct one, way better than a 20 mm Vulcan with >500 rounds as in US fighters.
Because during development it will gain weight and MTOW needs to be below 18 tons just to get a 1:1 thrust to weight ratio.
A 6 ton fighter and a 9-10 one are fundamentally different categories of planes. If you start in one and end up in the other during development you should consider another occupation. It is no big mystery to calculate the weight of a plane given engine, capabilities and sizes. But then if you screw it with the requirements and in every difficulty double down instead of acknowledging your errors and going back to the starting point you get the F-35. This should not be an example of fighter development program but an example of management failure. The good thing for the Russians is they don't have the money to underperform that badly xD
The whole point of TVC is to leave normal flight where conventional control surfaces are useless anyway...
Agree on your argumentation but TVC has many other uses:
> Low drag trimming
> Flight control redundancy
> LO
For instance you can use the TVC in order to minimize flight control deflection and hence RCS return in the frontal aspect. There are many possibilities. It also allows flat or even inverted turns where you keep a certain attitude to the enemy radars also to control your signal return.
Back to the point discussed, a single engine fighter with TVC is capable of pointing the nose at low air speeds too (pitch and yaw manoeuvring). Roll manoeuvres through differential TVC deflection have little relevance in that regard, or at least I don't see it. The engine placed well at the end of the fuselage is relevant here too. For instance J-10 is well designed in that regard while F-35 would have very short force arms.
If you deduct the cost of developing the F-16 and just made more F-15s they would have saved a lot of money because the F-16 ended up costing as much as the expensive planes they were supposed to replace.
Here I have to disagree strongly. The F-16 is a resounding success, they have sold thousands of them and they are still in production. It is the back bone of Western leaning AFs and many other nations that could not be cleared for the F-15 or would not have the money to buy and operate it. Of course with exaggerated level of add-ons it got heavy and due to US pricing policies it is not that cheap anymore, but still way cheaper than a Rafale for instance while close enough in performance. The quintessential modern light fighter is the F-16 and so it is rather a business model to imitate than to avoid I think...