PapaDragon wrote:
Wasting time and money on aircraft carrier is mistake by default but with STOVL they will waste less time and money and VKS just might get a new light fighter jet out of the whole thing.
Quite difficult that they don't end up wasting more time and money than making a proper carrier. Such a light fighter for the VKS, by being made compatible with STOVL requirements, would end up being a failure like the F-35 (actually I find the F-35 as good as such a concept can get) due to design constrains that do not appear easy to solve (namely, central engine position + vertical lift propulsion competing with weapons bays and forcing an excessive plane frontal section, see picture). The development would cost billions and lead to a subpar fighter. Better employ them in a properly matched carrier / light fighter design so the plane can operate with reasonable loads from the deck and be directly usable by the air force.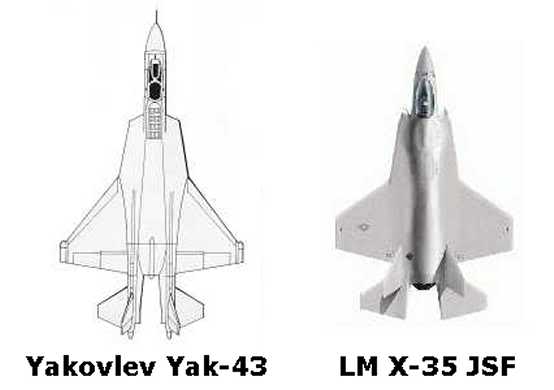 Besides, making a STOVL fighter specific for the naval fleet of the RF would make an economic sense close to zero. How many planes would be ordered in the end, 100 at the best? This would be a complete frivolity.
Not that I discard that this is what happens (sadly) but unless they manage a breakthrough design and to somehow steal the customers from the F-35 they would lose big time with such plane