Yes, it is very confusing... we have seen upgraded vehicles based on the old Smerch and the old Grad vehicles, but we have also seen new heavy vehicles able to carry two rocket pallets and a light vehicle to carry one rocket pallet.
My expectation was that they would use the heavy new vehicle with two pallets for either Grad or Uragan or Smerch batteries, but in situations where mobility is difficult or high speed units (like VDV or Naval Infantry forces) the light vehicle with the single pallet would be used for its better mobility.
But that does not seem to be the case as the new Grad looks like the old Grad and does not seem to use pallets at all.
The new Smerch looks like the old Smerch and the new Uragan appears to be the old Uragan with new electronics and systems.
The new TOS looks totally different and is truck based and various mine launching vehicles appear to use new pallets, but their rocket artillery seems to look the same.
This is the new two pallet carrying vehicle, in this case each pallet carries 15 rockets which I assume to be 122mm Grads... 2 pallets means 30 rockets which is only a 10 rocket decrease from the Grad.... perhaps why they are continuing to use Grad?
The same new truck with two pallets of 300mm Smerch which equals the normal vehicle capacity of 12 rockets.
This is an image from a 2022 calendar showing and ungraded Smerch on the left with 12 rockets (300mm) ready to launch and on the right the new light weight more mobile and cheaper single pallet vehicle with one pallet of 6 x 300mm Smerch rockets.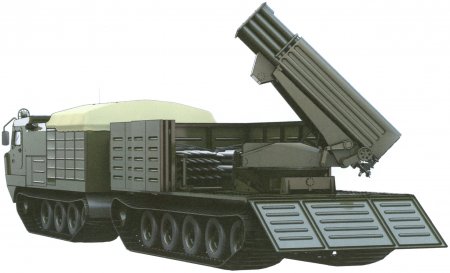 This is a DT based arctic two chassis tractor with 122mm rocket tubes in the rear chassis...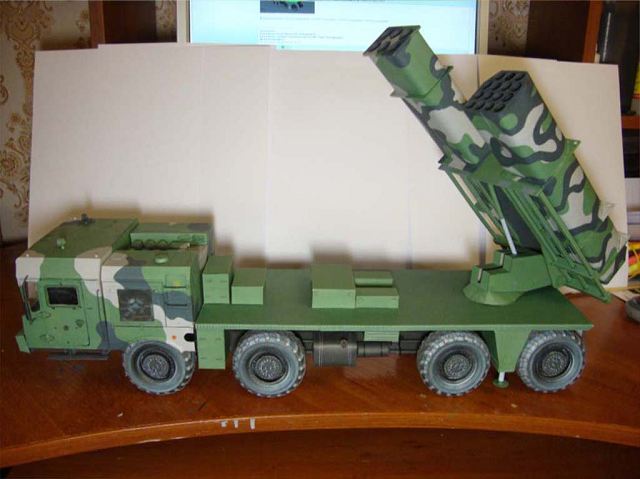 A model showing the new heavier two pallet vehicle with a 300mm and a 122mm pallet with 6 and 15 rockets each respectively.
The situation appears rather complex and I am not sure they have made any final decisions yet.... suffice to say Grad and Uragan and Smerch are all being very very effective in the current conflict when good C4ISTAR is applied.
Note, I was sure I had a photo of a third pallet type presumably with 220mm rockets that held 8 rockets per pallet, so the large new vehicle could match existing vehicles in terms of rocket numbers except with 122mm rockets, but with a more modern cheaper vehicle, while the light vehicle could carry half the rockets of previous vehicles but being much smaller and lighter would be cheaper and able to operate places older vehicles couldn't operate in.
It is really not clear what they are doing... pallets are a good idea, but not the way most western "experts" describe it.
Being able to reload in 5 minutes is not as valuable as it sounds because you need to move away from your firing position as soon as you fire... moving to a new location you can take all the time you need to reload there because the new position should not be obvious to the enemy till you fire again and you will be moving immediately afterwards anyway.
Pallets might be a good way of rapidly changing ammo types or mixed rocket attacks... in this case with the larger vehicles with two pallets you could use 40km range extended 122mm rockets together with 300mm or 220mm rockets, where the 122mm rockets hit the troops, while the 6 or 8 tubes of larger calibre rockets could launch a UAV and if they try to run or retreat the remaining 5 or 7 rockets with cluster munitions or anti armour bomblets to harrass them as they retreat or mine the roads and exit routes.