+10
Tsavo Lion
JohninMK
MMBR
nomadski
max steel
George1
Russian Patriot
Admin
GarryB
nightcrawler
14 posters
Chinese UAVs

GarryB






Posts

: 33514


Points

: 34028


Join date

: 2010-03-30


Location

: New Zealand

Where is the third engine?

Hole






Posts

: 6682


Points

: 6670


Join date

: 2018-03-24


Age

: 46


Location

: Scholzistan

I think between the outriggers.

GarryB






Posts

: 33514


Points

: 34028


Join date

: 2010-03-30


Location

: New Zealand

The two outriggers are engine pods that the tail structure is attached to and the body pod down the centre does not have an engine at the front or the rear... I wonder if they are mistaken... perhaps there is an APU in one of the engine pods to make it more autonomous for deployment from basic air strips or sections of motorway...

Most civilian aircraft with three engines mainly use all three for takeoff but then only run two engines for more efficient cruise (it means the two main engines can be less powerful and more fuel efficient but allows the aircraft to still be able to take off normally from normal airfields)....

George1






Posts

: 17682


Points

: 18189


Join date

: 2011-12-22


Location

: Greece

New deck-based unmanned aerial vehicle of helicopter type at the Chinese UDC of project 075

In the extreme photos from the Shanghai Hudong-Zhonghua Shipyard, where two Project 075 universal landing ships are afloat, Chinese military bloggers spotted an unmanned aerial vehicle on the deck of the main helicopter carrier, presumably a naval version of the AVIC AR500C with a lightweight radar with AFAR, the first flight of which held in May 2020.
The drone is designed for reconnaissance, target designation and relay.
The drone is capable of speeds up to 170 kilometers per hour and can fly at an altitude of up to four thousand meters. It is reported that the AR500C can spend up to 8 hours in the air and is equipped with a lightweight radar with an active phased array and a backlight function for moving targets.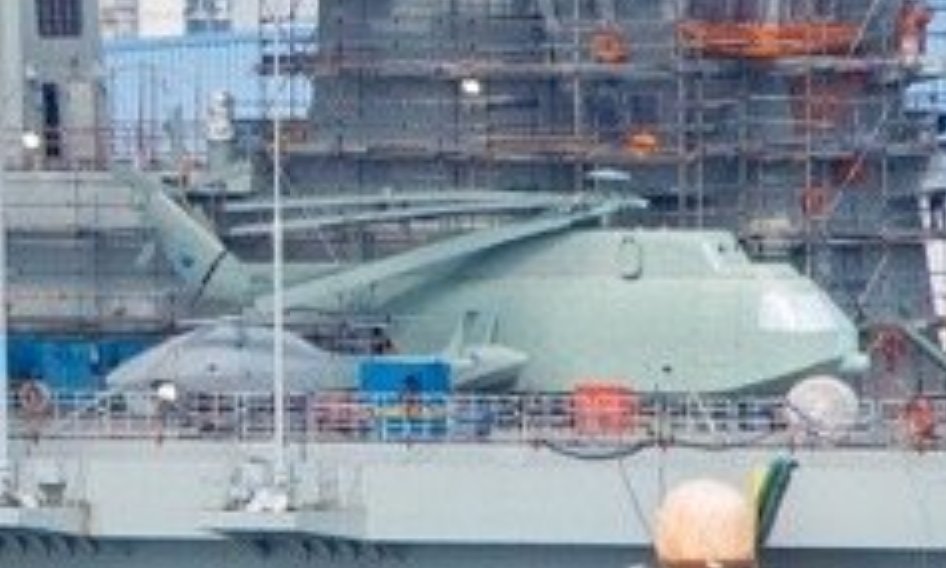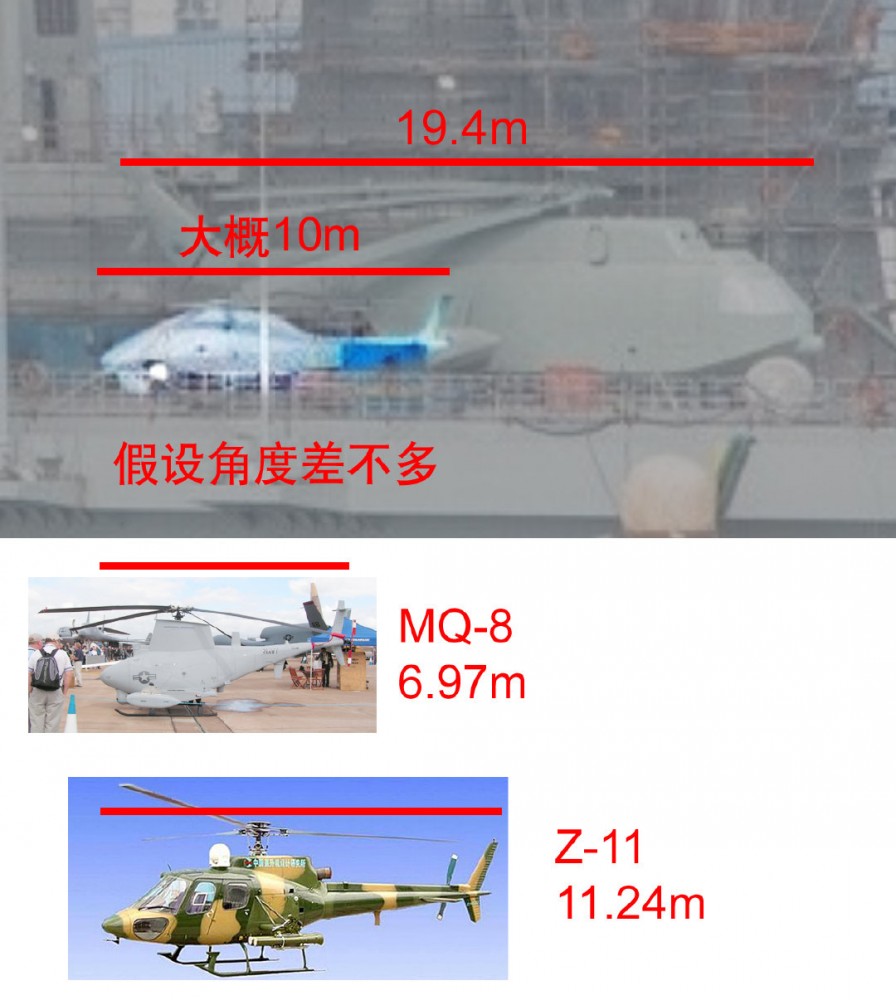 https://bmpd.livejournal.com/4073401.html

GarryB






Posts

: 33514


Points

: 34028


Join date

: 2010-03-30


Location

: New Zealand

Have to be careful drawing lines on photos and comparing sizes... especially photos taken from great distances.

If you look carefully the unmanned helicopter is on one side of the deck and the big helicopter is on the far side of the deck... which actually makes it look smaller and the unmanned helo look bigger.

In that video they said it weighs 500kgs... perhaps they mistranslated it and it is 5 tons but that would make it rather heavy.

It does not look 10m long in the video.

Which really doesn't actually matter... the physical dimensions are not important... speed and endurance and range are.

Of course it is all well and good making an unmanned helicopter but helicopters on decks are dangerous... for those not familiar with helicopters it is easier to fly them nose in to the wind... on a ship like an aircraft carrier the air can be swirling because the wind will be coming from a direction and can change but also if the ship starts moving the air over the deck can radically change direction in a second.

A helicopter just taking off or just landing will cope with a wind direction or wind speed change by turning its nose in to the wind and flying forward or backward to maintain position on the deck... that means in a conventional helicopter design the tail could be swung without any warning in any direction and lifted up or dropped down... the tail rotor is the most dangerous part of a helicopter on a deck... it is why Kamov with their coaxials dominate Soviet and Russian naval helicopter production and design because coaxials are much less sensitive to cross winds and gusts.

In the video he talks about engines losing power at altitude and their superior engine technology that solved the problem... makes me think they changed from a piston engine to a gas turbine...

Hole






Posts

: 6682


Points

: 6670


Join date

: 2018-03-24


Age

: 46


Location

: Scholzistan

PapaDragon likes this post