+16
PapaDragon
Big_Gazza
miketheterrible
Godric
d_taddei2
sepheronx
jka
George1
DisturbedOne93
a89
mack8
TR1
flamming_python
KomissarBojanchev
GarryB
Viktor
20 posters
Russia - Serbia military deals

littlerabbit




Posts

: 137


Points

: 137


Join date

: 2017-07-03


Location

: Serbia

This is a disappointment, I was hoping we will get 2 batteries this year...
https://www.defenseworld.net/news/26198/Delivery_of_6_Pantsir_S1_Missile_Systems_to_Serbia_in_2020#.Xihg9NQrJkg

George1




Posts

: 16620


Points

: 17125


Join date

: 2011-12-22


Location

: Greece

Russia to ship first Pantsir-S1 air defense system to Serbia this week — media

The report noted that the Serbian soldiers are ready to work with the new equipment

BELGRADE, February 19. /TASS/. The first of six Russian-made Pantsir-S1 air defense systems would be shipped to Serbia before the end of this week, Serbian TV reports.

According to the report, Russian Defense Minister Sergey Shoigu reached this agreement with his Serbian counterpart Aleksandar Vulin during his visit to Belgrade on February 17.

The report also noted that the Serbian soldiers have undergone training and are ready to work with the new equipment.

On October 24, 2019, Serbian President Aleksandar Vucic announced that Belgrade ordered the Pantsir systems. In January this year, a source in the military-industrial complex told TASS that shipments are slated to begin in late February.

The Pantsir-S system is made for close-range air defense for civilian and military objects in any weather and radio-electronic conditions around the clock. The system is also capable of engaging ground-based and water-based threats.

https://tass.com/defense/1121751

George1




Posts

: 16620


Points

: 17125


Join date

: 2011-12-22


Location

: Greece

Serbia received from Russia the first modernized T-72MS tanks
As reported by the Sputnik Srbija news agency , the first two of the 30 modernized T-72MC White Eagle tanks were delivered to Serbia on October 28, 2020, which were donated by Russia within the framework of an agreement on military-technical cooperation that was reached between the Presidents of Serbia Aleksandar Vucic. and the Russian Federation by Vladimir Putin.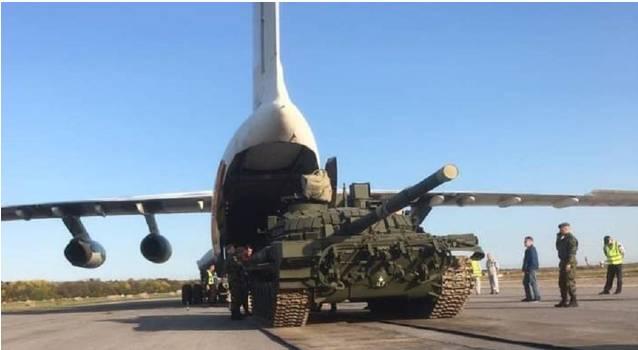 One of the first two upgraded T-72MS tanks delivered by Russia to Serbia. Batainitsa, 28.10.2020 (c) Naoružanje Vojske Srbije / www.facebook.com/vojneanalize.naoruzanje
On December 22, 2016, Serbian Prime Minister (now President) Aleksandr Vucic, following a meeting in Moscow with Russian Defense Minister Sergei Shoigu, announced that the Russian Federation would provide military-technical assistance to Serbia. As part of military-technical assistance to Serbia, Russia, from the presence of its Armed Forces, transfers to the Serbian side six MiG-29 fighters, thirty modernized T-72 tanks and thirty modernized armored reconnaissance and patrol BRDM-2MS.
On the part of bmpd, we point out that, according to known information, the first two T-72MS tanks were delivered to Serbia at the Pilot-Colonel Milenko Pavlovich airfield in Batainitsa by Il-76TD transport aircraft of the Russian airline Aviacon Tsitotrans, which in itself is sufficient a rare example of the use of the Il-76 for transporting tanks.
Serbia thus became the third, after Nicaragua and Laos, a well-known recipient of modernized T-72MS tanks ("Object 184-1MS"). The modernization of T-72B1 tanks from the availability to the T-72MS version for foreign customers is carried out by JSC "61 armored repair plant" (Strelna, St. Petersburg).
This version of the modernization of T-72 tanks under the index "Object (product) 184-1MS" was developed as part of the ROC "Proryv-2G" in the early 2010s jointly by JSC VNIITransmash, FGBU 29 KTC of the Ministry of Defense of Russia and JSC "61 armored repair plant" by order of OJSC "Oboronservis". A prototype of the T-72B1 tank, modernized according to this version, was demonstrated for the first timein June 2012 at the Second International Forum "Technologies in Mechanical Engineering 2012" held in Zhukovsky. having received the nickname "White Eagle" for its unusual white color. In 2015, JSC Rosoboronexport signed the first contract for the supply of 50 T-72MS tanks to Nicaragua, where they were delivered in 2016-1017. In the years 2018-2019 was carried out delivery of T-72MS in Laos.
Ironically, the upgraded T-72MS tanks are probably the most advanced serially upgraded T-72s in Russia. The tanks upgraded according to this option are equipped with a round-the-clock gunner's sight PN-72 ("Sosna-U" produced by the Belarusian OJSC Peleng), a commander's round-the-clock panoramic sight PKP-72 ("Falcon Eye" also produced by OJSC "Peleng", using a thermal imaging camera of the third generation - apparently Thales Catherine XP), automatic target tracking BARV.468939.001, chassis information and control system, navigation system, new cannon stabilizer, as well as anti-aircraft machine gun mount with remote control. At the same time, the old ERA of the Contact-1 series is retained.
As part of the aforementioned 2016 agreement, Russia previously handed over to Serbia six MiG-29 fighters in 2017 , and 30 upgraded BRDM-2MS in 2019 .
https://bmpd.livejournal.com/4173318.html
PapaDragon likes this post

George1




Posts

: 16620


Points

: 17125


Join date

: 2011-12-22


Location

: Greece

According to photographs published on social networks, a new batch of armored vehicles has arrived in Serbia, consisting of armored vehicles BRDM-2MS and tanks T-72B1MS. In total, the intention was announced to supply Belgrade with 30 products of these types. Apparently, the remaining 20 reconnaissance armored cars and a new batch of MBT were transferred.
https://en.topwar.ru/182508-novaja-partija-bronetehniki-dostavlena-kandagarskim-uznikom-il-76-v-serbiju.html
dino00 and PapaDragon like this post

George1




Posts

: 16620


Points

: 17125


Join date

: 2011-12-22


Location

: Greece

Serbian President Alexander Vucic announced the procurement of the Pantsir-S1M air defense system while examining the Serbian military exposition, dedicated to the Day of Unity, Freedom and National Flag of Serbia.

https://tass.com/defense/1338233


dino00 and d_taddei2 like this post