DPR Korea's intercontinental ballistic missile
Hwasong-13
(KN-08) is evolving
During 15 April 2012 military parade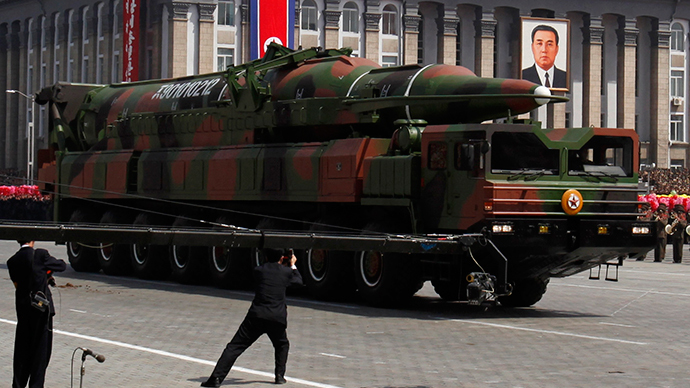 During 10th October 2015 military parade
North Korea unveils new version of KN-08 ICBM
Richard D Fisher Jr, Washington, DC

North Korea revealed a modified version of its liquid-fuelled KN-08 intercontinental ballistic missile (ICBM) with an apparent smaller nuclear warhead in its 10 October parade celebrating the 70th anniversary of the Workers' Party of Korea.

First seen in North Korea's 15 April 2012 military parade, the earlier version of what the United States calls the KN-08 ICBM, and what North Korea calls the Hwasong-13, has three powered stages though its third stage has a smaller diameter than the first two. It also featured a prominent conical warhead, although at the time it was assessed that this missile was a mock-up.

A key difference for the modified KN-08 missile is that it is slightly shorter, the difference is due to changes in both the third stage and warhead section.

Available early imagery does not yet enable an assessment of the missile's stages, such as whether the third stage is now larger or smaller than on the earlier missile version. Exact sizing of the stages and how many stages there are is unclear, although some analysts have pointed to the R-27 Zyb submarine-launched ballistic missile (SLBM) - which is the basis for North Korea's BM-25 Musudan-1, or the R-29 Vysota SLBM. A wider/larger third stage would increase the KN-08's range well beyond previous estimates of 5,500-6,000 km.

The modified KN-08 features a new smaller and blunter warhead shape that could confirm US intelligence assessments and North Korean claims of success in miniaturising its nuclear warheads. On 10 October, the North Korean parade announcer stated, "Our powerful tactical rockets loaded with diversified and miniaturised nuclear warheads are on the move."

A blunter shape is likely also influenced by the quality of the ablative materials available to Pyongyang. Lower quality ablative materials may not be able to withstand higher re-entry temperatures, requiring a slower and blunter shape to better assure warhead integrity through re-entry.
Also, below link..
http://index.heritage.org/military/2016/assessments/threats/asia/