Israeli Navy: News

George1




Posts

: 16336


Points

: 16839


Join date

: 2011-12-23


Location

: Greece

The lead corvette Magen of the Saar 6 project arrives in Israel



RTN




Posts

: 423


Points

: 400


Join date

: 2014-03-24


Location

: Fairfield, CT

EL/M-2084 related to high cancer rates

https://www.ynetnews.com/magazine/article/S1Rh31ODu

George1




Posts

: 16336


Points

: 16839


Join date

: 2011-12-23


Location

: Greece

The Israeli Navy received the second corvette of the Saar 6 project
May 5th, 12:00
On May 4, 2021, in Kiel (Germany), an official ceremony was held for the transfer by the German shipbuilding association thyssenkrupp Marine Systems (TKMS) to the Israeli naval forces of the second built Oz corvette of the new project Saar 6 ( Magen type ) in a series of four units. The Israeli flag was raised on the ship. The main systems of weapons and electronic equipment on the ship have not yet been installed and are mainly to be installed already in Israel.
The Saar 6 project was developed on the basis of the German MEKO A100 project (and its variations for the German Navy of the K130 project). The total displacement of the Saar 6 project corvette is declared at 1900 tons (it is more realistic that this is the standard or empty displacement, and the total will seriously exceed 2000 tons), the length of the ship is 92 m, the width is 13.5 m and the draft is more than 4 m.The crew is about 80 people (with the possibility of placing another 20), while 25% of the personnel will be women.

A feature of the Saar 6 project is an extremely powerful anti-aircraft and anti-missile weapons for a ship of this size, which includes a 32-round vertical launch unit for medium and long-range air defense missile systems Barak 8 and two 40-charge launchers of the C-Dome tactical missile defense system (naval version of the Iron Dome). Also, the ship will receive 16 launchers of anti-ship missiles (Boeing Harpoon Block 2 or the new Israeli IAI Gabriel 5), a 76-mm Leonardo Super Rapid universal artillery mount, two 25-mm Rafael Typhoon remotely-guided artillery mounts (with the possibility of using missiles from these installations) Rafael Spike-ER). 324-mm torpedo tubes for anti-submarine torpedoes Raytheon Mk 54 and a Sikorsky SH-60 Seahawk helicopter permanently based in the hangar.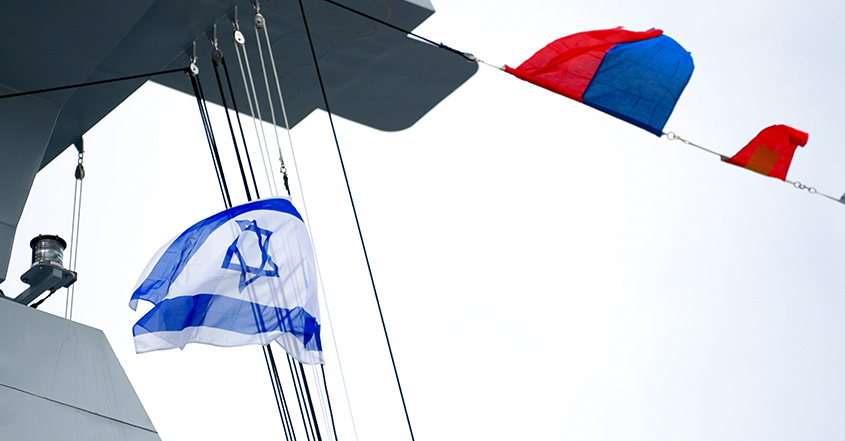 https://bmpd.livejournal.com/4302607.html

George1




Posts

: 16336


Points

: 16839


Join date

: 2011-12-23


Location

: Greece

The second corvette of the Saar 6 project arrives in Israel