Hello.  I'm in the USA.  Is anyone in or near St. Petersburg, and willing to be my on-the-ground research assistant?  A contact near Moscow found on the St. Petersburg Archives website a reference to American businessman and gun manufacturer James Merrill (Civil War era) and his involvement in the conversion of 100 Russian rifles or carbines to his patented breech lever system.  There are 44 pages that would very much like to have for my website dedicated to Merrill.  
I've emailed the research person at the St. Petersburg Archives, asking if a staff member (research or intern person) could make photocopies of the 44 pages of information, and maybe translate them for me.
I have not received a reply yet, but well could be due to COVID shut-down.  I'd really like to know if anyone on this forum would be willing to be my backup research person, should they be unable to do the work for me.  Thanks, Eric in USA.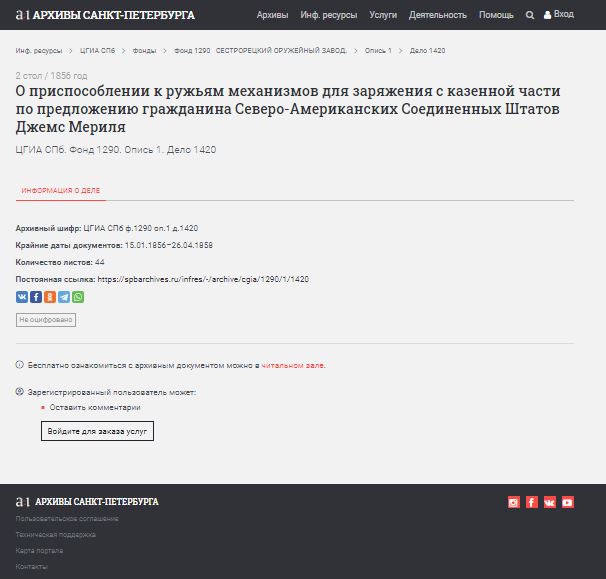 and via translate.google.com...
Здравствуйте. Я в США. Есть ли кто-нибудь в Санкт-Петербурге или его окрестностях и желает ли быть моим ассистентом на местах? Контактное лицо под Москвой нашло на сайте Санкт-Петербургских архивов ссылку на американского бизнесмена и производителя оружия Джеймса Меррилла (эпоха гражданской войны) и его причастность к переоборудованию 100 российских винтовок или карабинов на его запатентованную систему затвора. Есть 44 страницы, которые я бы очень хотел иметь для моего сайта, посвященного Merrill.
Я отправил электронное письмо исследователю из Санкт-Петербургского архива с вопросом, может ли сотрудник (исследователь или стажер) сделать ксерокопии 44 страниц информации и, возможно, перевести их для меня.
Я еще не получил ответа, но это может быть связано с отключением COVID. Я действительно хотел бы знать, захочет ли кто-нибудь на этом форуме быть моим резервным исследователем, если он не сможет выполнить эту работу за меня. Спасибо, Эрик из США.