If the fins are small and the body does not generate lift, the missile would not fly.
If cylindrical bodies and fin strakes generate lift then why to bullets and tank gun rounds have a ballistic trajectory... surely HEAT FS has a cylindrical body and stabilising fins... why does it continue to fall after it leaves the barrel requiring the barrel to be elevated and the point of aim at the target determined by range to the target?
Indeed if you look at the sight reticle of an RPG-7 rocket launcher if body lift was a thing and the large stabilising fins at the tail generate lift why does the range scale show the rocket descends all the way to the target... therefore requring further and further shots to be aimed higher and higher to reach said targets?
The RPG-7 is particularly interesting because after being blown out of the launch tube after a short flight its rocket motor lights up and it is accelerated to much higher speeds... I seem to remember a launch from the tube at about 185m/s but after 10-12 metres or so the rocket motor then accelerates the rocket to supersonic speed... 375m/s or so... yet looking at the RPG-7s aiming reticle as range increases the rocket drop continues... there is no plateau where lift maintains the rocket and allows it flat shooting ballistics...
A long range missile like a cruise missile uses wings for the same reason an aircraft uses wings... an AAM uses angle of attack to direct its low thrust sustainer motor to maintain height and speed by angling up slightly and therefore pointing its low thrust sustainer motor downwards for both forward speed and altitude maintaining lift... missiles that don't have that sustaining thrust have much shorter range because their height maintaining angle of attack costs them in speed so they slow down faster to maintain altitude.
Of course they need the robustness and stability to eject the missile, maybe under load, high speeds, vibrations, etc. Those loads are no small thing and only sufficient arm width can handle them.
It is the fact that the arm launcher pushes them down and clear of the aircraft that they could fit them very close together...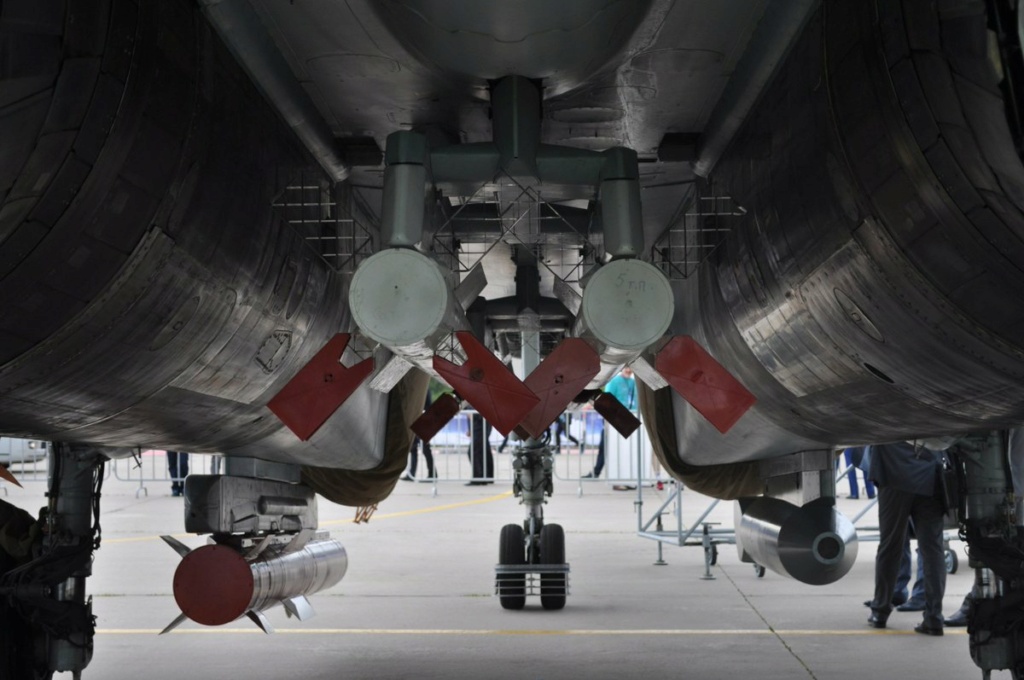 Look at the image above... the space between the missiles is enormous... you could easily put a pylon down the centre between the two missiles that extends below the two other missiles. Obviously in use that lower missile would have to be used first because the other two missiles wont be able to be launched past it, but if they are all the same type of missile that is not a problem. Horizontally the only problem would be the rear grid fins, but the obvious solution is to have them folded and deploy them only after the missile is clear of the weapon bay. The lower missile could be mounted slightly further forward or back too if need be.
Planes don't fly alone and salvos are regularly used, so no big deal.
Firing four missiles at every target sounds a bit counter productive most of the time... four missiles with four seekers and four sets of ECCM per launch missile would make it rather expensive too.
I would think a missile with multiple terminal stages would be kept in reserve in case of full scale war and not carried routinely most of the time.
Enemy cruise missile attack or mass drone strike, but against enemy fighters I can't see it... would be interesting with a larger R-37M missile with 6 mini missiles on board... become an ace with one pull of the trigger...