+36
limb
lyle6
PortugueseMan
flamming_python
PapaDragon
Aristide
GarryB
owais.usmani
mnztr
TMA1
magnumcromagnon
mavaff
ATLASCUB
Arkanghelsk
AZ-5
calripson
Airbornewolf
par far
Karl Haushofer
Krepost
nero
LMFS
lancelot
Hole
JohninMK
Rodion_Romanovic
Kiko
miketheterrible
AMCXXL
ALAMO
Arrow
Hannibal Barca
George1
kvs
KoTeMoRe
sepheronx
40 posters
European gas imports

owais.usmani






Posts

: 1339


Points

: 1337


Join date

: 2019-03-27


Age

: 36

GarryB, Werewolf, kvs, Sprut-B, LMFS, Kiko and Broski like this post

GarryB






Posts

: 33873


Points

: 34391


Join date

: 2010-03-30


Location

: New Zealand

For all they know the Canadians might have sabotaged it... what are the chances of Orcs being in such jobs there...
The problem is, that it is less and less what the US wants.
Or is the real problem the US is confusing what it wants with what it needs... it might want to control everyone but when has that ever actually been the case... when have they ever been able to do as they please with no consequences and no resistance?
You might say forever, but equally everything they have done someone has objected and pushed back in their own little way.
The US needs open trade with the world and cheap energy and they are busy destroying that because they thought they were in charge and they wanted it to stay that way.
Ironically they are like a king that is getting more selfish every day and more mean to his subjects because he fears losing power... and his actions to secure power and foil and destroy any potential rivals is weakening his own power base and making him vulnerable because his subjects don't see any benefit from his rule... he is all about self gratification and could care less for anyone else.... even those that provide the good life he lives.
Old story... don't interrupt an enemy when they are making a mistake.
kvs and Broski like this post

owais.usmani






Posts

: 1339


Points

: 1337


Join date

: 2019-03-27


Age

: 36


Azi






Posts

: 587


Points

: 579


Join date

: 2016-04-05

As long as I know that the money I pay for gas goes to Russia and it helps the Russian army kick Ukrainian Nazi ass, I'm more than happy to pay it.
GarryB, Airbornewolf, kvs, LMFS, Hole and owais.usmani like this post

JohninMK






Posts

: 11107


Points

: 11228


Join date

: 2015-06-16


Location

: England

Not gas but electricity, not sure where to put this interesting chart on the downfall of the French nuclear industry, although no-one is calling it anything other than small fracture issues.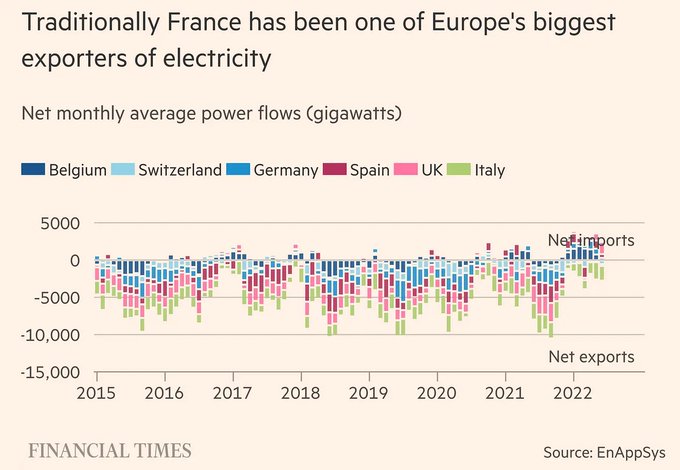 kvs, LMFS, Hole and Kiko like this post

kvs






Posts

: 13188


Points

: 13335


Join date

: 2014-09-11


Location

: Kanada

The turbine handling has totally violated legal chain of custody. The opinion of some random Twatter prat means
precisely f*ck all.


LMFS, Hole and Kiko like this post

JohninMK






Posts

: 11107


Points

: 11228


Join date

: 2015-06-16


Location

: England

Helga Zepp-LaRouche
@ZeppLaRouche
·
19h
The Spot Markets Putin warned the EU about: