+37
miroslav
Rasisuki Nebia
The_Observer
Arkanghelsk
Broski
Shadåw
Granger
marat
calripson
Russian_Patriot_
ALAMO
lancelot
Lurk83
mnztr
TMA1
medo
Tai Hai Chen
Maximmmm
marcellogo
hoom
PapaDragon
LMFS
lyle6
flamming_python
The-thing-next-door
Big_Gazza
walle83
Begome
George1
franco
Isos
GarryB
limb
owais.usmani
Arrow
Hole
AJ-47
41 posters
Project 20380(5): Steregushchy Corvette #2

Podlodka77






Posts

: 728


Points

: 732


Join date

: 2022-01-06


Location

: Z

Return from sea trials of the corvette "Mercuriy" modified project 20380


George1, LMFS, Hole and Krepost like this post

Podlodka77






Posts

: 728


Points

: 732


Join date

: 2022-01-06


Location

: Z

GarryB, George1, Big_Gazza, Hole and Belisarius like this post

Podlodka77






Posts

: 728


Points

: 732


Join date

: 2022-01-06


Location

: Z

medo, George1, Hole and Granger like this post

Krepost






Posts

: 475


Points

: 475


Join date

: 2021-12-07

Project 20385 class corvette RAZUMNY was laid down in Amur shipyard today.

GarryB, George1 and Big_Gazza like this post

George1






Posts

: 17693


Points

: 18200


Join date

: 2011-12-22


Location

: Greece

A project 20385 Razumny corvette was laid down at the Amur Shipyard
On Russia Day, June 12, 2022, at JSC Amur Shipbuilding Plant (NPP, part of JSC United Shipbuilding Corporation - USC) in Komsomolsk-on-Amur, the ceremony of laying the Razumny corvette for the Russian Navy (serial number 2108) took place project 20385. The bookmark was dedicated to the 90th anniversary of the city of Komsomolsk-on-Amur. This is the second project 20385 corvette being built at this enterprise.
Recall that on December 15, 2020, the Amur Shipyard signed a contract with the Russian Ministry of Defense for the construction of six corvettes for the Pacific Fleet - two project 20380 and four project 20385, which should be put into operation from 2024 to 2028. Corvettes of project 20380 received serial numbers 2105 and 2106, and corvettes of project 20385 received serial numbers from 2107 to 2110.
On August 23, 2021, the laying ceremony for the Russian Navy of the first two corvettes for the Russian Navy under this contract - Grozny (serial number 2105) of the project 20380 and "Rampant"(serial number 2107) of project 20385, which became, respectively, the fifth project 20380 corvette and the first project 20385 corvette built at this enterprise. On September 29, 2021, the laying of the second Bravy corvette under this contract (serial number 2106) of project 20380, which will be the sixth and last corvette of project 20380 built in the Far East, took place at NEA.
To date, ASZ has carried out, under previous contracts, the construction of four project 20380 corvettes for the Pacific Fleet. The designer of all corvettes of the 20380 and 20385 families is Almaz Central Design Bureau JSC .
The Razumny corvette (serial number 2108), now laid down at NEA, has become the fourth overall project 20385 ship in the series. the construction of corvettes for the Russian Navy was supposed to be carried out according to the revised project 20385. The state contract for the construction of the first two corvettes of project 20385 was issued by the Russian Ministry of Defense to the Northern Shipyard on March 27, 2006, both ships were intended for the Pacific Fleet. The lead ship of project 20385 "Thundering" (serial number 1005) was laid down at Severnaya Shipyard on February 1, 2012, launched from the boathouse of the enterprise on June 16, 2017, launched on June 30, 2017, began factory sea trials on April 21, 2019 and was commissioned by the Russian Navy only on December 29, 2020 with enrollment in the Pacific Fleet. On November 30, 2021, the Thundering corvette arrived in Vladivostok.
The second project 20385 Provorny corvette ( serial number 1006) was laid down at Severnaya Shipyard on July 25, 2013. In September 2019, its technical launch was carried out, but then the ship's hull was again raised to the slipway. On December 17-18, 2021, a fire broke out on the Provorny corvette under construction at Severnaya Shipyard , which almost completely destroyed the ship's superstructure, as a result of which the readiness of the corvette has now been pushed back to about 2026.
Under an additional contract concluded with the Ministry of Defense in 2011, it was planned to build eight more project 20385 corvettes at Severnaya Verf by 2020, however, the widespread use of imported components on this project, including German MTU main diesel engines that fell under sanctions restrictions after 2014, led to the fact that the series of project 20385 at Severnaya Verf was limited to only two ships laid down under the 2006 contract.
The construction of both laid corvettes at the Severnaya Shipyard of project 20385 was greatly delayed due to the non-delivery of MTU main diesel engines for them. On January 30, 2015, the Russian Ministry of Defense entered into an additional agreement with Severnaya Verf for the completion of both project 20385 corvettes with Russian-made diesel engines - 1DDA-12000 diesel units manufactured by Kolomensky Zavod JSC, installed on project 20380 corvettes. Each corvette received two diesel units, one unit 1DDA-12000 includes two main marine engines 16D49 with a capacity of 6000 hp. production of the Kolomna plant and reverse gear RRD 12000, produced by Zvezda JSC.
Since further construction of the project 20385 series was discontinued, as a result, the Russian Navy returned to the construction of project 20380 corvettes according to the once again revised project, with the installation of a new Zaslon multifunctional radar complex with the placement of fixed antennas in a tower-like superstructure, similar to project 20385 corvettes As a
result, however, it was decided to simultaneously resume the construction of a series of project 20385 corvettes, but with Russian-made engines, as a result of which, in December 2020, the above contract was signed with NEA for the construction of four project 20385 corvettes . Now the main difference between project 20385 from 20380 is the equipment of project 20385 atthe 3S14 (UKSK) universal shipborne firing system, which allows the use of missiles of the Caliber family, including anti-submarine series 91R of the Otvet complex . As can be judged, it is precisely in view of the presence of an anti-submarine missile system that all project 20385 corvettes (two buildings of the Northern Shipyard and four ordered NEAs) are apparently supposed to be concentrated in the 114th brigade of ships for protecting the water area of ​​the Kamchatka flotilla of diverse forces of the Pacific Fleet, the main task of which is ensuring the deployment of strategic nuclear submarine missile cruisers based in Kamchatka (Vilyuchinsk).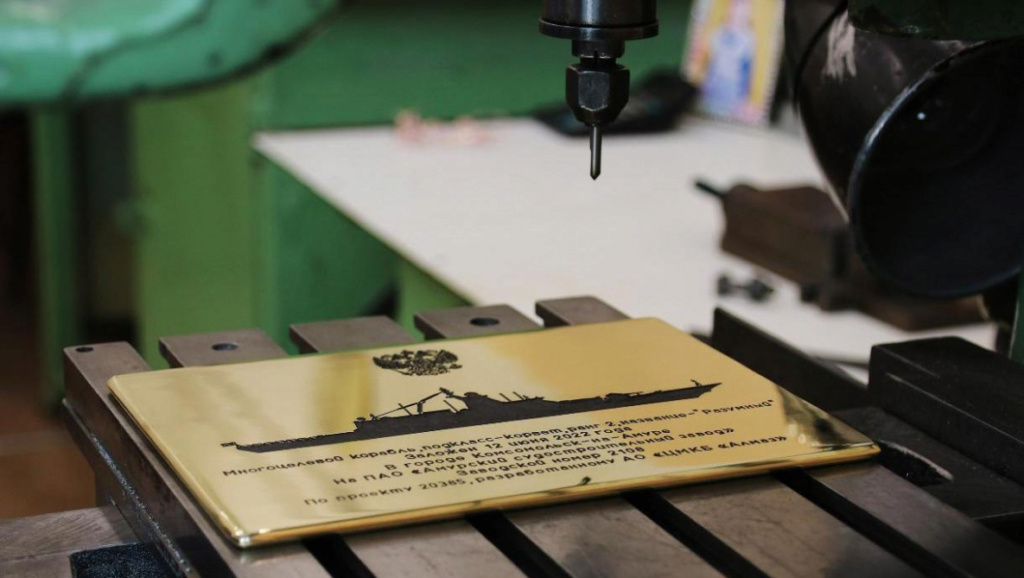 https://bmpd.livejournal.com/4539148.html
Big_Gazza, zardof, 4channer, LMFS, Hole and Arkanghelsk like this post

Krepost






Posts

: 475


Points

: 475


Join date

: 2021-12-07

On the 1st of July 2022 another pr. 20385 corvette will be laid down at AMUR Shipyard
The name will be BYSTRY

So far, this class at the AMUR shipyard:

3 project 20380 Built and in service: SOVERSHENNY, GROMKY and ALDAR LONGNAME
1 project 20380 in sea trials: REZKY
2 project 20380 in construction: GROZNY and BRAVY
2 project 20385 in construction: BUYNY and RAZUMNY
1 project 20385 to be laid down: BYSTRY

GarryB, George1, Big_Gazza, zardof, owais.usmani and gc3762 like this post

Krepost






Posts

: 475


Points

: 475


Join date

: 2021-12-07

Pr. 20385 Corvette BYSTRY has been laid down today at Amur Shipyard in the far East.
Commander of the Pacific Fleet Adm. AVAKYANTS was present at the ceremony.
He also inspected the construction of the pr.22800 (KARAKURT), pr. 20380 (STEREGUSHY) and pr. 20385 (GREMYASHY) warships.

There will be an INTERFAX press release and hopefully some videos.
GarryB, zardof, LMFS, Hole, gc3762, Broski and Arkanghelsk like this post

GarryB






Posts

: 33570


Points

: 34084


Join date

: 2010-03-30


Location

: New Zealand

This is good news.

I realise a lot of members probably just wish they would lay down dozens of each type and just start making them, but we have seen some supply chain problems in international markets for all sorts of things, but also tweaks on what weapons and sensors and systems are deployed on their ships which will lead to changes for new ships being laid down, and of course propulsion systems etc etc all need to be coordinated so the required parts are ready when they are needed.

It is a very complex task that needs to be carefully managed... they will be learning valuable things from this conflict.

I remember in 1983 photos of Soviet ships started sprouting MG mounts on the flying decks of their ships with HMG mounts mostly using 12.7mm HMGs, showing they had watched the effect of Argentine pilots attacking British ships and that even rifle calibre machine gun fire with tracer ammo could put off a pilot on an attack run and the more rounds you put up towards the incoming aircraft the more likely the bomb would fall short and miss the target.

The lethality was not great but then with HMGs the lethality would certainly improve, but importantly this was not instead of existing air defence systems and equipment... this was in addition to the other systems.

Such weapons could also be used against enemy small boats approaching the ship or even shooting floating mines in the water...

Would be interesting if the remote weapons mounts being developed for light vehicles that use rifle calibre machine guns or HMGs or grenade launchers might be adapted for navy use in such roles too.

ALAMO






Posts

: 1938


Points

: 1940


Join date

: 2014-11-25

GarryB wrote:This is good news.

I realise a lot of members probably just wish they would lay down dozens of each type and just start making them,
Fanboys, schoolkids, and armchair strategists are nothing new, no need to hype on that
There is always one question to be asked.
Considering that they would have built at 10x the numbers, and put the whole fleet on new vessels in 5 years ... what then?
What should the thousands of skilled workers, a huge chain of suppliers, and giant yards built for the purpose do ?
Just close and go fishing, right?
And in 20 years, when a new line of ships would have been started on the monitors ... who would build them, while they are all gone fishing?
Hole and Arkanghelsk like this post

Hole






Posts

: 6751


Points

: 6739


Join date

: 2018-03-24


Age

: 46


Location

: Scholzistan

Not to mention the fact that you have to train the crews.

Hole






Posts

: 6751


Points

: 6739


Join date

: 2018-03-24


Age

: 46


Location

: Scholzistan


George1






Posts

: 17693


Points

: 18200


Join date

: 2011-12-22


Location

: Greece

LMFS and Hole like this post