Project 22350: Admiral Sergei Gorshkov #2

George1




Posts

: 15018


Points

: 15521


Join date

: 2011-12-22


Location

: Greece


GarryB




Posts

: 26206


Points

: 26752


Join date

: 2010-03-30


Location

: New Zealand

Nice footage with a variety of aircraft as well as the ship in question...

AlfaT8




Posts

: 1892


Points

: 1887


Join date

: 2013-02-02

Great, 2 down, only a few Fleets left to go.

Begome




Posts

: 65


Points

: 67


Join date

: 2020-09-12

Since there have been claims on this forum that the Palash CIWS on the Adm Gorshkov are fitted with missiles, I wonder if there is any proof of that...does anyone have a link with credible info or, even better, a picture?

I know that Palash is capable of being outfitted with missiles theoretically and is on other ships, but I think that would be a different version of Palash, so it's not just a matter of "bringing some missiles on board".
I'm asking since I was recently comparing the Gorshkov frigate to the German Sachsen class and it seems the Sachsen is indeed better at air defense than the Gorshkov (though IMO the Goshkov wins all the other categories); one reason for that is that the Sachsen, with its RAM-launchers, simply has many more AD-missiles than the Gorshkov (it also has longer-range AD-missiles and possibly a better search radar).

So, while trying to figure this out I looked at a large number of pictures of the actual Gorshkov ships and none seem to have missiles on their Palash systems; furthermore, multiple sources (esp. Russian ones) state that the Palash on the Gorshkov is a "ЗАК" (anti-air artillery complex), not a "ЗРАК" (anti-air missile and artillery complex). But I'm happy to stand corrected if anyone has a decent source (pics preferred) of missiles on the Gorshkov's Palash. If it is indeed true it would mean the Gorshkov unfortunately only has a limited ability to defend a group of ships from air threats, since a significant portion of its 32 Redut VLS cells would have to be filled with quad-packed short range missiles, leaving only about a dozen or so medium-long range missiles for creating the "air bubble".

GarryB




Posts

: 26206


Points

: 26752


Join date

: 2010-03-30


Location

: New Zealand

Being a Frigate the Gorshkov wont be carrying many long or even medium range missiles... most of the missiles it will be carrying will be short range 9M100 and 60km range 9M96 missiles.

The Palma an Palash mounts are intended for fitting to light vessels and they are generally used instead of an AK-630 or Duet because the optical systems they use for targeting are pretty good, but unlike Kashtan and Pantsir they don't need two or three decks below for missile handling systems for reloading the missiles.

The mounts themselves are fully compatible with SOSNA laser beam riding missiles, which could probably be hand loaded if needed, but I wouldn't volunteer.

In a combat situation they might put 8 missiles ready to fire and when they are used up they are used up... shooting down 8 targets at 8-10km would be a good start to blunting any attack... the solid rocket boosters means the missiles get to max range in about 10-12 seconds so rapidly dealing with a few targets would actually be quite effective.

It is really only when you get to destroyers where you have ships that can defend themselves and think about defending other platforms, while a Cruiser is intended to protect and organise the protection of other ships... corvettes and frigates tend to look after themselves, though the electronics and communications means they would be able to share target and weapon and sensor information so two frigates together would be much more powerful at defending themselves than a single frigate with twice the weapon load...

hoom




Posts

: 2155


Points

: 2145


Join date

: 2016-05-06

There are no pictures with missiles mounted as far as I know.
As GarryB says the Palma/Palash mount is supposed to support Sosna
and one of the display models shows it with the missiles mounted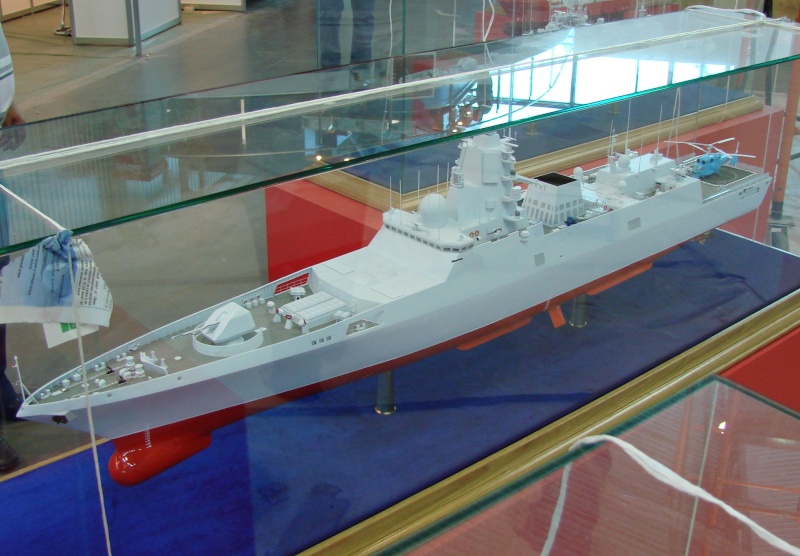 The Sosna program has been much delayed which I've assumed to be the reason it hasn't been tested on Gorshkov yet.
But the more recent info shown of it comes across as much more emphasis on anti-tank than ability to intercept anti-ship missiles.
I've been expecting to see either some kind of upgrade to fire the related Tunguska/Kashtan missiles or outright to Pantsir-M (at least for 22350M) but no sign of either yet.
George1 and Begome like this post