+15
Hole
walle83
miketheterrible
Isos
Admin
Tsavo Lion
GarryB
Ankit Kumar
Pinto
max steel
type055
George1
mack8
magnumcromagnon
aksha
19 posters
INS Vikrant-Future Indian aircraft carriers

George1






Posts

: 18137


Points

: 18640


Join date

: 2011-12-22


Location

: Greece


George1






Posts

: 18137


Points

: 18640


Join date

: 2011-12-22


Location

: Greece

GarryB and Dima like this post

Dima






Posts

: 1222


Points

: 1233


Join date

: 2012-03-22

Its good to see INS Vikrant finally into sea trials. This 1st sea trial outing is to last about 4 days.
But the entire stuff w.r.t carrier was in a mess due to the establishment infested with western fanboys promoting their stuff. The below one gives a glimpse of the incompetence in decision making that ails the navy.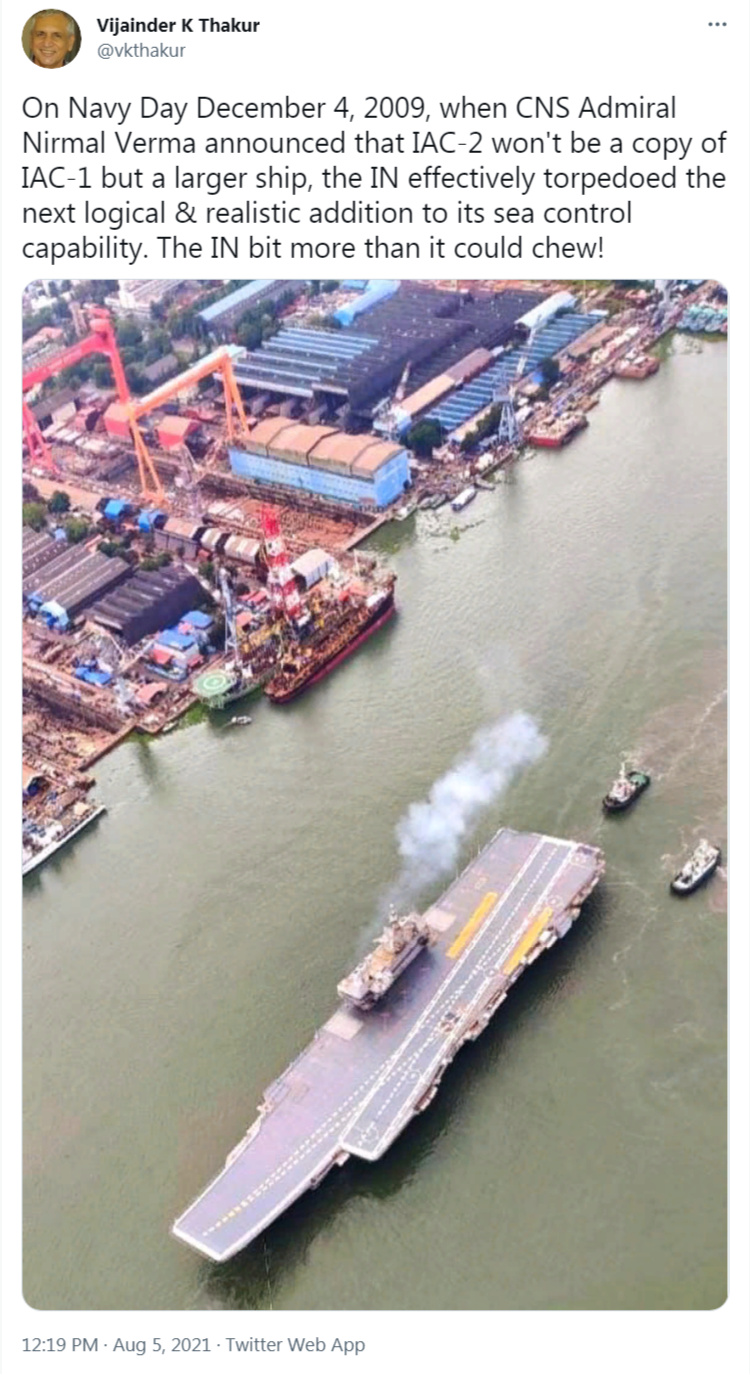 Let me explain in brief what the above doesn't mention.
One of the reason (though valid) is the late realisation of the limitations of a carrier based on Cavour design.
I have to add here that Russia had offered a new medium tonnage design during the Vikramaditya conversion. And from the looks of the Krylov's LMAC model, I believe that was probably the one proposed and I can see lots of traits of the Pr.1143 series in that design.
This whole stuff of the need for a larger carrier (& at times, even a CATOBAR), without engaging the logical route of follow-on order for the same design, came due to core reason of western a/c not being able to operate off the decks of either INS Vikramaditya or INS Vikrant (Project-71/IAC-I).
Among the first propaganda unleashed against the VKD & MiG-29K was with Rafale-M being a better option and how Russia arm twisted Indian into a packaged deal.
Over the years, there were so much tall claims of western aircraft being able to operate off the decks of STOBAR carrier, in desperate attempt to corner the lucrative Indian deck based a/c deals.
Over the years, Rafale-M, E-2C, F/A-18E/F and even Gripen & Typhoon, tried to hook the wires on deck through their local media/blog promoters in India.
But then, it reached a dead end when the SBTF (shore based test facility) got operational at Goa, replicating the STOBAR deck ops.
Rather than proving their tall claims of operating successfully off the decks of STOBAR carrier, they went silent without even daring to prove the tall claims by bringing their a/c for tests at SBTF!!!
This realisation likely factored in the new backdoor approach to corner the Indian deck based a/c deals by promoting a larger carrier design, with larger elevators as well, so that a/c like Rafale-M (& F/A-18E/F) could fit inside. This has been the chorus by all the promoters in the Indian blogs/media through out the past years.
In the case of INS Vikrant, there is so much ignorance and a hell load of morons out there who believe that the flight deck/design was rigged by the Russians so that only MiG-29Ks could fit in.
But there is an underlying fact which got washed aside due to all the chest thumping about the "indigenious" design, i.e INS Vikrant.
Project-71/IAC-I, INS Vikrant got its present shape and life from the Italian carrier Cavour. Its basically an Italian design suitably modified to Indian requirements of a full deck carrier with dedicated/angled landing strip. The deck edge elevators on INS Vikrant is almost similar in size or maybe even the exact size of that on Cavour.
GarryB and Backman like this post

Dima






Posts

: 1222


Points

: 1233


Join date

: 2012-03-22

INS Vikrant was back after first outing, on 8th August.
https://twitter.com/cslcochin/status/1424383326370942977
Cochin Shipyard Ltd @cslcochin wrote:Indegenous Aircraft Carrier Vikrant, being welcomed to her home Cochin Shipyard after a very successful maiden sea trial. Salute the teamwork and commitment of Team IAC. #vikrant #AtmaNirbharBharat #IAC #csl #cslcelebrates
Also, a proud moment for CSL
Cochin Shipyard Ltd @cslcochin wrote:CSL commenced construction of 2 Autonomous Zero Emission electric vessels for ASKO Maritime AS, Norway. Industries Minister of Kerala, @prajeevmp laid the keel for the vessels, which will run on unmanned mode in the Norwegian fjords. A moment of pride for Indian Shipbuilding.

Dima






Posts

: 1222


Points

: 1233


Join date

: 2012-03-22

A little closer look of the island.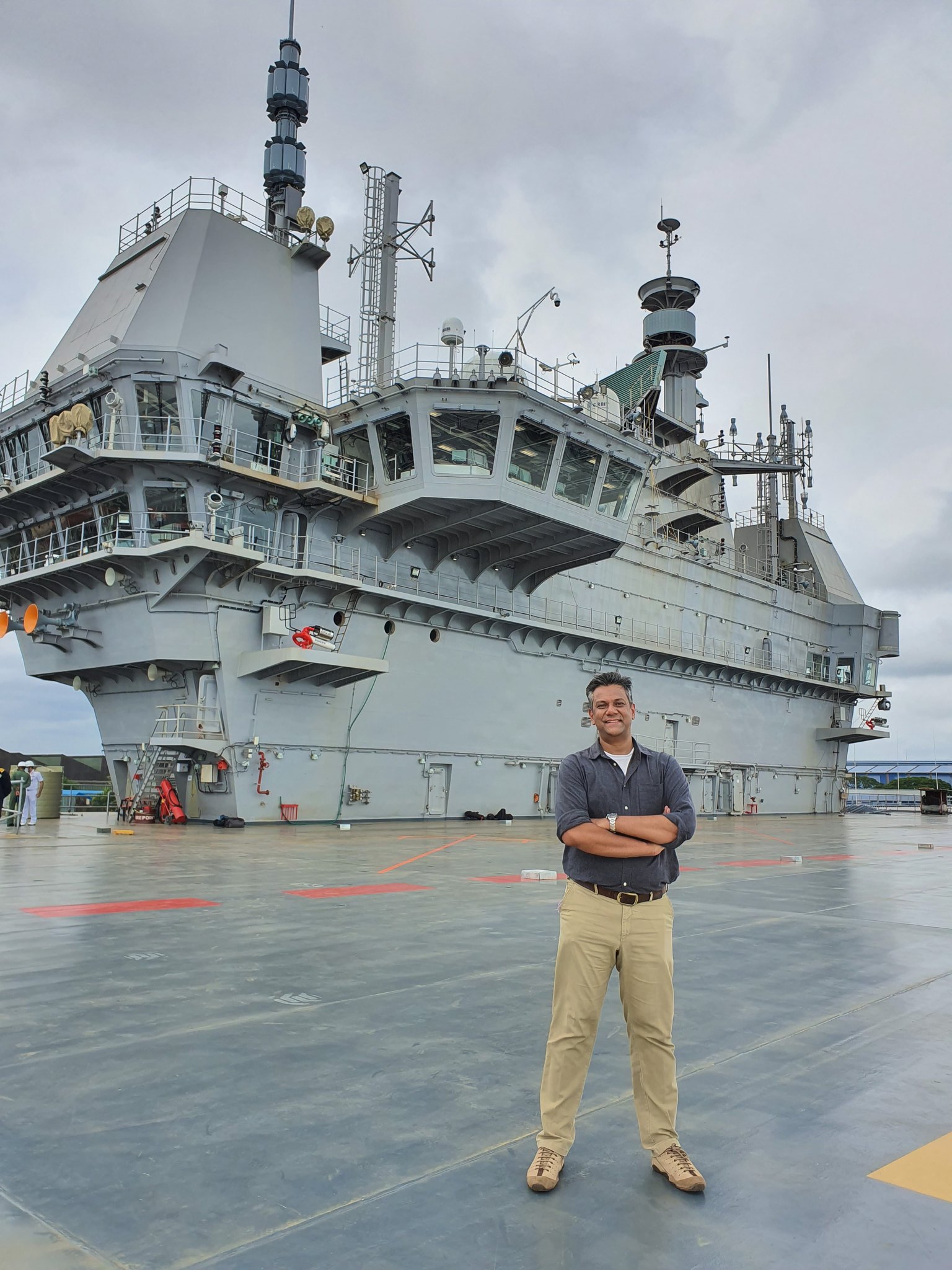 The radar panels has not yet been fixed, neither the aviation related system, but will, in the coming months during the sea trials planned ahead.
A total of 7 sea trials are to be conducted before the ship is commissioned in August 2022.
1st sea trial last 4 days, which involved hull test, navigation, communication & propulsion systems tests. The carrier also touched its max speed during the 1st sea trials.
2nd sea trials is planned for October.
If everything goes as planned, CSL will deliver it on time next year.
PapaDragon likes this post

walle83






Posts

: 964


Points

: 974


Join date

: 2016-11-13


Location

: Sweden

The Vikrant has been handed over to the Indian navy.


https://www.navalnews.com/naval-news/2022/07/indian-navy-accepts-delivery-of-indigenous-aircraft-carrier-vikrant/



George1






Posts

: 18137


Points

: 18640


Join date

: 2011-12-22


Location

: Greece

The first Indian-built aircraft carrier Vikrant was commissioned