From various pages i have reached the following conclusions about Tornado systems:
1.
9A52-4 Tornado.
The 9A52-4 Tornado system is based on the chassis of the KamAZ-63501 8x8 military truck, which provides good tactical mobility. It is equipped with a single container with six launcher tubes for 300-mm rockets, which can fire all current Smerch rockets, including HE-FRAG, incendiary, thermobaric, cluster with anti-personnel or anti-tank mines.
Maximum range of fire is 70 km with ordinary and 90 km with extended-range rockets. Rockets are fitted with range and direction correction system for better accuracy.
The 9A52-4 multiple launch rocket system may be Russia's answer to the US HIMARS. It is a lightweight and universal version of the Smerch MLRS. The 9A52-4 is more strategically and tactically mobile, but mobility comes at a cost of reduced firepower.
2.
9A53-G Tornado
(2x15 1x40 One 122mm Upgraded BM-21 "Grad" Multiple Rocket Launcher Module, based on a Kamaz Truck.
The new Tornado-G looks in view similar to the ageing Grad, but it has a number of improvements. Rockets of this new system have improved range and more powerful warheads. The Tornado-G is also fitted with automatic positioning, navigation, aiming and laying systems.
The Tornado-G rockets are fitted with cluster warheads with self-guided multi-purpose submunitions. These have a range of 30 km and can be used against enemy infantry and armored vehicles. These submunitions penetrate 60 to 100 mm of RHA. Also there are rockets with HE-FRAG warheads. These have a range of up to 40 km.
3.
9A53-S Tornado
. 300mm Upgraded BM-30 "Smerch"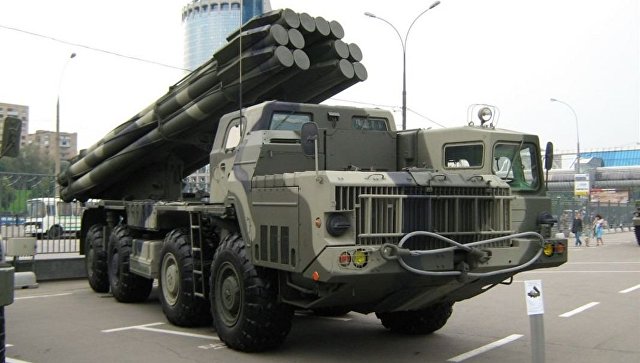 Only the 2nd type has entered service. I would like to see 1st type also which is considered analogue to US HIMARS
Last edited by George1 on Wed May 09, 2018 12:57 pm; edited 2 times in total