+23
kvs
PhSt
Tsavo Lion
magnumcromagnon
hoom
marat
Hole
miketheterrible
George1
PapaDragon
AlfaT8
calripson
GarryB
sepheronx
flamming_python
franco
TheArmenian
Dima
TR1
medo
xeno
Viktor
zg18
27 posters
Border Service and Coast Guard of Russia

Krepost






Posts

: 552


Points

: 554


Join date

: 2021-12-08

GarryB, franco, George1, Big_Gazza, ALAMO, zardof, Hole and like this post

Krepost






Posts

: 552


Points

: 554


Join date

: 2021-12-08

GarryB, zardof and Hole like this post

franco






Posts

: 5855


Points

: 5885


Join date

: 2010-08-18

The eighth border patrol ship of project 22120 was put into operation

As reported on the forums.airbase.ru web resource , on September 30, 2022, in St. Petersburg, at Almaz Shipbuilding Company JSC, a flag-raising ceremony was held for border ships, boats and support vessels on the border patrol ship of the 2nd rank PPK-831 project 22120 (code "Purga") with serial number 057 (tail number "457"), which became part of the Coast Guard of the Border Guard Service of the FSB of the Russian Federation. It became the eighth ship of project 22120 in the series. It was previously reported that the ship was to be named Roman Chemeryuk, but so far there is no information about assigning this name to it.

Recall that this project 22120 (code "Purga") was originally developed by PKB Petrobalt LLC as a large customs vessel commissioned by the Federal Customs Service of the Russian Federation (FTS RF) on the instructions of 2005. After the refusal of the Federal Customs Service of the Russian Federation in 2009 from this project, the financing of the project continued from the Border Service of the FSB of Russia, and initially the units of project 22120 were classified in the Border Service as border patrol ships (PPS), and since 2018 - as border patrol ships (PPK) 2nd rank, but at the same time sometimes even officially sometimes referred to as border patrol ships. The finalization of the project for the needs of the Border Service was carried out under the auspices of ZAO Spetsstroyproekt (Moscow).

The lead patrol vessel of project 22120 with serial number 050 was laid down at the Almaz Marine Plant OJSC (now the Vasileostrovskaya site of Almaz SF PJSC) initially for the Federal Customs Service of the Russian Federation on June 25, 2006 and after completion for a new customer it became part of Coast Guard of the Border Guard Service of the FSB of Russia on April 29, 2011 as PS-581. In the fall of 2011, the ship moved by the Northern Sea Route to its permanent base in Nevelsk on Sakhalin, then it was renamed PPS-824, then PS-824 , and in July 2017 it was named Rear Admiral Kolchin E.S.

Following him, from 2011 to date, on the Almaz SF, under various contracts for the Coast Guard of the Border Guard Service of the FSB of Russia, six more patrol ships of this project have been built, somewhat different from each other - Rear Admiral Dianov (originally PS-825 , serial number 051, commissioned on July 5, 2013), Kamchatka (serial number 052, commissioned on November 23, 2018), Transbaikalia (serial number 053, commissioned in July 2019), Taimyr " (serial number 054, put into operation on July 10, 2020), "Admiral Ugryumov"(serial number 055, commissioned on August 16, 2021) and Ladoga (serial number 056, commissioned on September 29, 2021).

Currently, the PPK "Rear Admiral Kolchin E.S.", "Rear Admiral Dianov" and "Admiral Ugryumov" are based on Nevelsk on Sakhalin, and "Kamchatka" , "Transbaikalia" and "Taimyr" - on Petropvlovsk-Kamchatsky on Kamchatka. It was reported that the Ladoga PPK should be based in Murmansk, but so far it remains in the Baltic.

Commissioned on September 30, 2022, PPK-831 with serial number 057 was launched on April 26, 2022 and entered factory sea trials on August 25. It became the eighth ship of project 22120. Now the ninth ship of this project , Ufa ( serial number 058), is being built at Almaz Shipyard, the design of which has undergone a number of major changes, and in particular, as reported, the ship should receive weapons in the form of 30- mm artillery mount AK-630. Its launch is scheduled for 2023.

https://bmpd-livejournal-com.translate.goog/4594651.html?_x_tr_sl=ru&_x_tr_tl=en&_x_tr_hl=en


GarryB, ALAMO, zardof, Sprut-B, Hole and lancelot like this post

GarryB






Posts

: 35745


Points

: 36271


Join date

: 2010-03-30


Location

: New Zealand

Russia want to demilitarize Ukraine, not DNR and LNR, who are most important allies in region and they will be important counter weight to the rest of Ukraine. Black sea is very important region and it is good to have an ally fleet there as well. Russia recognized independent states of DNR and LNR, so they are not Ukraine.
If they continue with referendums as they progress these will be Russian Navy ports, which can work with Sevastopol, but I suspect the military ports of Sevastopol and the original backup port at Novorossiysk, so the new ports further west could be commercial and will be busy shipping grain to Africa and the world hopefully.
A good result will be whatever is left of neutral Ukraine is landlocked from the Black Sea and hopefully Russia can remind them of their actions regarding that region in Moldova they liked to annoy Russia with by denying access to... Transnitria?

George1






Posts

: 17911


Points

: 18416


Join date

: 2011-12-22


Location

: Greece

franco wrote:The eighth border patrol ship of project 22120 was put into operation

   As reported on the forums.airbase.ru web resource , on September 30, 2022, in St. Petersburg, at Almaz Shipbuilding Company JSC, a flag-raising ceremony was held for border ships, boats and support vessels on the border patrol ship of the 2nd rank PPK-831 project 22120 (code "Purga") with serial number 057 (tail number "457"), which became part of the Coast Guard of the Border Guard Service of the FSB of the Russian Federation. It became the eighth ship of project 22120 in the series. It was previously reported that the ship was to be named Roman Chemeryuk, but so far there is no information about assigning this name to it.

   Recall that this project 22120 (code "Purga") was originally developed by PKB Petrobalt LLC as a large customs vessel commissioned by the Federal Customs Service of the Russian Federation (FTS RF) on the instructions of 2005. After the refusal of the Federal Customs Service of the Russian Federation in 2009 from this project, the financing of the project continued from the Border Service of the FSB of Russia, and initially the units of project 22120 were classified in the Border Service as border patrol ships (PPS), and since 2018 - as border patrol ships (PPK) 2nd rank, but at the same time sometimes even officially sometimes referred to as border patrol ships. The finalization of the project for the needs of the Border Service was carried out under the auspices of ZAO Spetsstroyproekt (Moscow).

   The lead patrol vessel of project 22120 with serial number 050 was laid down at the Almaz Marine Plant OJSC (now the Vasileostrovskaya site of Almaz SF PJSC) initially for the Federal Customs Service of the Russian Federation on June 25, 2006 and after completion for a new customer it became part of Coast Guard of the Border Guard Service of the FSB of Russia on April 29, 2011 as PS-581. In the fall of 2011, the ship moved by the Northern Sea Route to its permanent base in Nevelsk on Sakhalin, then it was renamed PPS-824, then PS-824 , and in July 2017 it was named Rear Admiral Kolchin E.S.

   Following him, from 2011 to date, on the Almaz SF, under various contracts for the Coast Guard of the Border Guard Service of the FSB of Russia, six more patrol ships of this project have been built, somewhat different from each other - Rear Admiral Dianov (originally PS-825 , serial number 051, commissioned on July 5, 2013), Kamchatka (serial number 052, commissioned on November 23, 2018), Transbaikalia (serial number 053, commissioned in July 2019), Taimyr " (serial number 054, put into operation on July 10, 2020), "Admiral Ugryumov"(serial number 055, commissioned on August 16, 2021) and Ladoga (serial number 056, commissioned on September 29, 2021).

   Currently, the PPK "Rear Admiral Kolchin E.S.", "Rear Admiral Dianov" and "Admiral Ugryumov" are based on Nevelsk on Sakhalin, and "Kamchatka" , "Transbaikalia" and "Taimyr" - on Petropvlovsk-Kamchatsky on Kamchatka. It was reported that the Ladoga PPK should be based in Murmansk, but so far it remains in the Baltic.

   Commissioned on September 30, 2022, PPK-831 with serial number 057 was launched on April 26, 2022 and entered factory sea trials on August 25. It became the eighth ship of project 22120. Now the ninth ship of this project , Ufa ( serial number 058), is being built at Almaz Shipyard, the design of which has undergone a number of major changes, and in particular, as reported, the ship should receive weapons in the form of 30- mm artillery mount AK-630. Its launch is scheduled for 2023.

https://bmpd-livejournal-com.translate.goog/4594651.html?_x_tr_sl=ru&_x_tr_tl=en&_x_tr_hl=en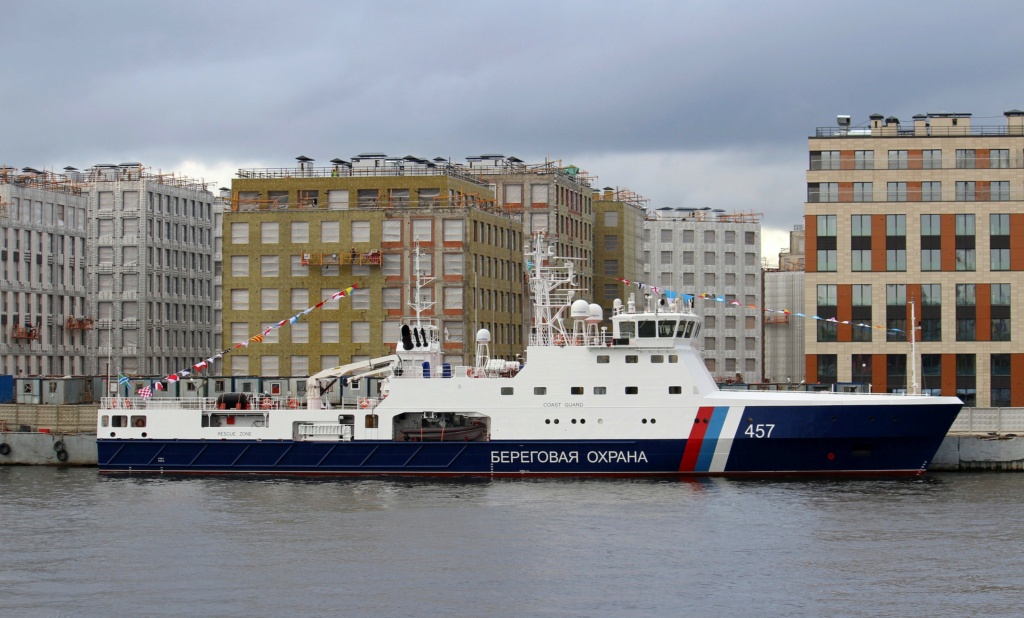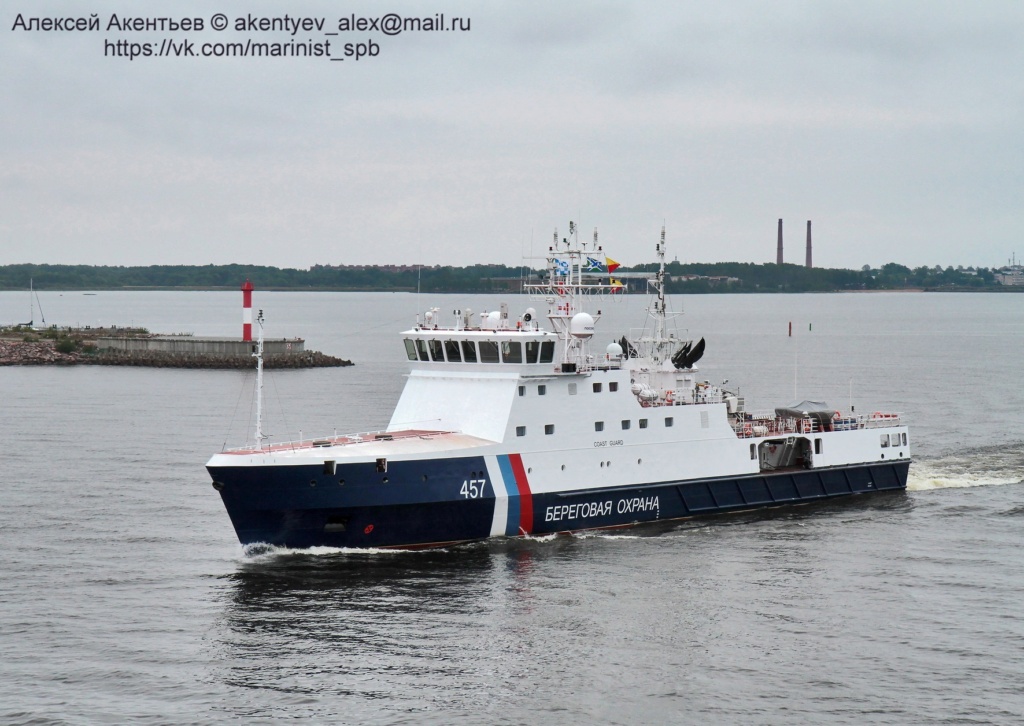 GarryB, franco, zardof, Hole and Broski like this post

franco






Posts

: 5855


Points

: 5885


Join date

: 2010-08-18

2023 updated Russian Coast Guard list of ships and boats plus areas of deployment. In addition there would be another 250 or so small craft under 10 tonnes;

http://russianships.info/eng/coastguard/
GarryB and Hole like this post