nomadski wrote:
Yes. The sources claim it was Usrael. Below the water line, indicates a mine or torpedo. Not placed by hand from dingy. If ship was static for prolonged period at sea, then possible for Sub or diver to place under the water. If ship not static, then torpedo to blame. Could be anyone?

Then why not attack Big fat oil Tanker?  Going through Suez now ? Oh too much pollution?  There is the answer. Perhaps one day an oil Tanker gets hit near Usrael coast by mine. And all the coast of Usrael gets polluted....

That Iranian ship has been in that location for 2-3 years. It seems to act as a transshipment distribution hub for 'goodies' fed into Yemen by fast launches. Maybe the route for missile etc parts.
A definite target for Saudi or their helpers.
EDIT
‌A US official says Israeli forces targeted the Iranian ship SAVIZ in the Red Sea at 7:30 am local time yesterday./NewYorkTimes
Israel notified Washington that its forces had struck the Iranian ship Soyuzm. The Israelis said the attack was in retaliation for previous Iranian strikes on Israeli ships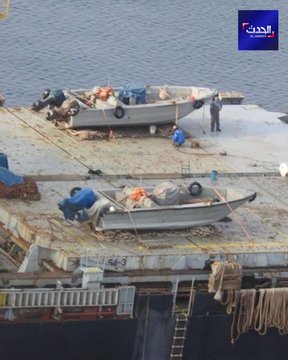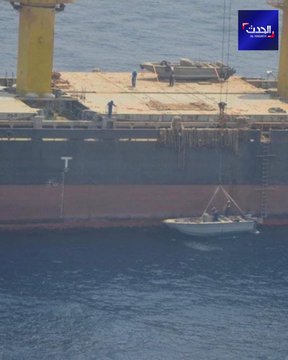 Israel seems to have recognised the potential physical and political damage of hitting a laden tanker. It now, from what little we know re the publicity of hitting Iranian ships over the past couple of years, goes for ships on their way home. Not sinking them but doing damage that slows them down and requires repair when back in Iran.
From reports it seems that the RuAF and RuN provide escorts when the important ships are in the Med, perhaps in the dangerous part of the journey north of Israel.