Great Patriotic War (USSR in World War II)

Tsavo Lion




Posts

: 4175


Points

: 4171


Join date

: 2016-08-15


Location

: AZ, USA

Was the Soviet fleet useless in World War II
https://vz.ru/society/2020/5/17/1039405.print.html

GarryB




Posts

: 25351


Points

: 25897


Join date

: 2010-03-30


Location

: New Zealand

Just based on the title... if they consider the Soviet fleet entirely useless I assume they are ignoring the continued defence they provided in Leningrad and Crimea, and support in operations on land using naval personel...

But then we must take out hats off to the British navy that was so influential during WWII.... or not... it wasn't even much use at Dunkirk... it was mostly civilian fishing boats and cargo vessels that assisted the running away...

You could argue the Royal Navy was useful for D-Day, but the war was practically decided by then, so hardly pivotal...

Tsavo Lion




Posts

: 4175


Points

: 4171


Join date

: 2016-08-15


Location

: AZ, USA

Despite losses, the RN played its role:
https://en.wikipedia.org/wiki/Naval_history_of_World_War_II#Great_Britain

Let's not forget that the Soviet river flotillas & naval aviation also aided in the war effort:
https://en.wikipedia.org/wiki/Danube_Flotilla_(Soviet_Union)#1940_flotilla

https://weaponsandwarfare.files.wordpress.com/2018/11/20160510-grau-river-flotillas-in-support-of-defensive-ground-operations-the-soviet-experience.pdf

Some armoured gunboats even fought in the battle of Berlin, making their way on the Spree.
https://www.naval-encyclopedia.com/ww2/soviet-navy

Russian Navy Aviation managed all land, shore and vessel-based (tender seaplanes and catapult vessels) hydroplanes and aircraft, as well as flying boats. The air units also conducted land operations in support of the Red Army during landings and disembarkation and served in special wartime operations. Naval Aviation provided some air cover to Allied convoys bringing equipment to Soviet forces from North Sea to the Barents Sea and via the Pacific Ocean to the Sea of Okhotsk. During the war, Naval Aviation delivered an immense blow to the enemy in terms of sunken ships and crews—two and a half times more than any other unit of the Soviet Navy. Seventeen naval aviation units were honored with the title of the Soviet Guards, while 241 men were awarded with the title of the Hero of the Soviet Union (including five pilots—even twice).
https://military.wikia.org/wiki/Soviet_Naval_Aviation

dino00




Posts

: 1390


Points

: 1431


Join date

: 2012-10-12


Age

: 32


Location

: portugal

https://twitter.com/dimsmirnov175/status/1277867434914000896?s=19
Magnificent
WW2 RZHEV monument

GarryB




Posts

: 25351


Points

: 25897


Join date

: 2010-03-30


Location

: New Zealand

Ironic that the west is recognising its terrible history and is tearing down the evidence, while Russian memorials to their heroes keep being erected... and long may the latter continue... it is the very least we can do.

What of course would be even better if the west would learn from its past mistakes so people wouldn't be put in the situation these heroes were in... of course they would prefer a normal life without their friends and family dying and houses and cities destroyed to no purpose... but it really wasn't something they could do anything about.

It comes down to those in power... it was military defence agreements like HATO that created WWI, and it was economic sanctions and biggotry against Germany that created Hitler and caused WWII... and it was economic sanctions and a trade embargo that forced Japan to seek military solutions to her problems too... then blaming it all on the Soviet Union which seems now to be standard practise in the west creates conflict and tension where none is needed... there are enough problems in the world without creating fake ones... but Russia is not Germany and is perfectly capable of killing enormous numbers of people in the west... the very first period of WWII for the British was called the Phoney war because with Germany invading Poland there was very little the British could do and Germany was so far away from Britain the air raid sirens went off when war was declared... likely to test them, but nothing happened.

With ICBMs and SLBMs and aircraft carrying long range cruise missiles that is not going to happen in a future conflict with Russia... but the bullshit and pressure and fake news continues to make Russia out to be the villain... the mistake they are making is that this villain can really kick your arse... unlike previous villains like North Korea, or Cuba or Iraq or Iran or Syria of Venezuela or Libya.
andalusia likes this post

SeigSoloyvov




Posts

: 1883


Points

: 1873


Join date

: 2016-04-08

Tsavo Lion wrote:Was the Soviet fleet useless in World War II
https://vz.ru/society/2020/5/17/1039405.print.html
Yes and no, it was too small and too out of date to pose any real threat to the germans in an Open Naval capacity
But it did have its uses else where, the RN Bogged down most of the German fleet so that helped the USSR out.

GarryB




Posts

: 25351


Points

: 25897


Join date

: 2010-03-30


Location

: New Zealand

The Soviet Navy was in no position to have an enormous influence on events during WWII. The Pacific Fleet was neutral in the conflict with Japan for most of the war and the Baltic fleet was contained with mines for most of the war by the Germans.

The Baltic fleet ships used their guns to support Leningrad and the surrounds and supported the later advance towards Germany... in fact I think three Soviet subs have the record for the number of enemy killed when they torpedoed three or four ships taking German wounded back to Germany.

The Black Sea Fleet was also very busy if not particularly successful... they played their part... and those of the Northern Fleet also supported operations in the far north where in several cases German advances were stopped and pushed back by forces consisting of fishermen and hunters and naval personel....

They weren't pivotal but neither was the Soviet Air Force for the first few years either.

magnumcromagnon




Posts

: 5988


Points

: 6139


Join date

: 2013-12-05


Location

: Pindos ave., Pindosville, Pindosylvania, Pindostan

In light of current Anglo-Suckson's whitewashing WW2 history.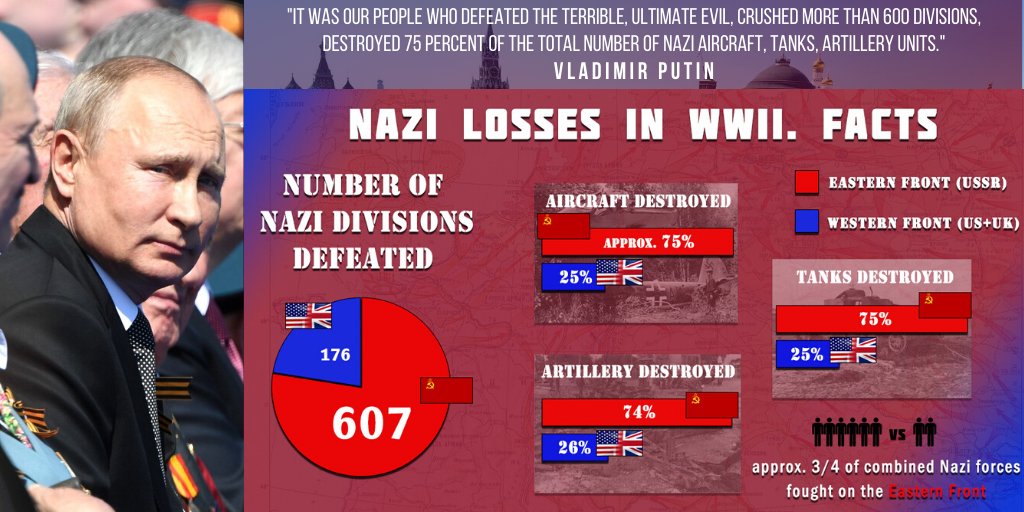 Isos




Posts

: 5807


Points

: 5799


Join date

: 2015-11-06

What your image forget to say is that best german soldiers were on the eastern front.

If they were on the western front, even without changing the numbers, US+UK would have been destroyed pretty easily.

GarryB




Posts

: 25351


Points

: 25897


Join date

: 2010-03-30


Location

: New Zealand

Even in western comedy shows like Allo Allo, and Hogans Heroes they mention the Eastern front is where all the hard core Nazi soldiers went.

kvs




Posts

: 6411


Points

: 6548


Join date

: 2014-09-11


Location

: Canuckistan

The Germans were stripping the large caliber cannons from the pill boxes facing the Atlantic and the English Channel to use on the Eastern front.
The last 11 months of the war in Europe which saw yanqui forces move fast to Germany were the collapse phase of the Reich so the
resistance on the western front was a tiny fraction of the Eastern front.   This was also due to Nazi propaganda since German soldiers
were brainwashed to have zero respect for Russians as humans and expected all sorts of depraved treatment if they became POWs.
By contrast, German soldiers surrendered to the Americans en masse since they expected proper treatment as POWs.  And leaving the
front as a POW and staying alive was a major incentive given that continuing to fight would likely mean death.

So those loss numbers in the above graphic are misleading. The resources destroyed on the western front were much easier to achieve
than on the eastern front.



Tsavo Lion




Posts

: 4175


Points

: 4171


Join date

: 2016-08-15


Location

: AZ, USA

WWII German battlefield & POW losses:
https://en.wikipedia.org/wiki/German_casualties_in_World_War_II#German_prisoners_of_war

https://en.wikipedia.org/wiki/German_casualties_in_World_War_II#United_States_Army_Figures_for_German_and_Italian_Losses

https://en.wikipedia.org/wiki/Other_Losses#Prisoner_totals

https://www.amazon.com/Other-Losses-Investigation-Prisoners-Americans/dp/0889226652

It's very probable that more German POWs died in Allied hands than in the USSR that used most of them for unskilled & skilled labour.