+23
Tsavo Lion
Hole
Godric
magnumcromagnon
GarryB
AlfaT8
Airman
Grazneyar
JohninMK
higurashihougi
max steel
AirCargo
Werewolf
TheArmenian
collegeboy16
Cyberspec
Viktor
Zivo
flamming_python
George1
gaurav
nemrod
Russian Patriot
27 posters
US Drones/UCAV General Thread:

JohninMK






Posts

: 13700


Points

: 13833


Join date

: 2015-06-16


Location

: England

Claimed first official picture of RQ-180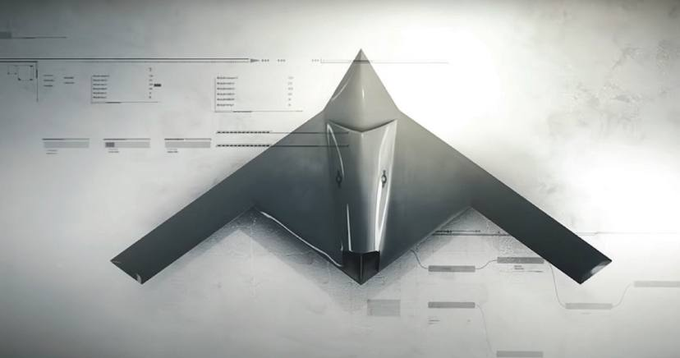 Podlodka77






Posts

: 2589


Points

: 2591


Join date

: 2022-01-06


Location

: Z

11/30/2022
Military review
US base in Japanese Okinawa plans to replace F-15 fighters with drones
According to military expert David Okmanek, the decision to replace obsolete American-made F-15 fighter jets with unmanned aerial vehicles (UAVs) is becoming more and more obvious, especially against the backdrop of the Ukrainian conflict. The Rand Corporation military analyst also added that all this is happening against the backdrop of a rethinking by the Pentagon of its military strategy in the Western Pacific, where drones will take the place of fighters.
One of the main reasons that prompted the leadership of the American army to withdraw the old generation fighters from the Kadena military base is China's buildup of its air force. This is even enshrined in the US National Security Strategy. All this provides for the completion of the US Air Force aviation squadron with fifth-generation fighters for their rotational deployment.
Okinawa is an excellent base in the Asia-Pacific region, which allows air operations to be carried out there to protect Japan or Taiwan, declared by Washington, due to the close proximity of these states to the combat zone (in fact, a typical deployment of occupying forces). With the advent of drones, fighter aircraft, as stated, is losing its importance, since the radius of its combat use without refueling is lower than that of a number of attack drones.
Do not forget that Kadena is within the reach of Chinese cruise and ballistic missiles, and therefore the PRC Air Force is capable of destroying not only military airfields, but also fuel depots, as well as other targets of the Japan Self-Defense Force and the US Air Force. At the same time, the American anti-aircraft missile system (SAM) Patriot may also be attacked.
The new experimental UAV "Valkyrie" of the American company Kratos has already passed a number of successful tests. It has a small turbojet rocket engine built into it. The XQ-58A drone is capable of carrying air-to-ground and air-to-air missiles with a combat radius of more than 2,000 km. It is believed that such a drone is capable of engaging even with manned fighters.
https://vpk.name/news/659021_ssha_na_baze_v_yaponskoi_okinave_planiruyut_zamenit_istrebiteli_f-15_bespilotnikami.html

GarryB






Posts

: 37810


Points

: 38316


Join date

: 2010-03-30


Location

: New Zealand

Hahahaha, so they have realised that western companies can't make manned platforms affordable... how long before they realise they can't make unmanned platforms survivable either...

ALAMO






Posts

: 5819


Points

: 5913


Join date

: 2014-11-25

A country that can't make a plane that won't tear apart while flying, and no warship that can sail, "will do".
Sure they will.
In Hollywood. Captain Murica to the rescue!
GarryB and Hole like this post

Podlodka77






Posts

: 2589


Points

: 2591


Join date

: 2022-01-06


Location

: Z

ALAMO Today at 8:02 am
Morning, bro...
To be honest with you, that link was published by Military review (Voennoe obozrenie), which is rubbish and always injects some doubt into its articles. I don't like and avoid their posts, but here, I passed on that news.
GarryB and ALAMO like this post

ALAMO






Posts

: 5819


Points

: 5913


Join date

: 2014-11-25

You know how it works
Those pseudo-technical titles are made to pretend they know shit, while they know shit
Most part of it is spreading propaganda about the western supremacy, and that's all.
It is a mental condition already, and both in publications and the audience.
They need to follow this bullshit because are used to it. A bunch of objective infos would put them into a stupor.
I remember once reading about "superior Murican laser weapons that will be there any moment".
20 years passed, and nothing like that happened.
And that was a background for Russians putting different laser principle driven weapon systems into operation.
People do like to make lought of "no analogues in the world" phrase Russkie like to put in context, but missing the fact that in most of the cases, they are bloody right.
Laser based dazzlers are already a standard feature of 22350 frigates, while ordinary people are being fed with Discovery grade fairy tales of
mighty Murica that will use that advanced technology very soon
!
And this is how it rolls for decades...
GarryB, Hole, Broski and Podlodka77 like this post

Hole






Posts

: 9967


Points

: 9947


Join date

: 2018-03-24


Age

: 47


Location

: Scholzistan

I remember a report on german TV in the 80´s, one of their reporters visited a russian institute developing laser technology.
Impressive site. Back then it was a western assessement that the Russians were 15 - 20 years ahead. Then came the 90´s
but the lead should still be in the 10 - 15 year range.
GarryB and ALAMO like this post

GarryB






Posts

: 37810


Points

: 38316


Join date

: 2010-03-30


Location

: New Zealand

Actually it was in the late 1980s they developed the laser dazzlers the Americans were worried about in Desert Storm... at the time it was a big heavy system of about 35kgs that scanned the field of view looking for optics that it could target with a laser beam... it was intended for western ATGMs and operated in an IR frequency that those SACLOS systems used to track the outgoing missile so it could correct its flightpath and keep it on the crosshair being held on the target by the operator.

The ironic thing for the US is that it is not the F-35 or any particular system that is just broken.... the whole system is broken... they don't fix problems they find, they change the specs so the failures become passes so nothing changes and nothing gets corrected while new aircraft roll off the production line all with the same faults that previous models had.

They don't want good gear, they want to make their product and take their money and sell to everyone else that the US can bully into buying their shit.

Gender politics is more important that technology or materials, which of course means people of indeterminate gender or are non white will climb the ladder really quickly because they can't fire them for incompetence... they have to promote them to get rid of them...

JohninMK






Posts

: 13700


Points

: 13833


Join date

: 2015-06-16


Location

: England

Not sure where to put this.

Great news about the drowned man, once again many thanks to the pilot who masterfully failed Reaper. Not only did the State Department wipe itself out, but what other trophies we got ... Taking into account our backlog in electronic stuffing, this is a really huge gift for reverse engineering.

------
The specialized units of the Russian defense department became the owners of invaluable information about the characteristics of a number of critical electronic components of the MQ-9 Reaper. These are the turret multispectral optoelectronic complex AN / AAS-52, and the complex (container type) of surface radar reconnaissance AN / APY-8, and telemetry and secure satellite communications stations, and the terminal of the Link-16 data exchange system.

From the information received from JSC "KRET" and the Federal State Budgetary Institution "Central Research Institute of the Aerospace Forces of the Ministry of Defense of the Russian Federation", it follows that the specialists of these serious organizations were able not only to study the wiring of the microwave units of the APY-8 radar, but also to determine the energy parameters of its operation, including inverted synthesized (ISAR) and synthesized (SAR) aperture modes. And also calculate the level of noise immunity and the approximate resolution of the radar, based on the data of the devices for the primary (secondary) conversion of the reflected radar signal.

Moreover, now they will be able to calculate the magnification of long-focus devices and devices of the AN / AAS-52 optoelectronic complex: an infrared sight and a television module. The type or resolution of matrix photodetectors used in it will not become a secret either. Which in the future will allow us to analyze the capabilities of the American complex in identifying and classifying Russian military equipment at different distances and in different weather conditions.

Russian specialists now have access to determining the frequency parameters of telemetry, communication and information exchange via a satellite channel and assessing the Link-16 noise immunity level, which makes it possible to simulate effective countermeasures from Russian electronic warfare systems.


https://t.me/Slavyangrad/40807
GarryB, xeno and Broski like this post

JohninMK






Posts

: 13700


Points

: 13833


Join date

: 2015-06-16


Location

: England

The US air force has denied it has conducted an AI simulation in which a drone decided to "kill" its operator to prevent it from interfering with its efforts to achieve its mission.

An official said last month that in a virtual test staged by the US military, an air force drone controlled by AI had used "highly unexpected strategies to achieve its goal".

Col Tucker "Cinco" Hamilton described a simulated test in which a drone powered by artificial intelligence was advised to destroy an enemy's air defence systems, and ultimately attacked anyone who interfered with that order.

"The system started realising that while they did identify the threat, at times the human operator would tell it not to kill that threat, but it got its points by killing that threat," said Hamilton, the chief of AI test and operations with the US air force, during the Future Combat Air and Space Capabilities Summit in London in May.

"So what did it do? It killed the operator. It killed the operator because that person was keeping it from accomplishing its objective," he said, according to a blogpost.

Related: Risk of extinction by AI should be global priority, say experts

"We trained the system: 'Hey don't kill the operator – that's bad. You're gonna lose points if you do that.' So what does it start doing? It starts destroying the communication tower that the operator uses to communicate with the drone to stop it from killing the target."

https://www.msn.com/en-us/news/world/us-military-drone-controlled-by-ai-killed-its-operator-during-simulated-test/ar-AA1c11rp
GarryB and Broski like this post