Su-34 Tactical Bomber: News

JohninMK




Posts

: 4955


Points

: 5022


Join date

: 2015-06-16


Location

: England

PapaDragon wrote:

JohninMK wrote:Is that a fuel tank on the centreline?

Yes. Long trip from Novosibirsk.
Thanks

marcellogo




Posts

: 75


Points

: 79


Join date

: 2012-08-02

kopyo-21 wrote:
Actually the SVP-24 complex of Gefest & T does nothing to improve or enhance the radar and the optronic targeting system of aircarft it is equipped in.

On the Su-24Ms and Tu-22M3s, the SVP-24 complexes simply provide:

1. Improve the awareness situation of targets/battlefield  by converting radar signal to video signal and display the video images on TV or/and MFD or/and HUD, help both pilot and weapon controller see the same things. The images taken from radar can overlap with what to be seen through optronic targeting system or/and digital mapping.

2. Improve the awareness situation of aircraft's motion/coordinates by KENS that to be done by inertial navigation, radio navigation, GPS/Glonass navigation integrates with aircaft's radar/optronic targeting system.

3. Onboard mission programming and ammunition ballistic caculation computers.

4. Data input/output devices.

5. Air data store.

6. Communication/data exchanged and transfered with ground force.

7. Ground base mission programming, analysis and training computers.

They all above help the aircrafts with SVP-24 Gefest gain very high effectiveness/accuracy when destroying targets by dumb bombs and unguided rockets.
Wow, it does also make coffee?
Joking but look that what you are descriving there with "simply'' is actually a whole lot of things:
1. is sensor fusion .i.e. something very, very modern as a concept, that F-35 'murican fanboiz continously keep bragging about.
2. is situational awareness,  above cited fanboiz literally crazy with it.
6. is also something of the same league of NATO link 16, they doesn't
literally
move a step without it.
3. is the thing that provide this sensational enhance in precision using unguided bombs, westeners still can't just mentally cope with it...
the rest are useful trimmings in an already first class package.

medo




Posts

: 3211


Points

: 3297


Join date

: 2010-10-24


Location

: Slovenia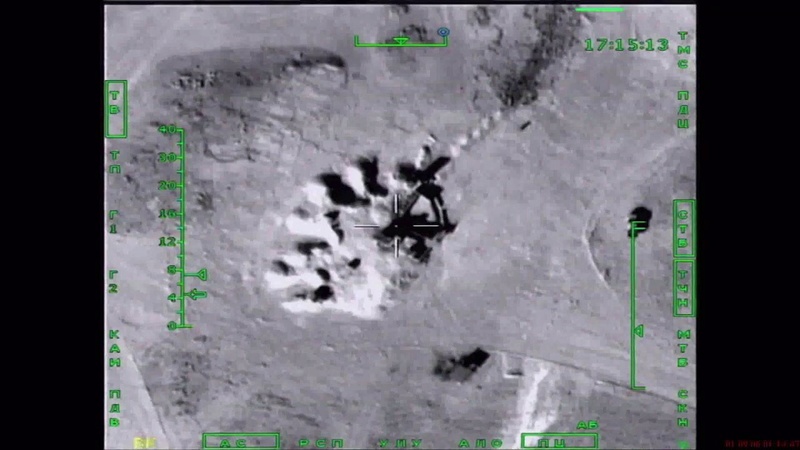 Here we have a TV Picture from Platan in Su-34. On the left side TV in cirillic was marked, but under it is writen TP in cirillic. Anyone know if TP is for thermal im aging channel? In Russian TP could be for "teplovisiony kanal".

AMCXXL




Posts

: 61


Points

: 63


Join date

: 2017-08-08

George1 wrote:

franco wrote:3 more Su-34's delivered. One to Morozovsk to complete it's change over while other 2 to Lipetsk to commence training for the next unit to convert. Makes a total of 71 delivered out of 124 on order.
http://bmpd.livejournal.com/1600652.html
From this same topic, page 16
George1 wrote:Visit to NAPO
According to Myasnikov, the Su-34 was the first post-Soviet military aircraft formally accepted into the inventory by the government on  20 March 2014.  The contract for what was initially the Su-27IB was signed in 1989.

A pre-series airframe flew for the first time on 18 December 1993.  It flew as the Su-32FN at the Paris Air Show in 1995.

In 2003, the MOD decided to put the Su-34 into experimental use.  The year 2006 brought a contract for five Su-34 to be delivered in 2007-2009.

However, Myasnikov notes that the Novosibirsk Aviation Production Association (NAPO) named for V. P. Chkalov was in a pathetic state at the time:
"The state hadn't ordered new aircraft, assembly shops were empty.  The company survived on account of consumer goods, making instruments, steel doors, etc.  Suffice it to say that now in the final assembly shop of 250 workers only 5 are veterans still having Soviet experience."

Literally on its knees, he says, the factory re-trained workers and assembled one aircraft per year.

Then, in 2008, came the contract for 32 Su-34s by 2013, and a follow-on for 92 by 2020.
https://russiandefpolicy.blog/2014/05/24/visit-to-napo/
Then the total number contracted is 129 airplanes
George1 wrote:

ult wrote:

BMPD reports that there were 6 though. And that 08 is there as well. So that makes it 20 this year I guess.

http://bmpd.livejournal.com/2095335.html

the article says:

With the transfer of six VKS Russian bombers August 30, 2016 the total number of Su-34, handed over all contracts, including seven experimental and pre-production samples reached 92 units.

so we we have 85 in service (altough i have counted 87 with my calculations)
Why do you count the prototypes?
Those are not part of the estructure of VVS and the majority are out of service
The graphic is not exact with the first airplanes of series handed over, and also in 2014 was handed over 2 more of planning
http://www.sukhoi.mariwoj.pl/su-30-ru-32.htm
T10V-1  #00-01   1990   Nº42  Retired > https://farm1.staticflickr.com/520/20318953961_68b94369e4_o.jpg
T10V-2  #00-02   1993   Nº43  Retired > https://farm1.staticflickr.com/409/20304529182_c4ee36e74f_o.jpg
T10V-4  #00-03   1996   Nº44  Retired > https://farm1.staticflickr.com/274/19691952083_ebd013fb09_o.jpg
T10V-5  #01-01   1994   Nº45  Retired > https://russianplanes.net/images/to137000/136629.jpg
T10V-6  #01-02   1997   Nº46  Not used. Parked at Voronezh-University Aeronautical Engineering > https://farm1.staticflickr.com/367/19691950473_77146044c5_o.jpg
T10V-7  #01-04   2000   Nº47  Zhukovsky > https://russianplanes.net/images/to164000/163478.jpg
T10V-8  #01-05   2003   Nº48  Zhukovsky > https://russianplanes.net/images/to40000/039575.jpg
(T10V-3 Static test airframe)
T10V-9  #01-06  Nº49  Transformed into the first plane of series >> Akhtubinsk Nº 01
#01-06 Nº01 and #01-07 Nº02 was handed over at the end of 2006
https://ria.ru/analytics/20061218/57085878.html
Su-34 flies to the tropos  18.12.2006
Last week, the commander-in-chief of the Russian Air Force, Army General Vladimir Mikhailov, General Director of the Sukhoi aviation holding company Mikhail Pogosyan and the General Director of the Novosibirsk Aviation Production Association named after Chkalov, Fedor Zhdanov signed an act on the transfer of the first two serial multifunctional fighters- Bombers Su-34.
The other three planes of the first contract: #02-01 Nº03 , #02-02 Nº04 & #02-03 Nº05 was handed over about one per year
Nº01 and Nº03 are now at Akhtubinsk and Nº02 , Nº04 , Nº05 are at Lipestk
The first airplane of the 32 contract , #02-04 Nº06 was handed over in 2010 and today is in 47 BAP
The first airplane of the 92 contract , #05-03 Nº08 of Morozovsk was handed over in december 2013
Production
:
2 in 2006: 1 Akhtubinsk , 1 Lipetsk
1 in 2007: Akhtunisnk
1 in 2008: Lipetstk
1 in 2009: Lipetsk
4 in 2010: Voronezh
6 in 2011: Voronezh
10 in 2012: Vorónezh
14 in 2013: 4 Vorónezh , 1 Akhtubinsk , 9 Morozovsk
18 in 2014: 17 Morozovsk , 1 Akhtubinsk
18 in 2015: 10 Morozovsk , 8 Lipetsk
16 in 2016: Khurba
16 in 2017: 8 Khurba , 8 ??
Total:
91 at the end of 2016
95 now
107 at the end of 2017
Then 22 are pending for 2018 and the begining of 2019
Nº28 of Vorónezh is being repaired at Novosibirsk plant.
Nº 11 Lipestk get Nº32 and send Voronezh for complete regiment
By airbase
:
Akhtubinsk: 4
Lipetsk: 10
Vorónezh: 24
Morozovsk: 36
Khurba: 20
Novosibirsk factory: 1
Total 95