Gibraltar wrote:Then, Krylov light design to me has many faults: with that design and displacement is unlikely to go nuclear  (green water ship in best case) with twin hull in stern means 2 completely separated machinery and turbine compartments, low propulsion efficiency optimization, high center of gravity, 30% less displacement than Kuznetsov + large stern means low draft and bad hydrodinamic profile, low speed, large turn rates, an incognite in rough sea situations. I think that, exagerating but not too much, that thing would sail as a cargo barge and still has no cruiser capabilities. I would spend a lot of money in a reliable and long-perspective useful design such as a kuznetsov-evolution, nuclear, bigger but not so much, rather than weird or light solution.
Well, I am no naval engineer but facts are following:
> K has 4 steam turbines and 4 shafts, Shtorm KM apparently two shafts.
> 29 knots max speed K, 28 for Shtorm-KM. 25 knots for instance for Queen Elizabeth
> 150 MW propulsion power for K, 81 MW Shtorm-KM
> Draft 10 m K, 8,5 Shtorm-KM
> Essentially same dimensions on water line than K, which is clearly a blue water design (carrier is per definition the blue water vessel)
> Trimaran (Shtorm-KM resembles that layout with one keel at the bow and two at the stern) are consider among the best sea-keeping ships
Best picture of the stern I have seen: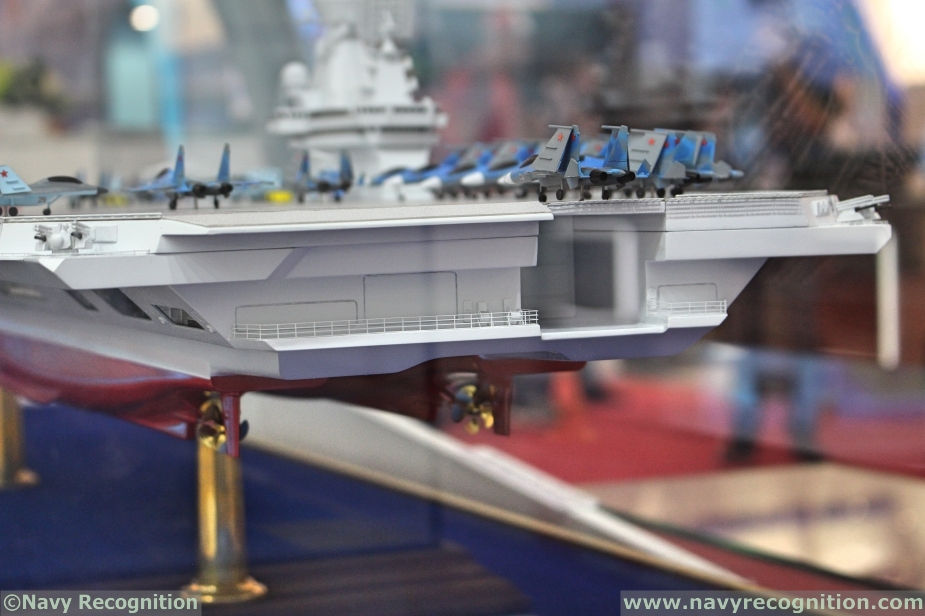 Some interesting comments from 2017:
https://tvzvezda.ru/news/opk/content/201707131538-ziq3.htm
- Expected three times cheaper than Shtorm (350 billion for the complete Shtorm system, 200-280 billion for the ship). That would mean 70-100 billion for the ship of the Shtorm-KM design (?)
- Budget for design of new aircraft carrier included in GPV 2025 (acc. to Victor Bursuk)