The new Space and Air Defence Forces have the following thirteen VKO brigades: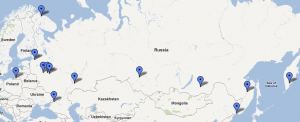 Note these brigades are only a part of the VVKO so there is obviously more than this, but this is how they are laid out.
They're numbered 1-12 and 14. Six are in the Western MD. One in the Southern. Three in the Central. And three in the Far East MD.
1st Aerospace Defense Brigade, Severomorsk, Western MD.
2nd Aerospace Defense Brigade, Khvoynyy, Western MD.
3rd Aerospace Defense Brigade, Kaliningrad, Western MD.
4th Aerospace Defense Brigade, Dolgoprudnyy, Western MD.
5th Aerospace Defense Brigade, Petrovskoye, Western MD.
6th Aerospace Defense Brigade, Rzhev, Western MD.
7th Aerospace Defense Brigade, Rostov-na-Donu, Southern MD.
8th Aerospace Defense Brigade, Samara, Central MD.
9th Aerospace Defense Brigade, Ob, Central MD.
10th Aerospace Defense Brigade, Chita, Central MD.
11th Aerospace Defense Brigade, Komsomolsk-na-Amure, Far East MD.
12th Aerospace Defense Brigade, Vladivostok, Far East MD.
14th Aerospace Defense Brigade, Yelizovo, Far East MD.
This information is from: http://russiandefpolicy.wordpress.com/tag/vvko/
Apart from the cluster of three around Moscow they seem pretty fairly spread out along the Russian southern and western border area.
Just a reminder the VVKO is a combination of the PVO and the VKO.
The PVO was a component of the Air Force that operated radars, interceptors and SAMs like the SA-2, SA-3, SA-5, and SA-10 (S-300) (the S-300V was an Army system) and aircraft like the Su-9/-11, and Su-15 and Su-27 and Mig-31 and Mig-25 and Tu-128.
The VKO had ground based and space based radars and was used for space tracking of threats and targets.
By combining the two forces the new force is now responsible for searching and intercepting threat inside and outside the atmosphere above Russia. From low flying cruise missiles, through aircraft and ballistic missiles and hypersonic weapons in and above the atmosphere.
The VVKO will be the main user of the S-500,a nd will also operate a lot of S-400 systems as well as Mig-31s, Su-35s, and AWACS aircraft, plus ground and space based radars and EO sensors and of course HALE and MALE UCAVs eventually.
Edit: Should point out that the interceptor aircraft seem to be actually Air Force aircraft. PVO was a specific branch of the Air Force and had its own aircraft, but with the merging of the PVO and the Space Defence Force (VKO) it seems the interceptor aircraft remain with the Air Force, but would operate under the control of the VKKO or Aerospace Defence forces.
Last edited by GarryB on Sun Dec 02, 2012 7:42 am; edited 1 time in total