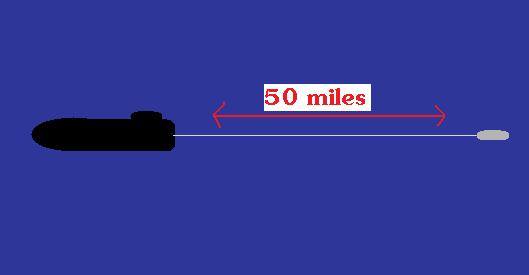 How subs can communicate instantly and safely.
Wired probe dragged behind subs by 50++ miles, + can send the message without giving away a subs location

.
Seen as it wired to to probe, it's light speed communication just about.
How to communicate underwater subs.
wired 30 - 300 mile long probes, will send the message well away from your subs "Can only detect a small probe that is impossible to hit" and well away from you're sub receiving the massage by wired cable instantly.
You can now drop off 1+ wired probes that relay the message from a long distance away.
So this can work in many ways.
You can use "two-way communication" to talk to each other. The probes getting draged 3 - 300 miles behind you and you can use two-way communication. We don't care if they detect it 20 miles away. It just gives you 24/7 communications.
So that means each of your subs can talk to each other in that way. The subs probes way behind them talk to each other, and the wired connection send's it to you miles away undetected.
This probe can just have air-bags and hit the sea surface making safe communications 100 miles away from the sub.........Don't need to use detectable two-way communication "but can" safely if need be.
That how subs make 24/7 communications