"The first round of talks between Russia and Egypt over the supply of equipment from the universal landing ship Mistral has ended, a source in the defense cooperation community reported. "The first round of talks ended last week. Thus far it's just an exchange of opinions, but our Egyptian partners are interested in some subsystems," the source said. The issue of equipment delivery will be resolved only following the settlement of all the problems related to the sale to Egypt of the Ka-52K helicopters, a ship-based version of the reconnaissance and combat Ka-52 Alligator helicopter, developed for the Mistrals. An official of the United Instrument Manufacturing Corporation /UIMC, incorporated by Rostec State Corporation/, the developer of equipment for the Mistrals built for Russia, noted that Egypt in no case will be able to get all of the Russian equipment for the helicopter carriers for security reasons. Nonetheless, he said with confidence "we've got what to offer to our partners."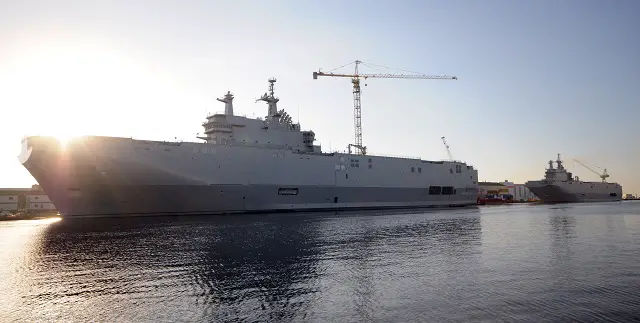 The Russian communications and control systems have been dismantled from the Mistral helicopter carriers and are ready for shipment to Russia. "All the Russian equipment has been removed from the helicopter carriers and is prepared for shipment to Russia," a source in the defense industry said. A contract to supply Egypt with two Mistrals that have been built for the Russian Navy was signed on October 10. The ships are expected to be delivered to the new customer in 2016 together with the landing craft. Previously, Sergey Ivanov, Chief of Staff of the Presidential Executive Office, reported that Russia plans to supply Egypt with equipment and helicopters for the Mistrals, under a deal that may exceed a billion dollars. According to the source in the defense cooperation community, Egypt intends to acquire Ka-52K helicopters developed for Mistrals and now mulls the number it needs. Rosoboronexport declared that to date the defense products exporter has not received official requests from Cairo.

Since late September France has been dismantling the Russian-made equipment from the Mistrals. The DCNS Company, the builder of the ships, planned to complete work by the end of 2015. In early October the first lot of Russian equipment was dismantled from the helicopter carriers and shipped to Russia."
Source: http://www.navyrecognition.com/index.php?option=com_content&task=view&id=3205