The cruiser "Admiral Nakhimov" upgrade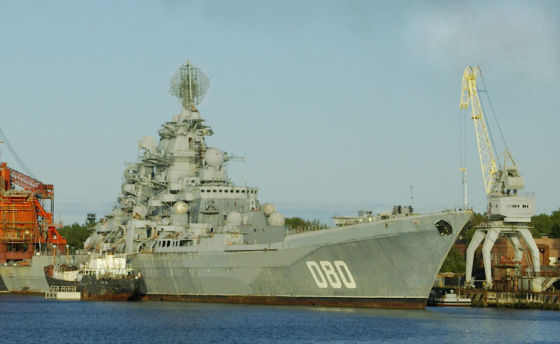 Sevmash has signed a contract with the Ministry of Defence to repair and upgrade the heavy nuclear-powered missile cruiser "Admiral Nakhimov"
The document signed by the Deputy Minister of Defence of the Russian Federation Yuri Borisov and CEO of OAO "PO" Sevmash "Michael Budnichenko. Tactical and technical requirements for the modernization of "Admiral Nakhimov" approved Defense Minister Sergei Shoigu. The primary goal of the company - the conclusion of a contract to develop the project of modernization cruisers, who will perform "Northern Design Bureau". "Now the company has begun the preparatory phase: installation of systems engineering support, inspection and flaw detection equipment and steam-turbine plant, as well as the dismantling of components and assemblies. 70 percent of the dismantled equipment must be replaced, "- said the head of repairs, upgrades and warranty supervision of" PO "Sevmash" Sergei Khviyuzov.
As the first deputy general director of OAO "PO" Sevmash "Sergei Marichev, the amount of work on a heavy nuclear missile cruiser is comparable with the level of repairs and modernization of aircraft carrier" Vikramaditya ". "Admiral Nakhimov" has to be the most modern TARK in the Navy. It will be equipped with modern weapons that have passed the test.
The nearest major milestone for the ship - docking in waterworks. It is scheduled for 2014. In accordance with the signed agreement the ship should enter into service in the Navy in 2018.
For the record:
Heavy nuclear missile cruiser "Admiral Nakhimov" the third ship of the series construction of "Baltic Shipyard" (St. Petersburg). It was founded in 1982. Navy commissioned 10 May 1989 The designer - JSC "Northern Design Bureau" (St. Petersburg). According to the decision of the Ministry of Defence and the Ministry of Economy of the Russian Federation, and in accordance with state contract to the waters of "PO" Sevmash "transferred 14 August 1999 and accepted in the average factory scheduled maintenance.
Catherine Pilikin