Saudi Arabia-USA Military relationship

George1




Posts

: 13891


Points

: 14386


Join date

: 2011-12-22


Location

: Greece

Saudi Arabia ordered another 17 Black Hawk helicopters

https://bmpd.livejournal.com/3047741.html



George1




Posts

: 13891


Points

: 14386


Join date

: 2011-12-22


Location

: Greece

The program of delivery to Saudi Arabia of 155-mm self-propelled howitzers M109A6 Paladin

The Defense Security Cooperation Agency (DSCA) on April 5, 2018 sent to the US Congress a notice on the possible sale to Saudi Arabia through the inter-governmental military sales of Foreign Military Sales (FMS) of 180 sets of 155-mm / 39 self-propelled howitzers M109A5 converted in the variant M109A6 Paladin. A total of 177 self-propelled howitzers M109A6 are supposed to be converted for Saudi Arabia. The sale is authorized by the US Department of State. The estimated cost of delivery is $ 1.31 billion.

According to the notice, three Fire Support Combined Arms Tactical Trainers (FSCATT), eight Advanced Field Artillery Tactical Data Systems (AFATDS), 180 M2NV machine guns of 12.7 mm caliber, and a support package, spare parts, ground equipment and training.

On the bmpd side, we point out that, as can be judged, we are talking about the implementation of the Saudi Arabia program for the FMS of self-propelled howitzers M109A6 Paladin, the details of which were first officially published in July 2017. According to it, production for the delivery of Saudi Arabia towers of a new production for self-propelled howitzers M109A6 was supposed. These towers will have to be installed on the chassis of the M109A6 automatic control system, which are released when the US Army upgrades to the M109A7 PIP variant (in the process of upgrading the M109A6 to the M109A7, the M109A6 towers are rearranged to a new chassis manufactured by BAE Systems).

The production of the SAU M109 in this way: for Saudi Arabia it was to be carried out in the Anniston Army Depot of the US Army (Anniston Army Depot, Ala.). The manufacturer of new towers was not formally defined, but in fact only BAE Systems Land & Armaments is the only one. In the release of the DSCA notice, the contractor for the supply of the M109A6 SAU to Saudi Arabia is also not defined.

At present, the army of Saudi Arabia from self-propelled artillery of 155 mm caliber is believed to have 110 American self-propelled howitzers M109A2 and A3, 48 M109A5, 78 French 155 GCTs (probably most of which are stored) and 54 Chinese PLZ45. Apparently, the purchase of Saudi Arabia SAU M109A6 is designed to replace howitzer 155 GCT, purchased in the late 1970's.

https://bmpd.livejournal.com/3150189.html

George1




Posts

: 13891


Points

: 14386


Join date

: 2011-12-22


Location

: Greece

Saudi Arabia has signed an agreement on the acquisition of missile defense systems THAAD

As Reuters reported, citing a representative of the US State Department, on November 25, 2018, representatives of the governments of the United States and Saudi Arabia signed a final agreement (in the form of an exchange of letters Letters of Offer and Acceptance - LOA) valued at about $ 15 billion through the American program of intergovernmental military sales of Foreign Military Sales (FMS) missile defense systems THAAD (Terminal High Altitude Area Defense) manufactured by Lockheed Martin.
Under the agreement, Saudi Arabia will receive seven THAAD batteries, including 44 mobile launchers. At the end of September 2018, US President Donald Trump personally called the king of Saudi Arabia Salman ibn Abdul-Aziz Al Saud to expedite the signing of the agreement.
From the side of bmpd,
we recall that negotiations on the acquisition of the American THAAD PRO system by Saudi Arabia have been conducted since 2016. A preliminary agreement on the purchase of THAAD complexes by Saudi Arabia was signed during the first official visit of Donald Trump to Riyadh on May 20, 2017 among the package of agreements and memorandums on bilateral military-technical cooperation totaling $ 109.7 billion. In the said preliminary agreement , reportedly, the figure was $ 13.5 billion for seven batteries of the THAAD missile system with an estimated delivery time in the years 2023-2026.
On October 6, 2017, the United States Department of Defense Defense Cooperation Agency (DSCA) sent to the US Congress an official notice of the upcoming sale of Saudi Arabia through the FMS of seven THAAD missile defense batteries with a total estimated cost of $ 15 billion. US State Department.
According to the notification, the delivery should include 44 mobile launchers of the THAAD system, 360 THAAD missiles, 16 command posts of the THAAD system, seven AN / TPY-2 radars, as well as various other relevant assets (including 43 trucks). The cost of delivery also includes technical support, training of personnel, construction of infrastructure, payment for activities in Saudi Arabia, the necessary number of representatives of American industry (111 people) and the US armed forces (18 people). Lockheed Martin and Raytheon will act as general supply contractors.
Saudi Arabia thus became the second de facto foreign customer of the THAAD complex after the United Arab Emirates, having acquired two THAAD batteries by the agreement of 2011 (the first of which was deployed to the United Arab Emirates in 2016).
https://bmpd.livejournal.com/3433547.html

GarryB




Posts

: 22353


Points

: 22897


Join date

: 2010-03-30


Location

: New Zealand

So will that make them even or can they now kill another Washington Post reporter?

George1




Posts

: 13891


Points

: 14386


Join date

: 2011-12-22


Location

: Greece

The construction of the first MMSC-type multipurpose warship for Saudi Arabia
October 29, 2019 at the shipyard of the American shipbuilding company Fincantieri Marinette Marine (controlled by the Italian group Fincantieri) in Marinette (Wisconsin), the first steel cutting ceremony was held for the MMSC (Multi-Mission Surface Combatant) head multi-purpose surface combat ship (corvette) called Saud for Navy of Saudi Arabia. MMSC is a multi-purpose ship based on the project of the American "littoral" LCS warships of the Freedom type (developed by Lockheed Martin Corporation), the serial construction of which is carried out by the Fincantieri Marinette Marine for the US Navy.
Recall that in October 2015, the US government approved the supply of Saudi Arabia through the program of intergovernmental foreign military sales (FMS) of four ships of the MMSC type, as well as related equipment, weapons, missile ammunition and services totaling up to $ 11.25 billion. Intergovernmental The agreement on the construction of four MMSC-type ships was finalized by the parties in 2017, their commissioning in the Saudi fleet is expected in 2025-2028. During 2018, Lockheed Martin received three U.S. Department of Defense FMS contracts for a total cost of $ 1.214 billion for the development of a technical project, design documentation and the start of construction of MMSC ships for Saudi Arabia. In addition to the lead ship Saud, the construction ceremony of which took place on October 29, 2019, the Fincantieri Marinette Marine is due to begin construction of two more ships in 2020, and one in 2021.
These four ships should be part of the Eastern Fleet of the Navy of Saudi Arabia, deployed in the Red Sea.
From American ships LCS type Freedom Saudi ships type MMSC differ more powerful design weapons. The MMSC-type ship should be equipped with two four-container launchers of the anti-ship missile system RGM-84 Harpoon Block II (according to the official American notice of 2015, all with the MMSC ships it was planned to sell 48 Saudi Arabia Boeing RGM-84 Harpoon Block II - 32 anti-ship missiles for installation on ships and 16 training); with eight universal vertical launchers of Mk 41, four Raytheon RIM-162 Evolved Sea Sparrow Missiles (ESSM) missiles - a total of 32 missiles per ship (a total of 532 ESSM missiles - 128 for installation on ships, 384 spare and 20 training), one 11-launcher launcher Mk 15 Mod 31 of the SeaRAM self-defense anti-aircraft missile system (a total of five PUs, including one spare) are expected, for which 188 Raytheon RIM-116C Block II Rolling Airframe Missiles are expected to be sold (RAM) (including 44 for installation on a ship and 132 spare and 12 training); one 56-mm automatic universal artillery mount BAE Systems Bofors Mk 3; two 20-mm remotely controlled artillery systems Nexter Narhwal, ten 12.7-mm machine guns and two 324-mm three-pipe torpedo tubes Mk 32 for anti-submarine torpedoes.
The MMSC-type electronic armament of the ship will include Lockheed Martin COMBATSS-21 ASBUs, Hensoldt TRS-4D general detection radar, Saab Ceros 200 combined fire control system, towed active passive HAS (Compact Low Frequency Active Passive Variable Depth Sonar - apparently, Thales СAPTAS series ), Argon ST / Boeing WR-2000 electronic intelligence and electronic warfare station, Lockheed Martin Automatic Launch of Expendables (ALEX) firing jamming system, AN / SLQ-25A Nixie anti-torpedo protection system, Rockwell Collins AN / ARC-210 communication system, transmission equipment Link 16, Automated Digital Network System (ADNS), and Combined Enterprise Regional Information Exchange Systems (CENTRIX) S), the Northrop Grumman UPX-29 State Identification System (Mode 4 and Mode 5), an interference-free receiver of the L-3 Communications Selective Availability Anti-Spoofing Module (SAASM) navigation system.
On the MMSC type ship, two multi-purpose Sikorsky (Lockheed Martin) MH-60R Seahawk helicopters are permanently based. Under a separate agreement in 2015, FMS worth $ 1.9 billion, Saudi Arabia received ten MH-60R ship helicopters in 2018-2019. Saudi MN-60R helicopters should be armed with AGM-114 Hellfire guided missiles; 70 mm BAE Systems APKWS II missiles and 324 m caliber Raytheon Mk 54 LHT torpedoes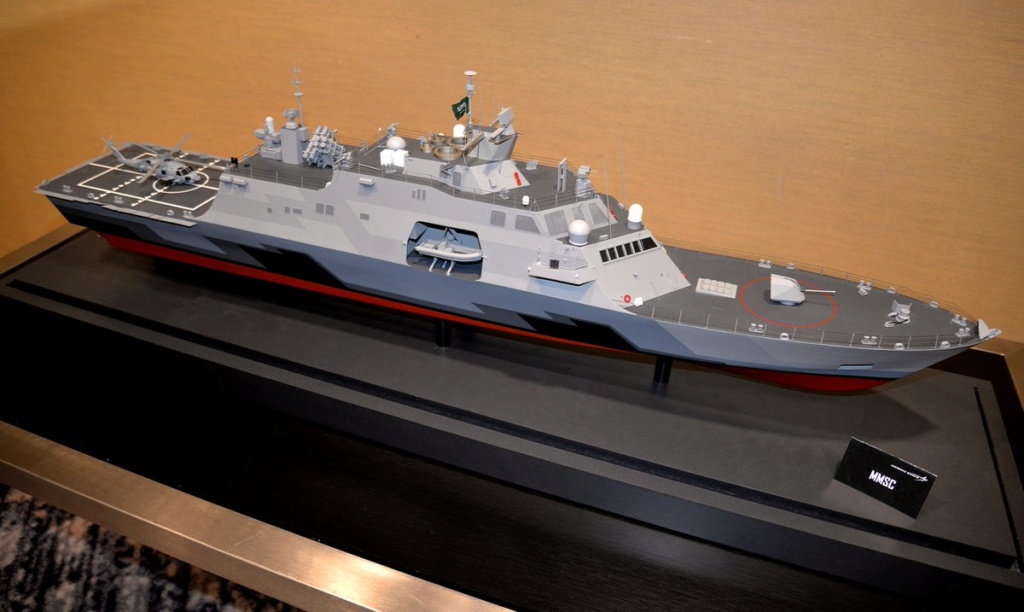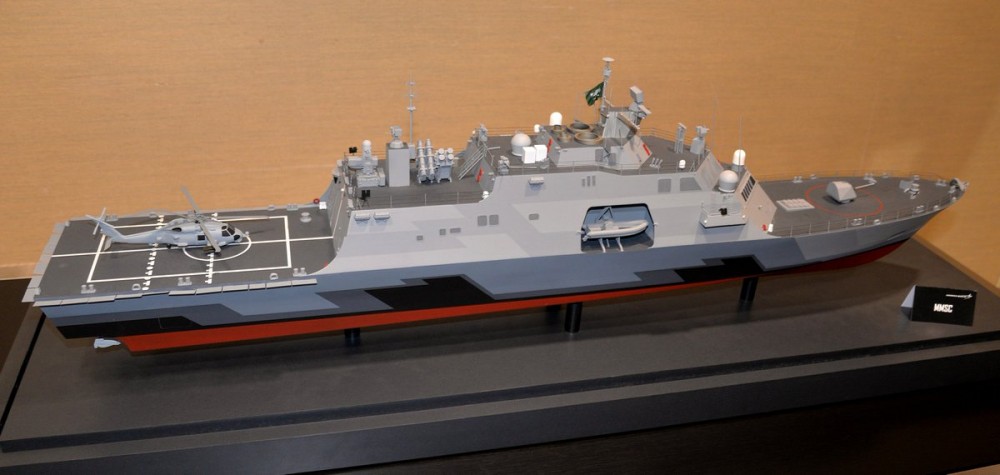 https://bmpd.livejournal.com/3828436.html